--Leonardite.com--
-Side A (Sports)
-Side B (Other)

-Latest Work
-Guest Writers
-Linkability

--Archives--
-Leonard
-Boxing
-CART
-IRL
-MLB
-NBA
-NCAA Basketball
-NCAA Football
-NFL
-NHL
-WWE
-Miscellaneous

--Features--
-Card Collection
-NES Lair
-Tecmo
-WVBA

--Specials--
-Buckner Week


Sign the Guestbook

E-mail the Leonardite
NBA Preview: Pacific (10/29/03) --
Leonardite.com is continuing on with its NBA Preview.

-Midwest Preview



Los Angeles Lakers

The Los Angeles Lakers right now are in the midst of their stormiest days in quite some time, as a team leader quietly awaits his day in court to tell his side of the story.

"I swear I was only doing sixty-nine" said Bryon Russell in front of the media.

The entire organization is rallying behind the veteran guard as he gets ready for his January 12th court date to fight the $40 speeding ticket he received on September 26th.

"It's just a shame. The whole 'he said, she said' nature of this thing is really sad. I completely believe Bryon when he claims his innocence." Phil Jackson said.

On a highway outside of Fresno, Russell was issued a citation for doing 77 MPH in a 65 MPH zone. The ticket was issued by a member of the California Highway Patrol. This officer's identity is being kept secret to protect him/her from the media circus. Russell acknowledges that he was speeding, but that his car was only doing sixty-nine according to his speedometer.

"The facts will show that I'm innocent."

People around the league have had mixed reactions to Russell's pending trial. Dirk Nowitzki sent his support, saying that he too, has been pulled over after a misunderstanding with a faulty speedometer. But former NBA player Mark Eaton had a different tone: "This whole story is just ludicrous. He got caught and he needs to pay the price."

In the meantime, it is the Lakers who are paying the price. They are going to try and focus on the season, but the stress of this trial is certainly weighing heavily on them as they enter the year.



Sacramento Kings

The Sacramento Kings have some new beats to get pumped up to, and they need look no further than a nearby locker for the source of this music. On the eve of the NBA season, veteran center Vlade Divac has released his first solo rap album, "Think Outside Divac"

"I am pumped to the max for my phat new CD" said a blinged-out Divac, accompanied by a twenty-four man entourage and sixteen Cadillac Escalades. "All you biznatches have no idea what storm is gonna be fallin'."

The CD features some devastating tracks such as "Stench", a ballad to the odor in the Croatian National Team's locker room. For a more easy-listening tune, one can hear the adoration in Vlade's voice as he warbles his beats in "Funky Romance with the Big Man."

Asked what his favorite song was, Mike Bibby quickly answered "Pretty", Vlade's song about himself. "The way he raps about his appearance is inspiring in so many ways."

In that track, Vlade busts such dope lines as "My appearance is seven foot one. My looks fire hard like a gun. Anytime you seeing Vlade taking the falls; it's not my fault, it's the bulls*** calls."

People in the industry are applauding Vlade's foray into music.

"His beats are so ill, I think I need a doctor" said Nate Dogg, who sings backup on the "Pimp from Prijepolje" track. "I just dig this album completely."

The Kings and "Think Outside Divac" are currently rocking arenas as we speak.


Portland Trail Blazers

If there was ever a team reaching out to its peers, the Portland Trail Blazers would be it. Taking the lead from the Montreal Expos, who played a share of their home games in Puerto Rico this past season, the Blazers will also be dividing their home games.

"We are very pleased to announce that ten of our regular season home games will be played this year at the Oregon State Penitentiary." announced team owner, Paul Allen.

Inmates and guards alike rejoiced at this decision as they will get to see their old friends up close and personal.

"Yeah, I roomed with big Wallace for awhile. Cool cat. Look forward to seeing him again." said Ruben "Big Baby Bendo" Bending.

"Yo, that's tight. Can't wait to see the boys again." said "Tiny" Robinson.

Indeed, the Blazers are looking to reconnect with their homies. But more importantly, the Blazers are keeping in mind what they need to do to make the playoffs.

"There's a good possibility that at least one of our players will be in there anyway at any given point in the season. By doing this, we can guarantee that we will have our full roster available for these ten games." Allen told reporters.

The dirt court will apparently be cleared of rocks and new chain nets will be installed for when the Blazers begin their games at the facility.


Phoenix Suns

The Phoenix Suns certainly were the victims of the most alarming news of the off-season. But the news that was dropped on them is something that finally closed the book on a long-standing mystery that has confused NBA analysts for quite some time.

In the early 1990's when Anfernee Hardaway was drafted by Orlando, the Magic felt as though they had a potential superstar on their hands. And for the next couple of years, it appeared that they were right. But not long after the departure of Shaquille O'Neal from the team, Hardaway's game began to slip immensely, much to the puzzlement of league insiders.

It wasn't until this summer when it was discovered that Anfernee Hardaway has been dead since 1998.
"We were very shocked to hear that one of the key members of our backcourt is actually deceased." Jerry Colangelo, team owner, said.

It appears as though when Hardaway died, he committed his body to the nearby Alcor Life Extension Service, who has been putting on a charade of immense proportions. Using space-age technology that John Henry Williams could only dream of, the Arizona-based company has been artificially operating Hardaway in what they are calling his "second life phase." While he might not be the superstar he once was, the fact that he still is able to average double-figures is a first for a dead man.

"This is clearly a landmark day for deceased people everywhere. They now have someone to look up to." said Colangelo.

Hardaway, immune to pain, also plans to personally fight a rabid bull to raise money for charity during the season.



Golden State Warriors

The Golden State Warriors, desperate for ideas, finally appear to be at their wits' end. It has become clearly obvious that they will never make the playoffs again or be a decent basketball team. Therefore, they are now just looking for a reason for the fans to come out and watch them. In a last-gasp effort to find out what would make the Golden State Warriors more exciting to the general public, team officials took to their street to find out what the citizens thought. Some of the more notable suggestions are posted below for your enjoyment.

"Do something about Troy Murphy's terrible, terrible bio picture."




Murphy

"Retire not only Chris Mullin's number, but any number that he ever even considered wearing."

"Um........win games."

"Sign Ray Allen."

"Sign Ray Stevens."

"Change team name to the 'Los Angeles Lakers.'"

"Put obscene pictures of Shaq on the jerseys."

"Bring back Spree and PJ."

"Institute fans vs. Warriors games, but only if you are confident you can win at least one of the games."

In the end, however, the team has decided to take the court with their ingenious plan: Stock the club with mediocre players and see what happens. Best of luck to the Warriors and their "clever" strategy.



Seattle Supersonics

The Seattle Supersonics brass were watching the hit movie Air Bud in the off-season, when they realized that the gifted dog just might be the final piece to the puzzle on a team that looks poised to crack the Western Conference elite. Upon further investigation, however, the Sonics were denied in their quest.

"I guess he's dead." said a somber Nate McMillan.

The Sonics did not give up, however, and are now introducing the public to their newest "man" in the low-post. Geoffrey, the 11-foot Toys R' Us mascot has been signed to play center this year for the team.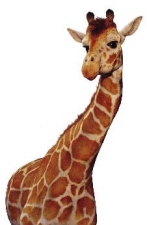 Just bring it, Shaq.

"Well, with the holidays coming up and all the kids needing toys, I figured this would be good publicity for my company." said the talking giraffe at his press conference.

"Plus, I have some bitchin' post moves."

Scouts around the league are admiring the abilities of this giraffe.

"His ball control is astounding, considering he has hooves" said one scout. "Plus, who the hell is going to guard him?"

Geoffrey will clearly present some problems for people around the league. It is already assumed that Houston will employ its "Van Gundy Tag-Along" on him, but are fearing that the coach may be trampled and seriously maimed. Either way, the Sonics definitely have a leg up on the competition.

"If it's legal to bring a dog out onto the court, I see no reason why other animals can't be included. I can't wait to get Geoffrey into camp."



Los Angeles Clippers

With their storied history of losing surrounding them, the Los Angeles Clippers have set out to create a "party" atmosphere at the Staples Center. With again virtually no shot at the championship, the Clippers have brought on a former standout college coach onto their staff.

"The Los Angeles Clippers are proud to introduce our new assistant coach, Larry Eustachy." proclaimed an exuberant Donald Sterling. "This is going to be a lot of fun."

Eustachy, who was released from Iowa State this past winter in disgrace, has been hired on as the Social Chairman of the Los Angeles Clippers. Already planned is a kickoff party for the public (Which is being billed as "BYOB") Also on the docket is bachelor party night, where a mock bachelor party will be thrown at the Staples convention room for all male season ticket holders.

"This is going to be pretty exciting" said Elton Brand. "Now I get to see how the non-Duke schools really party."

League insiders are really questioning this move, however.

"They can't win a game sober, now they bring on 'Duff Man' to be an assistant?" remarked an exasperated Dr. Jack Ramsey.

"They hired a social chairman? What is this, the Eagles Club?" quipped Don Nelson.

But for good or for bad, Eustachy is already leaving his mark on the team. "All I know is that when I'm winded and really need to quench my thirst, the kegs that Larry has provided by the bench really hit the spot." said Brand.

The Leonardite