--Leonardite.com--
-Side A (Sports)
-Side B (Other)

-Latest Work
-Guest Writers
-Linkability

--Archives--
-Leonard
-Boxing
-CART
-IRL
-MLB
-NBA
-NCAA Basketball
-NCAA Football
-NFL
-NHL
-WWE
-Miscellaneous

--Features--
-Card Collection
-NES Lair
-Tecmo
-WVBA

--Specials--
-Buckner Week


Sign the Guestbook

E-mail the Leonardite
NBA Preview: Midwest (10/29/03) --
There are a lot of you out there who simply do not like the National Basketball Association. While I am not thoroughly repulsed like a lot of people I know, I still do not find it to be nearly as entertaining or enjoyable as say, routine dentist work. Therefore, I figured for the Leonardite.com NBA Preview, I would give the masses what they want, which is of course, a reason to look forward to the NBA season. If you want an accurate forecast of the NBA, then click here. Otherwise, read on if you want to see the NBA the way it was meant to be.



San Antonio Spurs

Coming off their second World Championship, the San Antonio Spurs are in a very conciliatory mode.
"We simply cannot apologize enough. There was no excuse for us winning the championship. Clearly, there were some major errors in judgment" remarked coach Gregg Popovich as David Stern held a gun to his head. "It won't happen again."

This certainly seems to be true. To ensure that they will not win the championship again, the Spurs have vowed to play the season with only four guys, in a show of discipline like that shown in the movie, Hoosiers. In a possibly related story, Tim Duncan has also been lost for the year due to an injury.

"My hair hurts really, really bad," Duncan told reporters, "the doctors figured it would be best if I sat out the year and allowed my follicles to heal."

Former Spur Vinny Del Negro will be taking Duncan's place in the low post. As the team braces themselves for their second season at the SBC Center, starting point guard Tony Parker had this to say to the Spurs fans:

"Come out and see us often. Because of orders from the league office, I will be throwing the ball into the crowd a LOT and you will have many chances at a souvenir."



Utah Jazz

With the retirement of John Stockton and the treason of Karl Malone, the Jazz now enter the "Solo Ostertag Era." Coach Jerry Sloan reportedly has been looking forward to the upcoming season.

"Winter is always a nice time of year. You can always look forward to Christmas and in a heavily Mormon area, the people really get into that. Plus, the snow is fun. I like taking my grandkids out into the snow to play. I really love winter."

When asked to comment about the actual basketball season, Sloan responded that he "had no team" and that the team will now be coached by the mascot, the Utah Jazz Bear.

An interview with the bear yielded much head nodding and hand gestures seeing as he is a mascot and is not allowed to talk. But apparently the offense will get a much-needed boost when they roll their trampoline out for dunks. The team will also rappel in from the roof to make their entrance, lead the team in chants, and steal things from the referee in a playful and witty manner.



Memphis Grizzlies

The Grizzlies are shooting for fifty this season. And that is an admirable goal. No, not fifty wins. Rather, they are looking forward to getting fifty people in the country to realize that they are an actual franchise.

"For us, to reach that fifty level, well that would just be dope" said gang-banging point guard, Jason Williams.

"I'd also like to point out that for all my flaws, I'm neither the murderer, nor the one who crashed his motorcycle."

To celebrate this fact and to help publicize the team, the Grizzlies have now launched their, "Memphis Grizzlies: Home of the Non-Masochistic Jason Williams" promotion campaign. Fans will take part in taunting sessions like those seen in front of those British guards. Punch Jason? He'll shake your hand. Punch Jason in the groin? He will give you presents.

"This is just great. People get to know me personally and they get to realize that the Grizzlies do exist" said Williams while icing his groin. "What a great situation for this city."



Denver Nuggets

The Denver Nuggets have entered this season with new uniforms and a new motto. While wearing their snazzy UCLA-like duds, the Nuggets have taken to the streets to spread their new message.

"We want people to see that we're all really good guys and that sexual assault is not something that we actively pursue" said Marcus Camby.

Indeed, the Nuggets seem to be pursuing this angle very hard. Denver released this statement to the public:

"Dear Nuggets fans: The Denver Nuggets have always been a loveable group of sucky basketball players. That tradition is alive and well in Denver today. But for as putrid as our play may be, our off-court behavior is beyond reproach. As we saw this summer, a member of a "good" team in our conference came in and raped one of Colorado's own. Let the fact be known that our standards are very good and fans are encouraged to cheer on their hometown, non-adulterous Nuggets.

The new approach seems to be catching on with fans. "I am just really happy to know that I can go to a game or a hotel room with the guys and they won't rape me. That's nice piece of mind." Denver woman, Kay Fina said.

"I mean, the fact that we can expect these guys to greet us and perform for us without sexually assaulting the fans just shows what a great group of guys they really are." added local fan, Margaret Miller.



Houston Rockets

The Houston Rockets have entered the season with a dual-purpose. The first is to show that they are a good basketball team. The second is to promote their new game, the "Van Gundy Tag-Along."

Like a five year-old hanging on his father's leg, Van Gundy will now affix himself to the calves of opposing players in an attempt to slow them down. League prognosticators are hailing this as a brilliant strategy, saying that Van Gundy's 38 pounds will only slow down opposing players.

"I can tell you one thing, when Van Gundy was hanging on my leg, I had to work almost half-again as hard to throw my punch." said Nets center Alonzo Mourning, the only man to have been victimized by this new strategy.

Orlando Magic star, Tracy McGrady, also expressed concern about this new defense. "I can run a 4.8 forty. But with Van Gundy on me, I'll be down to at LEAST a 4.95"

But besides the new Van Gundy clutch-and-grab show, the Rockets also have a reason to be hopeful about this season. Star player, Steve Francis, had been slowed down by chronic migraines over the past few years. But this year he has been cured. It seems as though their putrid pinstriped uniforms were causing his headaches.

"Apparently it was our crappy uniforms" said a miffed Francis.

With some tolerable new threads, Francis is ready to go. As are all the Rockets.


Minnesota Timberwolves

The Minnesota Timberwolves have finally decided to stop their charade and start admitting the truth. That they are one of the most accomplished collections of choke-artists that the NBA has ever seen.

"After blowing it in the first round for the 80th year in a row, Glen (Taylor) told me that we weren't going to make any changes. Instead, we would be recognizing and celebrating our current state."

To celebrate their choking ways, the team went out and signed the true choke artist, Latrell Sprewell.

"I'm really happy to be in a place where everyone loves choking as much as me. And putting P.J. in the logo for this season, that was a nice touch."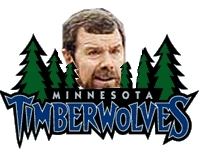 Indeed, the T-Wolves will be going all out until the playoffs and then will quickly pack it in once June hits. The Wolves, unfortunately, received some bad news at the end of training camp. New Martian-looking point guard, Sam Cassell, has apparently been summoned to return to his home planet and will not be with the team this year.



Dallas Mavericks

The Dallas Mavericks are coming up on this season with a new look. Literally. Taking a page from a cross-town owner, Mark Cuban has changed his game face for the upcoming season.

"After seeing Jerry Jones get successful cosmetic surgery, I went forward and decided to do the same myself." Cuban said.

But unlike Jones, who went with a face-lift, Cuban decided to get a facial overhaul and take on the appearance of NFL bust, Brian Bosworth.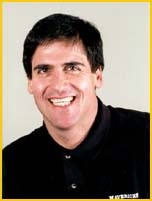 Before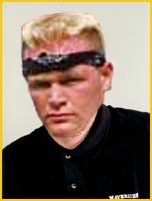 After



"I always admired the wit and underachievement of the Boz and now I get to look like him. This is wonderful." When asked about his team, Cuban replied, "Oh, they'll be okay. But I look like the Boz, man! The Boz!"

Check back later as Leonardite.com continues its preview of the National Basketball Association.

The Leonardite