--Leonardite.com--
-Side A (Sports)
-Side B (Other)

-Latest Work
-Guest Writers
-Linkability

--Archives--
-Leonard
-Boxing
-CART
-IRL
-MLB
-NBA
-NCAA Basketball
-NCAA Football
-NFL
-NHL
-WWE
-Miscellaneous

--Features--
-Card Collection
-NES Lair
-Tecmo
-WVBA

--Specials--
-Buckner Week


Sign the Guestbook

E-mail the Leonardite
Capital Punisher (02/25/04) --
For those of you that follow hockey at least half-heartedly, youíll have noticed that the Washington Capitals have fallen on hard times. After making the Stanley Cup finals just a few years ago, they went out and signed everyoneís favorite Czech hippie, Jaromir Jagr. After some disastrous seasons with Jagr in the nationís capital, he was dealt to the star-starved Rangers in return for some Knicks tickets and Mike Richterís old jockstrap.

Now, if you have followed the Capitals at all this season, youíll have noticed that they have overwhelmingly succeeded in gluing themselves to the cellar of the Southeast Division. After much deliberation, I believe it has come to this:

Itís time to dress Ted.

Ted Leonsis, that is, the team owner. If you missed it a few weeks ago, fans were rightfully heckling Leonsis for the Jagr debacle. Gentle Ted then went off on a fan, ďphysically assaultingĒ him and then stealing his sign. I donít care if he hits me in the face, but if I had a good TV-worthy sign, well, that would be enough for me to meet him in the parking lot.

But instead, the two have apparently become chummy with the assaulted sitting in the luxury box of the assaulter the other night wearing a Caps jersey. And apparently no charges are going to filed either, although Iím sure some sweet under the table green was exchanged.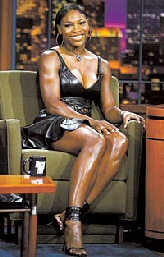 Rule #1 for Talk Show Guests: Apply as much Turtle Wax as humanly possible

All the better, I say. With the legal drama out of the way, now is the time to put Ted on skates. Does he know anything about playing hockey? Probably not. But donít tell me that Eric VandenBussche, Peter Worrell, or Donald Brashear do either. Those guys score goals about as often as the Penguins, but rearrange more faces in one night than Lennox Lewis did in the last two years of his career. The punchless Capitals could use a guy so quick to talk with his fists.

That's where fire-fist Leonsis comes in. He will make a great enforcer for the team. Plus, what a way to scout talent? Say Ted thinks that a star left winger who is going to be a free agent might fit in with his team. What better way to test his toughness than to interview with him to a haymaker to the kisser? What a novel way to see the way his team reacts to opponents and what way they react to him. I can just imagine how strong the bond will be between the guy who pays the checks and the guys that squander them.

Mark Cuban may be regarded as sports zaniest owner, but Ted is one full-skate with the team away from snaring that crown. Unfortunately, however, I think this idea will fall through for only one reason. No, not because he is not in competitive shape, none of the Capitals are. The only reason that Ted wonít be taking the ice anytime soon is that he will be attacking guys alright, but it will be the talentless stiffs on his own team that he will be punching-out on a nightly basis. If you have seen the Capitals play this season, there's not a person in the world who could blame him.

Whether it's on the ice, in the owner's box, or out on the concourse, I say punch away, Ted, punch away. And on those days that you really start feeling down, look at this way; at least you don't own the Rangers. If you did, then it would be acceptable to add firearms to your repertoire.

The Leonardite