--Leonardite.com--
-Side A (Sports)
-Side B (Other)

-Latest Work
-Guest Writers
-Linkability

--Archives--
-Leonard
-Boxing
-CART
-IRL
-MLB
-NBA
-NCAA Football
-NFL
-NHL
-WWE
-Miscellaneous

--Features--
-Card Collection
-NES Lair
-Tecmo
-WVBA

--Specials--
-Buckner Week


Sign the Guestbook

E-mail the Leonardite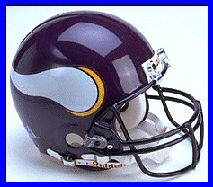 With Deepest Sympathy (12/29/03) --
Every fan of every NFL team complains about their team. They talk about how nobody has suffered like they have and that everybody can't possibly sympathize with their plight. Up until yesterday, I figured nobody could lay the biggest claim to this. Teams like the Saints, Bengals, and Chargers simply couldn't find one among them to have suffered the most. Maybe it's just that my time in the great north is getting to me or maybe yesterday jarred me into seeing reality, but I have now seen the light. Nobody has suffered like the fans of the Minnesota Vikings.

You can sit here and argue how the Bengals haven't been in the playoffs in over a decade, how the Saints have a less than distinguished playoff history, and how the Seattle Seahawks are not recognized as an NFL franchise by 93% of the nation's population. But the plain fact is that the Minnesota Vikings are the most snake-bitten franchise out there. With four Super Bowl losses under their belts, they paved the way for other notorious losers like Denver and Buffalo.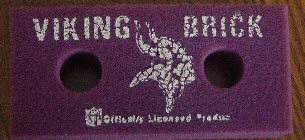 When the NFL licenses stress devices specifically for your team, I think that speaks volumes. Note the significant wear and tear the brick exhibits.

We are only scratching the surface there, however. Think about Gary Anderson missing his ONLY KICK OF THE ENTIRE SEASON in the 1998 NFC Championship, quite possibly costing them their first Super Bowl. How about the mental meltdown of Dimitrius Underwood or going over their allotted time in the 2003 draft and getting beaten to the podium by two other teams? How about when Randy Moss declared that he'd like to see the team moved to San Antonio or when Tom Clancy bought the team and then left as quickly as he had pledged his allegiance only to have the team sold to a used car salesman from Texas?

Am I done? No way. Think about Cris Carter scuttling an entire season for the team with his sideline antics, only to resurface in a slap-in-the-face signing with Miami. What about Robert Smith, the league's leading rusher at the time, suddenly retiring and setting the franchise back three years? Dennis Green and his book. Doug Brien missing two extra points to lose a game against Buffalo. The list goes on and on...

But nothing can compare to what happened yesterday. I'm not going to recount the whole saga because it is too painful for me even to bear. Before I go any further, let it be known that the Vikings are not my favorite NFL team and my least favorite of the Minnesota sports franchises. But even this one stung me like nothing else. What a brutal, brutal way to lose a game. My nonsensical rambling right now is my way to try and put some sort of closure on it all.

I didn't know what I wanted to do with this article. I knew I'd write about the game in some way, but I finally figured I would just send a sympathy card to the biggest Vikings fans that I know. I am terribly, terribly sorry...

To Kyle:

I called Kyle after three shock-filled minutes following the loss. I knew he wouldn't answer, but I left him the most sincere message I could at the time. I didn't know what to say other than to let him know that he should go out and have fun to get over the loss. What I got back the next day on my voice mail was the most profound honesty that one could express after having his heart ripped out by a football team. He told me, in a three-minute long incoherent message, that he was sitting in a hut off in the wilderness conversing with squirrels. He told me that I only I knew where he was and it was my job to recover his body in a few weeks so his family could properly dispose of it.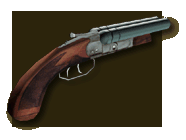 The NFL is currently developing the Viking sawed-off shotgun.

If only I could laugh at that. I really would, but my back is going to be sore from carrying the corpse out of the trees. Sorry man, at least you are going out in an honorable fashion. I would probably do the same thing myself.

To Daron:

To the cousin that declared he would be the champion of Minnesota if he could remove Dennis Green from the face of the earth, all I can say is take comfort in the fact that Denny is now on the high road, and the high road isn't in Minneapolis.

To Ercy:

With your website troubles and now this, I can't help but feel pretty bad about it all. My advice to you is to change your name to Egon Spengler and find a backyard football game as soon as possible.

To the rest of the Minnesota Vikings fans:

I am terribly sorry about your loss yesterday. Nobody deserves to suffer what you suffered. But you can all take comfort in this heart-warming fact: At least you don't look like this on Sunday afternoons: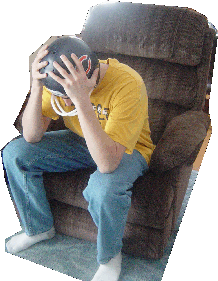 Doesn't that make you feel a little better? Now excuse me while I go use the Vikings shotgun.

The Leonardite