--Leonardite.com--
-Side A (Sports)
-Side B (Other)

-Latest Work
-Guest Writers
-Linkability

--Archives--
-Leonard
-Boxing
-CART
-IRL
-MLB
-NBA
-NCAA Basketball
-NCAA Football
-NFL
-NHL
-WWE
-Miscellaneous

--Features--
-Card Collection
-NES Lair
-Tecmo
-WVBA

--Specials--
-Buckner Week


Sign the Guestbook

E-mail the Leonardite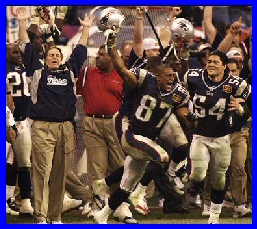 Bombs, Bombs, and Bombjacks (02/03/04) --
Where to start? The Super Bowl was filled with so many different twists, turns, and de-bra-ings that it would make the average guy's head spin. Luckily I was on the case with a sharp mind and an even sharper memory of things that certainly needed to be addressed on this website in the near future. Since the near future has now become the even-more-near present, I suppose it's about time to do that.

My first sight of the Super Bowl happened at about 1:30 in the afternoon when I flipped it over to CBS to see what was going on. When you think about a football pregame show, would you think about x's and o's, a breakdown of the schemes, or perhaps a player profile on one of the key members of the respective conference champions? Well if you would, you're an idiot, because as we all know football pregame shows are all about armadillo races. Seeing Boomer Esiason prodding his armadillo towards the finish line was enough for me to consider turning in my membership card as a football fan. In fact, things bothered me so much that I actually watched the entire second half of an NBA basketball game instead.

Don't worry, I washed my hands afterwards.

Later in the day, it was time to visit Raze, of 90 Proof Sports fame. As we settled in to watch the tube about a half hour before the coin toss, we invariably wandered back to the pregame show. There, in front of our eyes, were Toby Keith and Willie Nelson, along with hundreds of drones in front of them smiling and dancing. This provided plenty of fodder for jokes, but the hilarity jackpot was struck when the drones brought out some sawhorses to dance with. Then I noticed that they had little vinyl pads underneath the sawhorses to keep them from, presumably, ruining the field quality. This led to one of my favorite exchanges of the night: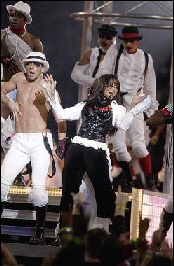 I really hope somebody messed these guys up when they got off-camera.

Raze: They brought out the sawhorses, you know, in case they needed to work on siding a building at this very moment.

Leonardite: What I like even more is how they have those little pads for the sawhorses so they don't screw up the field, but then right behind them is a huge, fricken stage.

We had seen about enough of the carpenters' ball and didn't return until it was coin flip time. I'm sure this is one moment most people can remember, as the effects of alcohol should have had the nation's population only on the floor, not yet under the table. Anyway, there were probably thirty people (I'm not exaggerating) out there for the flip, including a few legends, a ridiculous amount of captains, and some other dignitaries. This really struck me as kind of silly, as there were so many captains for each team that even RODNEY PEETE (also known as Rodney Peete-Robinson……think about that, for awhile) got to waddle out there. What's the point of even having "captains" if everyone gets to go out there? I got the feeling that only the practice squad guards and hand shields didn't get to head to midfield for the proceedings.

The next quarter-and-a-half of football was so terribly boring that most of the game was either on mute on television or on mute in my head. I honestly can't remember which one it was, but I do know that at one point this thought crossed my mind. "You know, I bet if Chris Weinke and Rodney Peete played their cards right, they both could start collecting Social Security within the next year or so." I'm not making this up.

Things started to look up, though, when a flurry of scoring happened before halftime. The Patriots got their touchdown, Jake Delhomme returned to forgetting he was supposed to suck and engineered a big drive, the Patriots inexplicably scored again and then followed that up with a ridiculous squib that led to John Kasay nailing a deep field goal before halftime. Hey man, this thing might not be too bad...

That is, until the halftime show began. I was already complaining like a cantankerous old football fan about the halftime show when the MTV produced ridicule-a-thon finally began. The whole thing started with Janet Jackson arriving to the delight of nobody. I was thinking during her entire set that if I was one of those guys dancing and gyrating around her while she sang, that I would be so embarrassed to face my family and people that I vaguely know, that if I sat foot in Leonard after that, I'd kick my own ass on main street to save everyone else the effort.

Then as the thousands of "junior high kids bussed in for the show" as Raze put it, celebrated wildly because their lives are completely determined by the number of "uhs" and "hos" thrown out by rap artists, Nelly and P-Diddy made their arrivals. Their arrival was amusing to me with the, "Oh Diddy you so fine, you so fine you blow my mind, hey Diddy!" Whoever it was that came up with that deserves a cookie or similar treat for their efforts because that was a homerun in my book. But compared to everything else, they could have said, "Here……is……..P-Diddy" and it would've been great.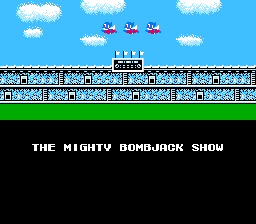 Now THIS is entertainment.

Then Kid Rock showed up and while his entrance was very cool as he remembered the music that made him popular in the first place, he couldn't resist thinking he was all the way south of the border and cutting a hole in the American flag to wear it like a poncho. But with all his identity issues, I wouldn't have been surprised if he would've shown up and sang Tiny Tim covers, so let's just be thankful for what we got.

Then Justin Timberlake did his talentless thing and pulled off Janet Jackson's shirt. It's all been beaten to death and nothing I say is going to add anything relevant to this conversation, although Janet did leave to the delight of everybody.

Back to the game, almost immediately I began flipping out when player after player would try and cut and would fall on his face on the Reliant Stadium turf. You could just see the ground was so mashed to hell that nobody could get footing out there. I made the remark that should be faxed straight to Paul Tagliabue: "You always say that you never want the referees to affect the outcomes of games, so there's no excuse that the damn halftime show should affect the game either." Instead of the over-produced crap we got this year, next bring in what the masses want to see: The Mighty Bombjack Show, baby.

The fourth quarter produced some great football. I'm not going to count everything down play-by-play as this isn't a news site (some might say this isn't even a newsworthy site, but those people also liked the halftime show.) All I can say is that DeShaun Foster's dive was one of the cooler moves I've seen in quite some time and that touchdown bomb was unbelievable. In fact, the Panthers receivers made some unbelievable catches all night.

Alas, it all ended up coming down to the leg of Adam Vinatieri. Although a fellow Dakotan (from Wrong Dakota, however), the house was vigorously rooting against him. I know I'm not alone when I get tired of the media practically licking his foot any time the playoffs come around.

But of course, Vinatieri makes the kick and the Patriots win again. As they went through people's reactions on the sidelines on replay, the best comment of the night came spilling out:

Commentator: And there's Jake Delhomme, looking very sober on the sidelines…

Raze: Not for long…

Pure genius. For that fleeting moment at least, it made everything better. Although I was hoping Vinatieri would slip on the ravaged turf and cut himself on one of Janet's nipple rings, I guess a witty comment about drinking will have to do. After all, you can't win them all.

The Leonardite