--Leonardite.com--
-Side A (Sports)
-Side B (Other)

-Latest Work
-Guest Writers
-Linkability

--Archives--
-Leonard
-Boxing
-CART
-IRL
-MLB
-NBA
-NCAA Basketball
-NCAA Football
-NFL
-NHL
-WWE
-Miscellaneous

--Features--
-Card Collection
-NES Lair
-Tecmo
-WVBA

--Specials--
-Buckner Week


Sign the Guestbook

E-mail the Leonardite
The SI/ND Reaction (01/20/04) --
"What in the world!????!"

If you heard this coming from somewhere deep in Cajun country, you needn't fret. That was just Brett Favre when he opened up the pages of Sports Illustrated and learned that by an overwhelming percentage, he was the enemy of the state of North Dakota. For a man who I can nearly guarantee has never been to the state or maybe never even considered the state a state, I'm sure he was quite surprised to be informed of this. Just think of the poor guy. First his father dies, which is certainly a tragic event. Then his team is bounced from the playoffs on the heels of one of the worst passes he has ever thrown. And now another dagger comes in as the Flickertail State declares him their athletic antichrist.

This was just one of a few different factoids, features, and in some cases, fiction, that Sports Illustrated served up as North Dakota made its way on the board in their "50 states in 50 weeks" tour. If your state hasn't been profiled, it will, and you'll probably get a more accurate state readout than the one North Dakota got. But as most of you know, North Dakota is my state, and as a lifelong captive, er, native, I felt it would be best if I dissected the SI information and gave you the true story of what it's like to live in a land where a women's basketball game gets more publicity than most football games.

I can about imagine the groans that erupted when the brass at SI announced that somebody, anybody, had to cover North Dakota. With a pot that can conservatively be labeled as "not quite overflowing" in legendary athletes, this was actually an easier assignment than one might think. Throw in a Roger Maris here, a Darin Erstad there, get Phil Jackson to throw in his two cents, make a joke about how cold it is, and by then the article has pretty much written itself. This is pretty much how the profile was slapped together, which was neither terribly exciting nor just plain terrible.



Amy is from Riverdale, North Dakota. I've never heard of Riverdale, but I think I should try and find it as soon as possible.

For those of you familiar with the tour to this point, you will notice that they have an article about some particular sporting event that is big in the state, a one-page article written by either a famous native or an SI columnist who hails from the state, and a page of statistics labeling the land's inclination toward various sporting events.

Nearly from the start, I took it upon myself to prognosticate what would show up when North Dakota came to bat. I figured for sure that Phil Jackson would write the one-pager (which he did,) since Maris is dead and Rick Helling is still searching for his pitching arm someplace in Texas. I also assumed that the state's sports enthusiasm meter would register fairly low (which it did.) The Minnesota sports teams were going to be named as the favorites in all four sports (they were) and I figured that UND hockey would probably show up in the favorite college teams category (right again.)

What was really perplexing me, though, was what the state-exclusive sport was going to be. Texas has high school football, Indiana has auto racing and basketball, but what does North Dakota have? Outside of migrating to the Minnesota lakes during the summer or seeing who can put on the most layers of clothing and still be able to move at a moderate pace in winter, I couldn't think of any sport that would be worthy of a 2-3 page article. It turns out I was right, because they picked curling.

I shouldn't have been too surprised, considering Bisbee used to host the World Cup of Curling (where were you with THAT information, SI?) But the fact that they picked Grafton really surprised me, although I admit I know about as much about curling as Lisa Guerrero knows about broadcasting. In the article, they basically portray Grafton as a bunch of drunken curlers who compete while drinking and then celebrate their wins with beer and console themselves after losses with beer. If I were an outsider, I would get the picture that curling is like softball on ice.

Don't get me wrong, I have nothing wrong with Grafton being portrayed in this light. Let me give you an example of my dislike of this town. When I was a senior in high school, we were supposed to have a pretty decent football team. Ranked in the state for the first time in quite awhile, we had a quiet air of confidence going into our second home game against, you guessed it, Grafton. Things began to look a little less appealing after we learned that their 320 pound lineman wasn't even in the rotation. Hell, if we had a 320 pound lineman, he would have played guard and tackle at the same time and if he could find a way to snap it he damn well would have done that, too.

Anyway, their line was still huge and all their hockey players at the skill positions were in much better shape than I could ever dream of being. These guys had all the advantages in the world: Faster players, bigger linemen, hotter cheerleaders…..the list didn't end. But what really got me was their left guard. Apparently he had a hairline fracture in one of his wrists, so he got to play with a huge club on his arm. That's right, a club. This thing was more than twice again as big as his regular arm would be, and he had no qualms about using it to knock opponents into a blissful state of amnesia. Behind the strength of Caveman and all the Gordie Howes around him, they pretty much buried us quickly and derailed our season. The only highlight of the game was on the TV highlights that night, when the sportscaster made sure to go out of his way to point out the free safety that got piledriven by the halfback en route to his fifty-yard TD scamper. That free safety was me, baby, all me.

So you can see where I was glad that Sports Illustrated made Grafton look like a bunch of drunks to a national audience. Besides playing hockey and cheating at football, I didn't even realize they had other hobbies. But what would you expect from a town who names their team the "Spoilers?" I'm not one for naming my team after rotten food, but if that's what strikes fear into opponents, so be it. "Stay out of our way or you'll get a mean case of botulism!" That's Grafton sports, America.

Next up is the Phil Jackson article. In it, he goes on to describe what life was like in the western North Dakota town of Williston and the state as he knew it. Now this is all well and good, but asking a westerner to describe life in North Dakota is like asking someone from North Dakota to describe typical life in the United States. Western North Dakota is a desolate, lonely place whereas eastern North Dakota is pretty much the same thing, save for the Garden of Eden known as Leonard.

Another thing about the article is that Jackson describes his life playing Class A (big school) basketball and how the goal was to win the state championship. If I've said it once I've said it a thousand times: Outside of the parents and some of the kids in the member schools, there's not a person in this state who could care less about Class A basketball. For one thing, most of the people can't relate to what it's like having multiple high schools in one town (some people can't imagine what it's like having multiple high schools in the same county.) So to try and convince somebody in Gackle that Fargo North vs. Fargo South is some storied contest is about as well-conceived as a movie about people going to the earth's core to blow up nuclear weapons.

If you take anything from this article, know this: In North Dakota, there are only two events that get statewide attention: The UND vs. NDSU football game and the Class B boys' basketball tournament. The small schools will always be where the entertainment is at when it comes to state championships, simply because there's a lot more people and a lot more diverse audience to care. When you are talking of hundreds of schools compared to twenty-some, let's not try and pretend that anybody lives and dies with Class A sports. Plus, with so many people there, going to the B tournament is like Mardi Gras on the prairie only with no beads, warm weather, and with a lot more alcohol. There are so many police officers that converge on the host city to patrol the hotels that this year during the tourney I'm going to go to Jamestown and steal the world's largest buffalo because the nearest trooper will be fifty miles away.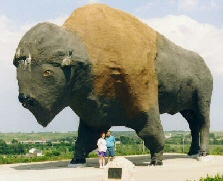 This thing is going to look pretty sweet in my backyard.

In short, there was no choice but Phil Jackson to write this article. But his experiences in North Dakota are a far cry from the rest of ours. He states that to see professional sports, his parents would take him to see Saskatchewan Rough Riders football. WTF, Phil? I understand the western North Dakota plight, but most North Dakotans' experiences with professional sports are driving to see the Vikings play like a bunch of practice squad clowns, not going and seeing actual practice squad clowns play. The article was well-written, though, and he did the best he could with the assignment given to him.

Next up, the stats page. Oh my, did this pique my interest from the beginning. Running down the list of favorite teams, you had the Minnesota teams on top of all four, with the Twins (surprisingly) being most popular and the Timberwolves (not surprisingly) being least popular of the four. What really burned me is like every other state, the Yankees, Lakers, and Avalanche found enough votes to be listed. Since Phil Jackson coaches the Lakers I'll let that slide, but the other two? Come on. The Avalanche has been in Denver for less than a decade. So don't you dare try and tell me that your fondest childhood memories are of sitting around the radio listening to French broadcasts of the Nordiques, live from Quebec City. And you Yankees idiots, this team knocked the Twins out of the playoffs and stands for everything the Twins rebel against. I hope the devil gave you a sweet deal for your soul.

Favorite college team was another thing of interest to me. North Dakota hockey found its way on there as number one, which I figured would be likely considering they are the only major college hockey team and they play in a friggin' palace. I was pleased, however, to see North Dakota State football close behind and North Dakota football absent. UND fans will try and tell you that their one national championship in 102 years makes them a powerhouse, but the true fans in this state know that's a farce. Subsequently, there are some pretty sweet bootleg shirts out there to illustrate this fact. NDSU has seven national championships (not the five that SI incorrectly lists) and is rewarded with a larger fan base and SI mention. Nice to see.




Ugly.

In the greatest athlete from your state category, it went Maris, Jackson, and Erstad. Pretty logical choices, but the jackasses that voted for Jim Kleinsasser (Vikings fullback, ugliest man in the NFL modern era) really need to reexamine their lives.

And finally, the one that started this column off: Enemy of the State. For Brett Favre to open up the SI and see his face prominently displayed, I have to think he broke into hysterical laughter. Would you not be delighted to see something like that? I really hope that brightened his day, because he's had enough trouble the past few weeks. Then George Steinbrenner makes his way onto the list with 5% of the vote. It's a true testament to our naďve sporting population that the Yankees get voted in as the second most popular team while at the same time Steinbrenner gets voted in as the second biggest enemy of the state.

But friends, Steinbrenner wasn't alone at number two. No, he shared that spot with the man who should have been number one: Ed Schultz. Yes, the notorious canine gunman himself made his way into the SI and that brought a grin to my face bigger than the time I heard that Leon Lett got busted with 300 pounds of marijuana. SI describes Schultz as, "A longtime Fargo sportscaster (and) some folks think he's too loud and opinionated." Well, they got it right somewhat. But I suppose they didn't have the editor's permission to label him as a "side winding, backstabbing, Benedict Arnold-like bastard."

You see, big Eddie takes Rasheed Wallace's philosophy of CTC (cut the check) to a whole new level. If you were to see Ed Schultz in 1996, he was the voice of the North Dakota Republican party and of North Dakota State University football on the radio. Everyone knew Ed Schultz for these two things. Now? He broadcasts UND football and is a self-proclaimed "gun totin', redneck liberal." Imagine the Auburn radio guy switching to Alabama or Rush Limbaugh co-hosting a show with Hillary Clinton. That's about where Ed Schultz stands. His credibility is shot to the point that nobody on either side trusts him or respects him anymore, but the 55+ crowd does call in and kiss his butt on his radio show so I guess he has that demographic going for him. Hopefully he has a great time at those AARP meetings talking about his young days working for the Democratic Party and watching the less-than-glorious tradition of UND football.

Did I mention that he shot his dog?

Yes, friends, it was nice to see North Dakota get some mainstream publicity. It was good to see Phil Jackson comment on his home state again and to see Ed Schultz get national publicity for being a moron. Check back either later this evening or tomorrow for the article I would have written for Sports Illustrated had Mr. Jackson turned them down or tried to deny he was from the state that has formally declared its intent to harm Brett Favre.

The Leonardite