June 24, 2004
Name: Baseman


Wow, that Bob guy is a complete asshat. Instead of wasting his time drawing out every possible thing that could be negative, he could just come out of his shell and tell the world what we already know, "I only listen to church music." Is that his picture in the upper left corner? I wasnt aware of that site before but thank you so much for giving me someone to point and laugh at for an eternity.

Leonardite:
Yep, that's Bob. He's pretty cute in a squirrely looking, you're-all-damned kind of way.


---
June 22, 2004
Name: Jared
E-mail: jared.purvis@comcast.net

Hey guys, I totally agree with your opinions on the Buffalo Bills and San Francisco 49ers. Some friends and I often get together and drink a few beers and throw a big old Tecmo tournament. I have mastered the art of dominating with the Cincinatti Bengals. James Brooks to the house, but I digress; it is relieving to know that there are other people, possibly adults that are as obsessed with this game as much as our 8 guys ranging from 22-28 years of age. Yeah that's right, we're pathetic.....

Leonardite:
What's pathetic are people that don't partake in this kind of stuff more often. In fact, I propose that future elections be determined not by traditional ballot or voting, but by one of three ways:

1) Takraw
2) Tobacco spitting
3) Tecmo


---
May 27, 2004
Name: Baseman

Hey Lenordite, dont know how often you check your email but I submitted an eagles profile about 2 months ago and I was wondering if youve seen it yet. If you have and didnt want to put it up, thats cool too.

Leonardite:
I've got it. As a certified graduate of guest contributor school, it will make it here in all its glory, once I find time between my petty street thuggery and traveling with my nationwide line-dancing troupe.


---
May 26, 2004
Name: Jimmy N. E-mail: infantrywarrior5@aol.com
Location: New Jersey

I just won the W.V.B.A. CHAMPIONSHIP IN THE MINOR CIRCUIT.I am annoucing im the current champion.

Leonardite:
And I just ripped Shang Tsung's arms off and made them gush like water fountains, but I didn't feel compelled to notify complete strangers.


---
May 19, 2004
Name: Coo Coo Marlin E-mail: coocoobird@govolz.com
Location: Columbia, TN

Nvrno, might see at hotrod upere in victry lane.


---
May 19, 2004
Name: Ercy
E-mail: ercy@90proofsports.com
Location: 90 Proof

Oh and in reaction to the post by Ms. Angry:
Anyone who has read my site realizes I'm a big fan of anger, and employ it every day to manipulate and punish those around me. However, I'm going to have to disagree with you on this one. Blogs are not "a window to the soul of a person that you have not met". They are non-sensical ramblings from people who are so disillusioned that they actually believe that the general public may be interested in the fact that they had two bowls of Mickey's Magix cereal or that a boy looked at them in the library today. To that assumption I offer one thought: LOL!!LOL!!AFK:):):) I for one can attest to the fact that the Leonardite's parents are very proud of him. They smile down on him every day from heaven, ever since that fateful day when that drunk driver ran the red light and slammed into their truck. God rest their souls. Alright, so none of that is true, but I bet for the first time in your life you considered shutting the fook up.
Sincerely,
Ercy of 90ProofSports.


---
May 19, 2004
Name: Ercy E-mail: ercy@90proofsports.com
Location: 90 Proof

Leonardite, I did NOT say that I thought Denver/Minnesota was going to be the next great NBA rivalry. I said the series could be the start of a rivalry. You then said "Are you saying that DEN/MN is the next great NBA rivalry" in which I replied "No." Furthermore, I was highly offended by your use of the words "Bomb Pop" in your recent article. Bombs are naughty, naughty things, and their likeness should not be used as analogies in internet blogs such as yours. Seriously man, we have issues, I'm sittin in the house booking my tickets to Massachusettes. I got the tuxes, I got the rings, I got a couple sacks or rice, I got some anal lube, I got an executioners mask with a silencer on it. I'm ready for gay marriage man. You and me, let's settle this.


---
April 21, 2004
Name: Coo Coo Marlin E-mail: coocoobird@govolz.com
Location: Columbia, TN

Ya blame fool, Steadman's my grandson.


---
April 19, 2004
Name: Coo Coo Marlin E-mail: coocoobird@govolz.com
Location: Columbia, TN

He gotta purdy good lil' hotrod. Never know, just might see Sterlin's CoorLightDodge in Victry Lane.

Leonardite:
The coolest thing about you, sir, is that you have a son named "Stedman." I'm pretty sure we'd all give up various possessions and organs to share the same name as the immortal Chet "Rocket" Stedman from Rookie of the Year.


---
April 16, 2004
Name: simonbelmont7
Location: Lago

Is Pat the only player from TSB who looks exactly like his 8 bit player profile photo? Other than his hair losing some yardage, it's the exact same face.

Leonardite:
Dan Marino is another one that I can think of that is pretty close in resemblance.

And if you look past the fact that he isn't a white man, Johnny Johnson's looks pretty similar as well, I suppose.


---
April 9, 2004
Name: Baseman
E-mail: base311@hotmail.com
Location: down south

Have you ever heard of an opinion?


---
April 7, 2004
Name: Angry
Location: Upper Midwest

In reference to your most recent additions to your website.

If I swore, the foul-mouthed words would be in your direction. I happen to read blog sites often and find them quite interesting. They are a window to the soul of person that you have not met. I would also like to tell you that no longer will my eyes fall upon you website because I have found it most disgusting since you transfered over to you new style of writing. I hope that you are making your parents very happy. I know that if you were my child, a lesson in respect would be in order.

Very Angry

Leonardite:
Don't worry about this guy. I know where he lives, where he sleeps, and when he will be vulnerable to a vicious attack with a hockey stick. (Good job on the gender choice, though, I knew you were a woman all along)

Also, a "thank-you" goes to Baseman for sticking up for me in the post above. He had no reason to know this post wasn't legit.


---
April 5, 2004
Name: Ercy
E-mail: ercy@90proofsports.com
Location: 90fuckingproofsports I said

You get enlarge your penis emails? I don't get enlarge your penis emails. I called all over to see if any of my friends were getting enlarge your penis emails, and only one of them is. We call him "Tiny".

Ercy


---
March 22, 2004
Name: Donald Igwebuike
E-mail: donaldthekicker@singsing.com
Location: Jail

I would like to announce my candidacy for the kicker position on the all-time best names at each position team.

Leonardite: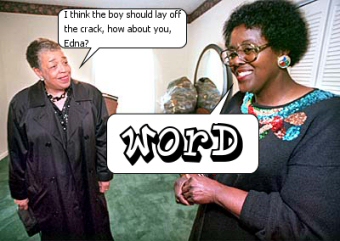 ---
March 19, 2004
Name: Mergle
Location: New England

Great site, I look forward to seeing more reviews.

One Idea for you: make a list of the best names in the game at each position. Kicker definitley is Fuad Reviz of the Vikings.

Leonardite:


Whoa, hold on a second...

Now I admit that this guy doesn't have the zaniest name on the game, but are YOU going to tell THIS badass that he doesn't? If you are, you better have some laser guns or a wild jungle cat sidekick, buddy.


---
March 12, 2004
Name: Clarence Worley
E-mail: cominghome@inabodybag.com
Location: Jack Rabbit Slim's

The Don King of the WVBA has made a triumphant foray in to the seedy underbelly of NES boxing. Don't think I don't remeber your boy Vodka Drunkinski, although I see he's attempted to clean up his image... On another note, Geoff Zahn may not have had much of a career, but being the sole inspiration for Chelcie Ross' Eddie Harris character in Major League warrants some serious props yo.

Leonardite:
Are you kidding me? References to Vodka Drunkenski, Geoff Zahn, AND Eddie Harris all in the span of two sentences? Instead of saying, "Thanks for signing my guestbook" after submitting this, the system should've said "Is there any more wisdom that we may receive from your oracle, oh gracious one?"


---
March 11, 2004
Name: Baseman
Location: Louisiana

Its nice to see that there are other people out there that have the same way of espressing humor in writing while sticking to the point. I enjoy the articles and whatnot here, keep up the good work.


---
March 11, 2004
Name: Janine Melnitz
E-mail: melnitz@g-busters.com
Location: Headquarters

Your secret identity is safe with me Leonardite.

Leonardite:


Lookin' good, baby. But speaking of identities, are you sure your last name isn't Opheim?


---
March 11, 2004
Name: Benjilee
E-mail: shoot@yourgoo.com
Location: The bottom bunk

Hey Leonardite, Check out these balls. I mean have you ever seen balls like this? LOOK AT THEM!

Leonardite:
You leave a message like this and then not offer a picture to see if we have, as you say, "seen balls like this?" That's cruel, man.


---
March 11, 2004
Name: Leonardite
E-mail: leonardite@leonardite.com
Location: Leonard

This is the guestbook. I'm pretty sure you all know what to do with one of these, but in case you don't....

The guestbook is for:

Feedback
Exchanging Mike Tyson stories
Yours and my enjoyment. Don't be afraid to be creative and/or witty

The guestbook is NOT for:

Love letters (send those via e-mail, please)
Advertisements
Yankees fans

Once you post in here, if I have something to add to your post, chances are good that I will respond to it right on this page. Also feel free to e-mail me at anytime. Thanks for visiting the site, come back often.