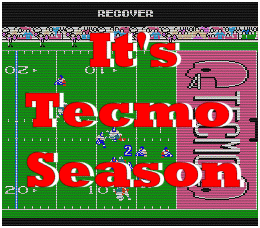 We're coming up on nearly a year since this season began, which is a testament to the incredible staying power of Leonardite.com and the incredibler staying power of my procrastinating laziness. Regardless of your views on the long, meandering path that this season has taken, I'm sure you all have found that reading about simulated NES football games is as exciting as one would imagine it would be. Between the nonstop thrills of box score screenshots or me squeezing in one more "Wide Right Norwood," the twists and turns of "It's Tecmo Season" will surely leave the masses talking until at least the end of this page. And remember, we are dealing with simulated Nintendo football here, so that actually is a pretty legitimate achievement.

When I started this season, I kicked it all off with a preseason prediction page which can be found...



...in this location.



For the purposes of compiling this regular season wrap-up page, I am going to look back on the divisions in the context of my sometimes wide-of-the-mark predictions. Did I do okay? That's for you to decide. Did you do okay? I'm really hoping that none of you made your own prediction sheets, so if you didn't, you can pat yourself on the back for doing just fine. If you did make "It's Tecmo Season" predictions, though, I'd ask that you please get out of the bushes by my house because while your stalking was flattering at first, it's starting to annoy the pizza guy and you're getting in the way of his work.


AFC East

My picks:
1) Buffalo
2) Miami*
3) New York
4) Indianapolis
5) New England

The AFC East was the top heavy bracket that we all expected in the preseason. Buffalo and Miami rattled off some unbelievable winning streaks to close out the season, but my favorite streak definitely has to be the 15 game skid that the Colts went on to round out 1991. We all knew that the Colts were going to be pretty terrible, but this was a level of shitty football unexperienced by even the most pessimistic Tecmo Indianapolis backers. And if there are Tecmo Indianapolis backers, they undoubtedly have a monopoly on pessimism. Pessimism and self-inflicted gunshot wounds.

The overall record for the East in Games of the Week was 3-4, but if you take away the interdivision games where they cannibalized each other, this figure drops to 1-2, a pretty poor record considering that the lone win was recorded by Buffalo. The division overall had its exciting moments, between Marino laser sharpening a twelve-game winning streak and Buffalo sleepwalking through yet another regular season. With two very solid teams still in the fray, the East is well-represented in the upcoming playoffs.


AFC Central

My picks:
1) Houston
2) Pittsburgh*
3) Cincinnati
4) Cleveland

This division was an embarassment, both in terms of my ridiculous prognosticating and the actual play exhibited by the "football" teams within it. Houston started off the campaign on a 6-0 tear and just as I got done massaging them with my words, they finished the year on a blistering 3-7 tear. The rest of the positively mediocre division jumbled themselves all up and an 8-8 team nearly won the division, which would have been an affront to everything that is held sacred to Tecmo.

Houston's 3-7 run at the end of the season was beyond shameful. MAN-MAN games usually involve the mindless act of heaving the ball to anyone of their pine-tarred receivers and said receivers catching the ball while blanketed by a sizeable brigade of defenders. What possible combination of horrible play-calling and hindering venereal diseases could have led to such a travesty is beyond me, but Houston had better get things figured out quickly. Naturally I'm sure they'll rattle off wins all the way to the Super Bowl, but the performances that are barely good enough to beat Mosi aren't going to cut it against Thurman, I can guarantee this.


AFC West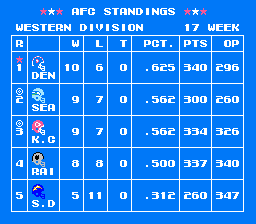 My picks:
1) Seattle
2) Kansas City*
3) Denver
4) Los Angeles
5) San Diego

I have always noticed for some reason that the Seahawks are good to an exaggerated degree in SKP games. Granted, the Seahawks scoring any amount over ten points in two games is exaggerating their "talent," but what I mean is that they seem to make the playoffs more often than not. I predicted a division crown which didn't quite happen, but it was close enough. The football in this division was very good and very competitive, as it was the only division to go down to Week 17 before somebody finally stepped up and claimed the first round bye. That it was Denver surprises me, what with their subpar offensive players like Steve Sewell and their subpar offensive plays, like the Johnson reverse and the flea flicker. But hey, that's why they play the games, right? Or more accurately, that's why I quickly simulate them and then post half-assed scores. So that's the answer to why I did this season: To watch Denver win the AFC West. That's pretty disappointing.

Since the playoffs are going to be in an all COM format, I'd have to think that the Chiefs will be the best of the bunch with their racially misrepresented nose guards and pissed off Nigerians. I'm hoping Stouffer sees the field and runs the offense as smooth as owl shit, but it's probably not going to happen.


NFC East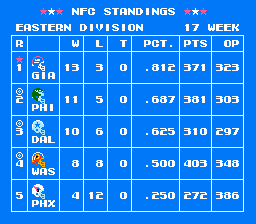 My picks:
1) New York
2) Washington*
3) Philadelphia
4) Dallas
5) Phoenix

As it was back in 1991, as it is in our version of 1991....the NFC East is the beast of the football world. From New York decimating the competition consistently all season to Washington's playoff surge, to even Puh-hoe-nix not totally sucking, the East reigned supreme. Of all those storylines, the one that surprised me the most was Dallas. While Dallas is an altogether serviceable MAN team, the fact that they rattled off a ten win season made this Leonardite take notice. They're a fun team to control simply because of Nutsack and the Babe and now that they're in the playoffs I'll be getting even more mileage out of their names.

But I had New York winning the Super Bowl in the preseason and I'm sticking with them here. LT, the Juice, Maurice Carthon......what a lineup. I don't see them getting tripped up by the Niners or the dishonest SOB's in Buffalo and I DO see them taking home the Lombardi Trophy.


NFC Central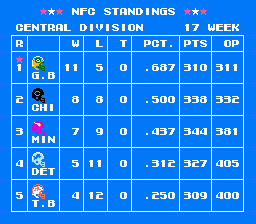 My picks:
1) Chicago
2) Minnesota*
3) Detroit
4) Green Bay
5) Tampa Bay

There's no way that I couldn't be excited about this outcome. Despite my picks going in the crapper pretty early, the fact that I get Bob in the playoffs makes me happy. And it apparently makes the deity that programmed him to superhuman proportions happy as well. The Packers certainly earned this division with some quality wins (Miami comes to mind) and some quality names (Query comes to mind.) As for the rest of the crew...

Chicago started the season hot but then mailed it when Neal Anderson couldn't stay healthy and Jim Harbaugh (Harboff) couldn't pass it to a football player with the same colored jersey. Detroit never even considered showing up for the season, which is disappointing for a team that has at least a couple of good players and a playbook that I would consider sacrificing a girlfriend for. And Tampa Bay exhibited some world class putrid football, which is exactly what we expected to be served. Did I forget about Minnesota? I hope so.


NFC West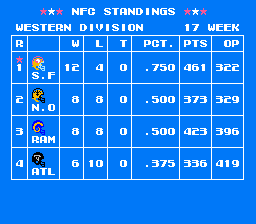 My picks:
1) San Francisco
2) New Orleans*
3) Atlanta
4) Los Angeles

In the middle of the season, everyone in here was over .500 and sniffing the playoffs and the fine wines that come with being a quality Tecmo team. By the end, everyone but the obvious was exhaustedly hunched over in their own vomit, wondering what it was that just happened to them and even more importantly, what it was that they drank in despair the night before. San Francisco carried the division, which surprised nobody but.......well........nobody. But Los Angeles really looked to be a legitimate playoff threat for most of the year, until they pulled off a choke of Carlesimo proportions. The Saints rallied to get back to 8-8 and the Falcons ran out of gas early in going 6-10, but it's that Rams faltering that really hurt me.

The 49ers look pretty prime for a good run, obviously. Any team with Jerry Rice will win a lot of games, even if you put only paraplegics or apparitions around him. More power to them and their absurd talent, but I think we're all going to be sorely disappointed if we came a full year into this thing and have to watch yet another God-forsaken Buffalo vs. San Francisco Super Bowl.
---

Coming this week...

- AFC Wild Card: Miami vs. Seattle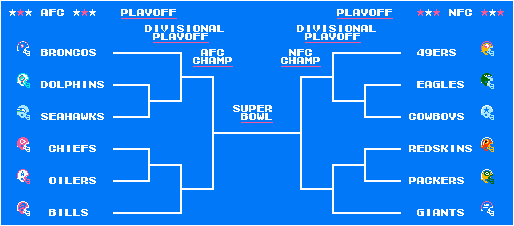 Leonardite.com