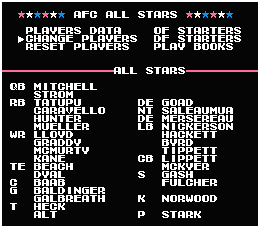 AFC All-Pros



Quarterback - Scott Mitchell
After more than two decades without a positive football experience, Mitchell pulled an AFC championship out of his ass and led Miami to the Super Bowl.

Quarterback - Rick Strom
Even though he didn't technically "play," Strom totally showed us all what he was made of.

Runningback - Mosi Tatupu
I don't even know what the point of having this game would be if you don't include a name like "Mosi Tatupu."

Runningback - Joe Caravello
Joe Caravello has imploded more San Diego seasons subbing for a hurt Marion Butts than is digitally possible.

Runningback - Ivy Joe Hunter
Besides Jake, Killer, and Bitchbuster, there are no manlier names to give your son than "Joe"...unless you put "Ivy" in front of it. And I know it's hard to believe, but Ivy Bitchbuster sounds only marginally better.

Runningback - Jamie Mueller
To show the Bills how much I hate them, I avoided picking from their smorgasbord of superhuman offensive weapons and dug into their blue collar slob barrel instead.

Wide Receiver - Doug Lloyd
With their crazy run-and-shoot offense, the Houston players' offensive slots are all screwed up in the Pro Bowl page. Naturally, I couldn't avoid making Doug Lloyd, former North Dakota State fullback, the AFC's #1 receiver.

Wide Receiver - Sam Graddy
Bo Jackson or Sam Graddy? Psht.

Wide Receiver - Greg McMurty
This poor bastard had the chance to live on in 8-bit eternity and couldn't even get his name spelled correctly.

Wide Receiver - Tommy Kane
If I'm picking out guys who have exciting backstories like Tecmo forgetting an "r" in their last name as being Pro Bowl worthy, it's pretty hard to tell convicted murderers they don't qualify.

Tight End - Pat Beach
I'm only playing Beach in the hopes that he gets his stomach split in half by a Bob Nelson grimace.

Tight End - Mike Dyal
My friend Barry has a bizarre obsession with Dyal, which is the most random choice of anything since my Dad picked Frederick as his favorite county seat in Oklahoma.

Center - Mike Baab
Science has proven that palendromes snap the ball more consistently than hypotenuses.

Guard - Brian Baldinger
Baldinger is unquestionably the worst color guy on TV and the fact that he played for the Tecmo Colts makes him even more irrelevant. Playing with the Tecmo Colts in your basement is something to be more proud of than playing for the real-life team that was their inspiration.

Guard - Harry Galbreath
Seriously now.

Tackle - Andy Heck
I had a football card of Heck's when I was a kid and learned that he was born in Fargo. That Fargo, a city starved for celebrities, never claimed him as their football star is completely shocking, especially when you take into consideration that it put up a statue of Axl Rose outside City Hall after a Hustler on the way to his house passed through and was handled by the Fargo post office.

Tackle - John Alt
Who is John Alt? An AFC All-Pro, bitches.

Defensive End - Tim Goad
Nothing says "points" like playing against the computer and seeing the player it will control all game is Tim Goad.

Nose Tackle - Dan Saleamua
It's one thing for Greg McMurtry to get slighted on his surname, but Tecmo albinoed this poor bastard.

Defensive End - Scott Mersereau
Nobody on Tecmo has ever found a way to even block Dennis Byrd, so when a guy finds a way to paralyze him, I think that's more worthy than getting to Mike Elkins a few times a season.

Linebacker - Hardy Nickerson
Just think of how much this name would suck if it was Ivy Hardy Nickerson.

Linebacker - Dino Hackett
"I bet you were watching a football game with that funny linebacker...oh what's his name, Dino.....WHACK IT?!"

Linebacker - Dennis Byrd
I factored in the whole conquering paralysis thing, but it was his Little League baseball experience that really made his resume` stand out to me.

Linebacker - Andre Tippett
I'm pretty sure these two are just the same guy...

Cornerback - Ronnie Lippett
...and that that guy blows.

Cornerback - Tim McKyer
Big Red's crotch cast the deciding vote.

Safety - Thane Gash
Ivy Thane Gash.

Safety - David Fulcher
Fulcher used to get accused of snorting cocaine lines before games to enhance his legendary abilities, but it turns out he only huffs tornadoes so it's okay.

Kicker - Scott Norwood
I just about gave this spot to Jeff Leahy. < /sarcasm >

Punter - Rohn Stark
Consult the manual: This son-of-a-bitch is one of the best in the league.



NFC All-Pros



Quarterback - Babe Laufenberg
Tecmo wouldn't let me pick just his beard.

Quarterback - Tom Tupa
This guy punched a hole through a paper towel once. Well, almost.

Runningback - Gil Fenerty
The Thrill has 15,003,378 career Tecmo return touchdowns but has never gotten a carry from scrimmage.

Runningback - Rick Fenney
If Mueller is here, you damn well better believe the NFC is going to GrinFenney the AFC's asses in response.

Runningback - Vai Sikahema
Don't get too excited: He suffered a melted pelvis when I typed his name too hard.

Runningback - Tommie Agee
When you know a guy named Nutsack you don't ever A) Leave him off your All-Pro team or B) Let him run with scissors. B has nothing to do with Nutsack per se, it's just good advice.

Wide Receiver - Brent Perriman
Like McMurtry, except that Tecmo got this guy's whole first name wrong.

Wide Receiver - Willie Drewrey
When I was a mini-Leonardite, the first time I saw this guy's name go by on the Super Bowl champions screen I thought it said "Wild Drool." I know what you're thinking: Yes, I did spend the preceeding week entirely awake in a Lucky Charms factory and yes, it was a game glitch. The Buccaneers have never crossed the 50, much less won the Super Bowl.

Wide Receiver - Michael Irvin
He's got nice suits. Did I say "suits?" I meant sluts.

Wide Receiver - Willie Anderson
They call him Flipper. I call him a Pro Bowler. Well, and Flipper too. And sometimes assface.

Tight End - Cap Boso
Someone told me that covering Cap Boso was where the "money's at."

Tight End - Mark Bavaro
When I picture the two guys giving the longest, most profound high-five in history (I.E. The Tecmo Bowl touchdown celebration,) the words "MARK BAVARO" are underneath them.

Center - Kirk Lowdermilk
Dairy products are an acceptable snapping substitute if you don't have a palendrome lying around the house.

Guard - Crawford Ker
"Ker/Bax" sounds like a realtor.

Guard - Carl Bax
Or a drain cleaner.

Tackle - Keith Van Horne
He barely beat out Phat Lever for this spot.

Tackle - Tootie Robbins
I mean, for fuck's sake...

Defensive End - Richard Dent
When people call you "Dick Dent" and you have no right to get mad, the least I can do is let you play in an internet football game.

Nose Tackle - Bob Nelson
If his twelve sacks in three plays don't impress you, then him leading the Israelites out of Egypt should.

Defensive End - Al Noga
Bob Nelson: Mythical.
Dick Dent: Overpowering.
Al Noga: Al Noga.
I think I saw Bill Cosby discuss this on Captain Kangaroo once.

Linebacker - Frank Stams
Frank Stams brought back an improbable game-winning touchdown for me in a heated man vs. man game once. My car also needs to be washed, while we're on the topic of personal information that you don't give a shit about.

Linebacker - Garth Jax
Ivy Garth Jax.

Linebacker - Eugene Marve
A man going by the name of "EdibleAntiPerspirant" has been one of this season's biggest fans. The least I can do is put his Nintendo man-crush in the Pro Bowl.

Linebacker - Mike Singletary
I was going to put Lawrence Taylor here, but I wanted poor Norwood to at least get a chance to kick the ball.

Cornerback - Wayne Haddix
The only person who approaches the Nelsonness of Nelson himself is Wayne Haddix. If you pick the Packers, you might think you struck the jackpot when see that you have both Nelson AND Haddix on your team. The disappointment in finding out that the Haddix in question is Michael is surpassed only by learning that your Formula One driving Schumacher is Ralf or that the naked Aguilera you woke up next to is Rick.

Cornerback - Jerry Gray
Darrell Green was way too colorful, so I had to settle for someone a little more drab. This also happens to be the word I use to describe the Rams' playoff hopes each Tecmo season.

Safety - Chuck Cecil
I think this qualifies him.

Safety - Ronnie Lott
Why a guy that cuts fingers off to play in football games doesn't get similar headlines is one of life's small riddles.

Kicker - Fuad Reveiz
"AutoFuad" might sound like the name of an animated Japanese plunger cartoon, but it's actually the name of an animated Japanese-programmed NFC kicker.

Punter - Jeff Feagles
Feagles has not only a found a way into every Tecmo Super Bowl contest, but has snuck in to punt in a few NES Playaction Football games and been attacked numerous times by the British military formation on the field in 10 Yard Fight.