Back in the preseason I authored this very ominous sentence:

"Buoyed by their insanely good playbook, quarterback, receivers, tailback, and linebacker, the Oilers will once again coast into the playoffs. Then they will coast right onto the golf course as Kansas City kicks their asses yet again."

Before anyone gets any crazy ideas, cut the "he's a fortune teller" garbage out. Everybody knows it anyway and besides, I'm a soothsayer, so get it right. And coming into this game, I feel even more confident. Kansas City always turns it on in the playoffs, which is the natural byproduct of anabolic programming. Houston, on the other hand, has all the momentum of a cadaver rolling uphill on a tricycle right now and seems to be looking for someone to compassionately euthanize their fading season. With Steve Kervorkian under center for the Chiefs, I like their chances.

First Quarter

Oilers Drive #1

Starting from their own 23, Warren Moon is acting a little cocky. I'm not sure if it's the diamond studs in his ears or the "KANSAS SHITTY" sandwich board he wore during the national anthem, but he's giving off that vibe. And to prove how confident he is, Moon tried to force two questionable passes into coverage that were lucky not to be picked off. On third down, Moon's torso was lucky not to fall off after Derrick Thomas humbled him with a savage sack. We're about to find out if this attitude is a strictly Moon thing, or if it extends to the punt kickers as well.

Chiefs Drive #1





Let's all give a warm round of applause to the guy fleeing for his life on the six

The Nightmare gets ten yards right out of the gates. Right after this, on a play where five receivers out of a possible five are open (an acceptable percentage), Stephone Paige makes a leaping catch and has the Chiefs midway into Oiler territory. Two straight Okoye carries net another first down for Kansas City.

The Oiler defense then snaps into a Slim Jim on the sideline and proceeds to jailbreak blitz the Chiefs on two straight plays. Facing 3rd and 24, the Chiefs pick up thirteen on a pass, but still are left with no other choice but to turn to the ominpotent demigod they have slotted as their placekicker. Lowery delivers and then heals John Grimsley's son's broken leg on his way back to the sideline.

3-0, Kansas City

Oilers Drive #2

Moon is still as hot as a Klondike Bar as he returns for his second drive, overthrowing three wide open receivers and bringing his performance to an increasingly stellar 0 for 5 passing for 0 yards.

End of 1st Quarter: Kansas City-3, Dallas-0

Second Quarter

Oilers Drive #2 (Continued)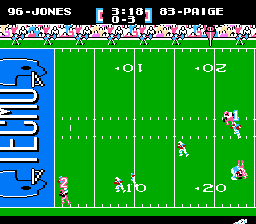 In a moment that will stump physicists for at least half a minute, Stephone Paige and a Houston defender exhibit some flaws in collision detection

Derrick Thomas comes pants-crappingly close to obliterating the punt kicker, but Montgomery gets it off and the Chiefs will be starting at their own 36.

Chiefs Drive #2

Joe Theismann isn't doing the game, but if he was, I'm sure he'd be raving about how how the Chiefs' offense of Okoye first downs is a lot smarter than the Oilers' offense of Moon incompletions. And now that DeBerg just completed a pass to Birden down to the Oiler 30, I'm sure he'd compare Moon's stroke to his own. Then he would ice his leg.

On the very next play, DeBerg hits Paige on a comeback. Paige then streaks ten yards, mystically runs through a defender at the goal line, and pads the Chiefs' lead.

10-0, Kansas City

Oilers Drive #3

The Oilers come out in the gun, leading to a chorus of soul-sucking screams from the Oiler fans, but they are relieved when it is a direct snap to Lo White. This relief is fleeting as Derrick Thomas unnaturally sheds the tackle and drops White for a loss of three. One play later, Moon completes a pass to a covered Curtis Duncan for his first useful production of the day. But when White is dropped inches short of the sticks on the third down, the Houston offense still nets the same pathetic result as before.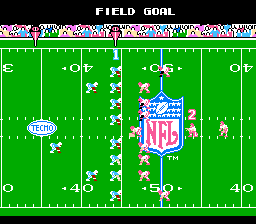 The steely blank look......the ambidextrously strong feet......you better believe Lowery's locked in

Chiefs Drive #3

With a 1:37 to work with before halftime, KC gets off to a poor start in allowing a sack to William Fuller. But Barry Word goes nuts on the next carry, shedding a guy at midfield (notably one more than Okoye at this point) and has the Chiefs easily within RoboLeg's range. Fuller then records another sack on the next play and the Chiefs take a timeout to look up who the fuck he is.

The Chiefs then go with a bad Okoye run and a DeBerg incompletion. Lowery comes on to try from 62. The kick is wide left, but did have enough leg to land in the upper deck...........in Dallas. And if this bit of unrealistic hyperbole wasn't impressive enough, remember that the Oilers play in a dome.

Oilers Drive #4

The Oilers had a chance to get on the board before halftime, but two sacks by Derrick Thomas derailed any hope of that. But the fans were certainly thrilled to see the Oilers scramble their special teams onto the field to get off one last punt kick as time expired.

End of 2nd Quarter: Kansas City-10, Houston-0

Halftime

With the panty shot arousing us all in the backgroud, can anybody see through their hormones for a second to fathom the atrocious offensive output of the Oilers today? I know that Derrick Thomas amps it up to Brian Bosworth: Action Hero proportions in the playoffs, but even so, I didn't know that Moon had a level of Groganness like this in him.

3rd Quarter

Chiefs Drive #4

The Chiefs start from their own forty and after a seven yard surge by Barry Word, Steve DeBerg zips a pass to an unencumbered Rob-ub Thomas who streaks to the end zone and lunges across the goal line for KC's second TD of the game.

17-0, Kansas City

Oilers Drive #5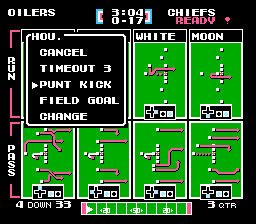 I've played some Tecmo in my day and I haven't seen Houston face many of these before

The rout already officially on, Derrick Thomas's condition has just been upgraded to "You better believe it's EXCELLENT, whores" by the central scouting service after he murdered Moon for a loss of 13. A minimal gain by White is followed by a Kansas City bull rush and the Oilers have the comfort of a 4th and 33 aiding their comeback efforts.

Chiefs Drive #5

Starting at their opponent's 38, the kind of field position the Oilers have only seen on video game facsimiles like Tecmo Super Bowl, the Chiefs use a mix of Word, Okoye, and Roberts to carve out another first down. Four plays later, Barry Word rumbles in for another touchdown.

24-0, Kansas City

Oilers Drive #6

Bad news for the Oilers: Their offense has the ball. Predictably, Derrick Thomas just recorded his fourth sack of the game. To let us all know that they've thrown in the towel, Houston calls the Moon sneak on 2nd and 22....

AND KANSAS CITY INEXPLICABLY FUCKING PICKED IT!

There can't be any doubt now that is clearly isn't Houston's day when KC is cashing in on picking the Moon sneak. There's enough time left in the third for one last futile play, but the Oilers shock the masses by completing a pass and streaking for their first first down of the game.

End of 3rd Quarter: Kansas City-24, Houston-0

4th Quarter

Oilers Drive #6 (Continued)

Emboldened by their comparitive offensive explosion, White takes a pitch and goes ten yards to double the amount of HOU first downs in the playoffs. But Dino Hackett will have none of it, as he records sacks on each of the next two plays. Let's see, getting blown up on a picked Moon sneak or surrendering two straight sacks to Dino Hackett.......that's like choosing between chlamydia and genital warts without the fuzzy memories of the next morning remorse vice. After a terrible draw play, the Oilers go for it on 4th and 29. Curtis Duncan hauls in a long pass, but it's not enough as Houston still has to turn the ball over.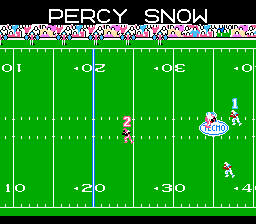 No-Name turned Tecmo star #3: Percy Snow

Chiefs Drive #6

We should be entering the Mike Elkins era of the game at this point, but Schottenheimer is laying it on here in the closing minutes. The Chiefs probably get what they deserve when Barry Word fumbles and the Oilers collect the game's first turnover....

Oilers Drive #7

....but the Chiefs quickly dismember Warren Moon on the very next play. Percy Snow collects the football and takes off at the speed of Bob Nelson. Someone runs him down at the five, but he bops him with the power of Bob Nelson and scores a very satisfying touchdown.

31-0, Kansas City

Oilers Drive #8

With this game over three quarters ago, my descriptions and interest are not very sharp at this point. To be honest with you, I'd rather watch my carpet grow than these last 2+ minutes, but I'll soldier on for you. Neil Smith records his first sack and Derrick Thomas his fifth in the midst of yet another Houston four-and-out.

Chiefs Drive #7

Houston is still calling timeouts, presumably to prepare a party area in the end zone for Barry Word who is in there yet again.

38-0, Kansas City

Closing Thought

I really did think that Kansas City would win this game, but 38-0 was a shock to even the most knowledgeable person in my room right now (Surprise! That's me.) Derrick Thomas and his superb play slot him as the player of the game for Leonardite.com and also earn him a Monster Burger combo thanks to a very lucrative chip bargained for by the TSBNNONFLPA....FH (Tecmo Super Bowl Nineteen Ninety-One National Football League Players Association....From Hell.)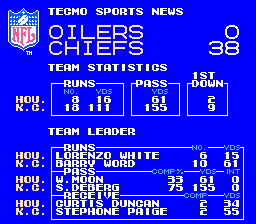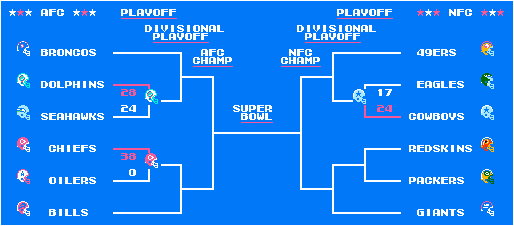 Leonardite.com