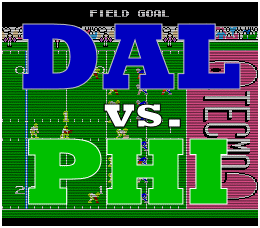 If you have been following "It's Tecmo Season," you'll probably realize that this is a pretty intriguing showdown. But then again, I'm writing the damn thing and forgot about the dramatics of the previous game, even though there have only been three COM/COM games since. So if you have Leonardite-related ADD, you should check out the first meeting and see what all the 8-bit hype is about for this playoff matchup.

First Quarter

The Cowboys have excellent field position at their own five.

Cowboys Drive #1

After Emmitt netted a couple on first down, the Cowboys pull out the Martin reverse right away. Martin runs unnecessarily backwards for about a good five yards and five seconds, perhaps getting a running start at the sixteen yard scamper he's about to embark upon. Aikman has absolutely no options on first down and hangs in the pocket hoping something will develop. It doesn't, so he artfully avoids the sack by overthrowing Martin and surrendering a pretty nifty diving INT to Wes Hopkins.

Eagles Drive #1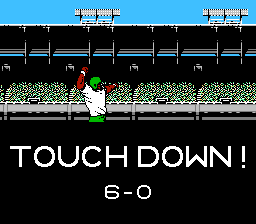 QB Eagles was so impressed that I perfectly screen captured the crowd when it was appropriately green that he stopped the game to point it out

It's the playoffs and the anonymous assassin is poised to crank it up yet another level. Based on his first down completion to Kenny Jackson and his long run into Dallas territory, I'd estimate he's turned it up to at least an "18" which has to royally piss Spinal Tap off.

Two plays later, QB Eagles steps up and delivers a perfect strike to a wide-open Calvin Williams and the level has now been pushed to "22."

7-0, Philadelphia

Cowboys Drive #2

Roger Ruzek comes as close as Tecmoally possible to kicking an onside kick without it actually being one and the Cowboys have somewhat better starting position at their 43. Two straight draws to Smith put the Cowboys on the other 43, although it should be pointed out that if the CPU knew how to weave like a human, Ken Willis would be attempting his own pseudo-onside tricks right now.

Instead, the Cowboys are still driving. A third straight draw brings the Cowboys within inches of a first down, one that should've been collected on the next play, except that Nutsack clanked a perfect pass right off his stumps, cinema screen and all. He makes up for himself, as the Lone Star Scrotum always does, by picking up first downs running and receiving on consecutive plays.

End of 1st Quarter: Philadelphia-7, Dallas-0

Second Quarter

Cowboys Drive #2 (Continued)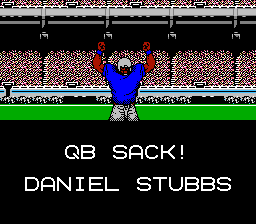 No-Name turned Tecmo playoff star #2: Daniel Stubbs

Aikman gets buried on a picked play blitz to start the second quarter, but then delivers the middle digit to the Eagles in the guise of a touchdown lob to Kelvin Martin.

7-7

Eagles Drive #2

Looking to copy Nutsack---as we all are---Keith Byars squanders a play in which QB Eagles and his anonymous rage avoided a throng of blitzers to find an open, slippery-handed receiver. Daniel Stubbs then pulls off something that is on the same spot on the impossibility scale as cold fusion and finishing a monte cristo sandich: Sacking QB Eagles on two consecutive plays. The Eagles are forced to run the game's first punt kick.

Cowboys Drive #3

Starting at the 25, Aikman flirts lewdly with another interception, but Novacek is able to wrestle the ball out of traffic and convert it into a Dallas first down just across midfield. On 2nd and 5, I'd like to break down what just happened:

First of all, Dallas picks the Martin reverse. To compliment this play selection, the Eagles' defense also selects the Martin reverse. At this point you are surely thinking, "You know what they say, two jackass calls don't make a right." Astute observation. When Nutsack goes up to pitch the ball to Martin, Kelvin is already a blue-jerseyed corpse. Agee pitches it anyway, upon which the play is called dead. I'm not sure if this is ruled an incomplete pass, down by contact, or if the referees just called the play off to chew out both sidelines for their terrible play picking procedures.

Following that display, the Cowboys face 3rd and 5. Out of the gun, Aikman connects with a streaking Emmitt Smith who avoids one diving tackle attempt and dashes forty-eight yards to Dallas's first lead of the playoffs.

14-7, Dallas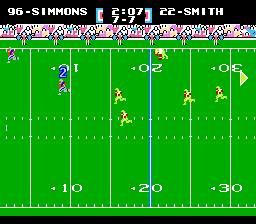 Take away the impressive Hopkins play and Troy Aikman looks like Troy Aikman from three years in the future today

Eagles Drive #3

Trying to score before halftime, the Eagles don't waste any time as QB hits Keith for a big gain down to the 13 with over a minute to play before the panty shot. After a quick incompletion, Eagles hits Williams on a perfect comeback route for their second TD connection of the day.

14-14

Cowboys Drive #4

Dallas sandwiches an Aikman decapitation in between two completed passes before the teams pause for halftime. Or as I like to look at it, halftime's pause for the game has now come to a close. Right.

End of 2nd Quarter: Dallas-14, Philadelphia-14

Halftime

Halftime without the panty shot is like a Dallas game without Laufenberg and right now we've struck out in both categories. If this keeps up, I'm dropping Tecmo and switching to detailed Heavy Barrel simulations.

3rd Quarter

Eagles Drive #4

The Bad Kickoff Bowl continues as the Eagles are given starting position at their own 44. The Cowboys record another sack of QB Eagles right away which if it isn't a record, is at least a small miracle. Of course, the visions of the Virgin Mary are wiped away on the next play when the sore sacked man hits Fred Barnett on a bomb down to the six.

But the Eagles then decide to call three consecutive Byars runs, which are as effective as a vote for the Libertarian candidate, and Ruzek is obligated to come out and boot home a field goal.

17-14, Philadelphia

Cowboys Drive #5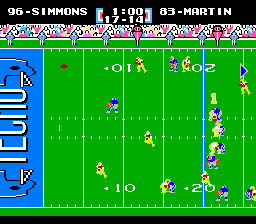 You'll have to trust me, but Kelvin Martin really is in the end zone waiting for the pass

Ruzek finally gets a decent kickoff, but Dixon still busts off a big (Tecmoally speaking) return and allows his team to start at the 35. After Aikman threads a ball into double-coverage to Irvin, subsequently flip-flopping 35's, the Cowboys dig out the Martin reverse yet again for two consecutive plays, somehow picking up a first down in the process.

Two plays later, a rolling Troy Aikman has a lonely Kelvin Martin in the end zone and gives him a ball to keep him company.

21-17, Dallas

Eagles Drive #5

A cathedral is being built in Rome after Daniel Stubbs records his third sack of the day. After Byars continues to do nothing with the ball, Eagles completes a pivotal pass to Jackson that has Philadelphia squarely in the middle of the NFL shield.

End of 3rd Quarter: Dallas-21, Philadelphia-17

4th Quarter

Eagles Drive #5 (Continued)

QB Eagles shows us again why he's black and you're not (what?) by gaining fifteen yards. But Philly clearly hasn't learned any lessons in this game and after another trifecta of Byars carries, they are facing 4th and 11. Rather than kick it, the Eagles elect to go for it. And after the mystery maniac is sacked for the fifth time, the second to Jimmie Jones, part of the earth explodes and the Cowboys take possession of the ball.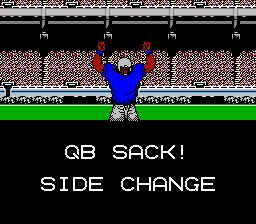 Not a screen you see too often against the Eagles and their similarly named quarterback

Cowboys Drive #6

With the planet now missing the Kamchatka peninsula and a number of Aleutian islands, the Cowboys are running bad rushing plays. But after a gutsy Smith run and a pristine hookup featuring Aikman and Novacek, the Cowboys have the Eagles by the Tommie Agee as they are sitting at the 25 with the lead, the clock, and the ball.

The Cowboys were facing a big 3rd and 3 after some less-than impressive Emmitt Smith runs, but the Eagles definitely deserve to lose this game after giving up the game-clinching conversion to the Cowboys on the never-clever Martin reverse. They eventually do tighten up, forcing a field goal, but with just a shade under a minute remaining, it's probably too late.

24-17, Dallas

Eagles Drive #6

The Eagles have to go 92 yards in one play and I'm afraid the six-yard dump pass to Heath Sherman isn't going to cut it.

Closing Thought

Dallas obviously had some revenge on their mind in this one. Aikman was spot on, Laufenberg looked suave on the sidelines, and Kelvin Martin played like a sticky-fingered serial killer. But the Daniel Stubbs Sack Trilogy is the worthy recipient of today's Player of the Game award and the Cowboys are on to face the 49ers.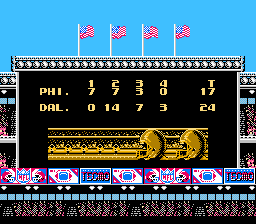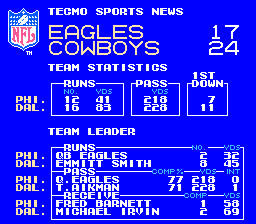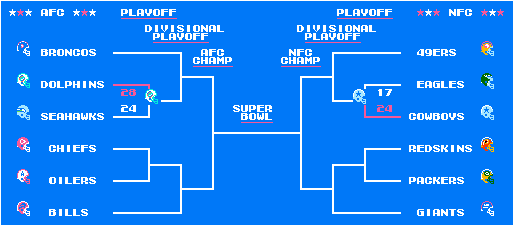 Leonardite.com