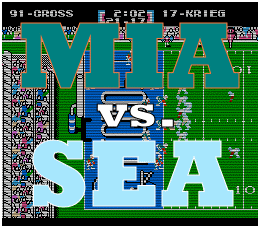 It's Tecmo Season and now more accurately, it's Tecmo Playoff Season. I can feel the excitement through the monitor of the dozen of people that have lived and died with this thus far. How am I picking this game to go down? I'm not divulging. I just want to point out that Miami has Dan Marino and a twelve-game winning streak. They also have playoff savvy and an adequate running game. They have good coaching, a solid linebacker, and a kicker I'd trust with the game on the line. Seattle has a shitty defense.

First Quarter

Two points of note here as the playoffs get underway: First of all, Chris Warren has taken the opening kickoff out to the 23. Second, the dark and moody playoff music has instantly changed the dynamic around here. I am already very suspicious of and serious about everything I am looking at and one of my friends just called me, telepathically sensing that something "gravely important" was going on.

Seahawks Drive #1

Dave Krieg is unaware that the previously nonexistent "no sacking" rule is still nonexistent and stands in the pocket for a good half hour before Jeff Cross finally comes and records the sack. Krieg's transgression is atoned for by a leaping Tommy Kane on the next play, hauling in a pass at his own 44. And yes, Tommy Kane is now atoning for the transgressions of others. The joke is transparent enough that I'm not even going to type it out.

Krieg waits too long in the pocket again, absorbing yet another 13-yard sack. John L. and Krieg are able to manage sixteen yards over the next two plays, but that is still seven away from the necessary yardage to be awarded more downs. A punt kick will surely ensue.

Dolphins Drive #1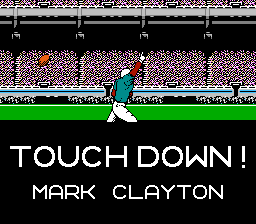 Nah, screw this...keep feeding it to Paige!

Starting from their own 20, Tony Paige picks up a couple on first down and Sammy Smith moves the sticks on the next play with an eight-yard pick up.

If you are game-planning with Miami offense, would you base your arsenal around your All-Pro Quarterback? No fucking way. When you're the Dolphins, you run the offense through your non-descript fullback. And the Fish are doing just that, going with a zero yard gain by Paige and then a dump and run by the bruiser that has Miami in Seahawks' territory just past the 50.

Then again, on the very next play Marino hits a wide open Mark Clayton in stride for the first touchdown of the "It's Tecmo Season" playoffs.

7-0, Miami

Seahawks Drive #2

Chris Warren brings the kickoff out to the 20 yard line, which is hardly notable, but the fact that he is now a little white smear on the field is. This means that he is the first playoff casualty and for his efforts will receive a dehumidifier, the "It's Tecmo Season" home version, and other fine gifts.

Dave Krieg has all of his receivers open on first down and proceeds to connect with the slowest, whitest man on this and perhaps any other football field, Ron Heller. Heller plods down to the 25 of the Dolphins before getting mercifully tackled. The Seahawks sprint to the line to call one more play before the quarter for some reason, and use the opportunity to pick up six more yards with John L. Williams.

End of 1st Quarter: Miami-7, Seattle-0

Second Quarter

Seahawks Drive #2 (Continued)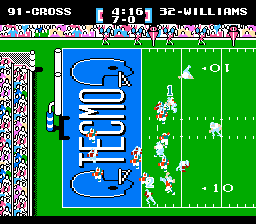 Little things I love about Tecmo: Look at the body position of the guy at the top alone on the six

Derrick Fenner picks up the first down right out of the gates, Krieg connects with Heller down to the 2, and John L. takes a nifty pitch around the corner to put the Seahawks on the board.

7-7

Dolphins Drive #2

The Dolphins are backed up on their own five to begin this possession, but Isotoner isn't worried. He steps up on first down and lasers a ball in between two Seahawk defenders that goes through the back of Mark Clayton and lodges itself in his internal organs, which under a rule amendment from 1987, DOES constitute a legal reception. Tony Paige follows that thirty yard gain with a fifteen yarder of his own and the Phins are at the Seattle 35.

Marino fires another ridiculously good pass to a covered Mark Clayton that has Miami at the 8. But an overthrow in the end zone and a six yard rumble by Paige have the Dolphins facing a big 3rd down at the two-yard line. Naturally Paige gets it on the dive and unnaturally he roars across the goal line for another score.

14-7, Miami

Seahawks Drive #3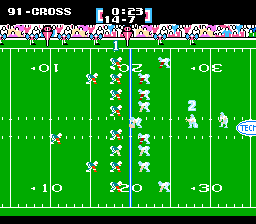 Norm!

Krieg picks the best option on the field in firing a pass to Fenner and with 1:20 to go in the half, the Seahawks are just on the wrong side of the fifty but moving forward.

Fenner picks up eight on the "up top" run, and after a near-interception from Krieg, Andrew Cunanan hauls in a beautiful ball from Krieg and gets down to the 20 with thirty ticks left on the clock. With three timeouts remaining and a full four pass plays to use, the Seahawks exhibit some pretty aggressive play-calling by sending out the field goal team. Norm Johnson delivers, as Norm Johnson has been known to do.

14-10, Miami

End of 2nd Quarter: Miami-14, Seattle-14

Halftime

Playoff halftimes have started off in fine fashion with the appearance of the panty shot, although not in the last frame but in the less desirable third spot. Pertaining to the game, I spent much of the regular season's last "Game of the Week" bemoaning how bad the Seahawks' defense was. I'll let you be the judge of whether or not they have improved, but take a look at the score and remember that Miami has had the ball twice.

3rd Quarter

Dolphins Drive #3

"A HOLY SHIT ALERT HAS BEEN ISSUED FOR LEONARDITE.COM READERS:"

Starting from their own 42, Marino gets bull-rushed by the deservedly monikered Sieve-attle defense. Isotoner coughs up the ball and the fumble is summarily recovered by Jacob Green. Green rumbles down to the ten before he is finally dragged down by Mark Clayton, who still has yet to have the Wilson removed from his small intestine.

Seahawks Drive #4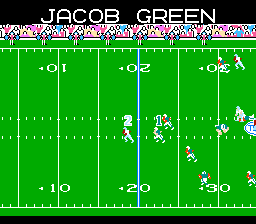 Jacob Green: The first of many no-names to achieve fifteen seconds of fame in this year's Tecmo playoffs

Fenner gets the ball "up top" and is engaged at the six, but Brian Blades comes back and uses Tecmo's version of "blocking" by bopping the defender and freeing Fenner for a tough TD run.

17-14, Seattle

Dolphins Drive #4

Marc Logan brings the kick to the 16. Paige then goes "up top" and proceeds to go "downfield" all the way to his own 43.

The Dolphins stick with the Paigeanation of the Seahawks, getting twenty more "up top" before having their fullback get gang raped on the dive play by all eleven Seahawks. Even that is no big deal when Paige can just use his other running play on the next down to gain fifteen and another stick progression.

The next play was very bizarre. Marino is in the pocket, but then puts his head down and acts like he wants to scramble. But before the line of scrimmage, he incredibly abruptly comes to a halt and stands to pass again. This change of momentum was less impressive then his sudden flatness and even more sudden appearance of Cortez Kennedy upon him. Don Shula is as confused as everyone else, so just says "fuck it" and goes with the safe two-yard Paige dive.

On a key third and eight, Marino has a few options that I would pick. Hit the wide open Mark Duper for what's going to be a touchdown, go for Mark Clayton who has a man on him but beat by a step, or tuck and run. I would never have chosen to throw to the blanketed Tony Paige, but again, that's not how I'd game plan. Naturally, Isotoner fires it to him, it's caught, and Paige viciously sheds his man. Paige, who this whole game has been making more popcorn than boy scouts and indians at a camp fire, kills two more guys before he gets hit with a tranquilizer dart from the Seattle sideline at the eight.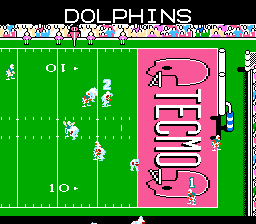 There is exactly one Dolphin excited about this touchdown

And if anyone on the team deserved the touchdown, it was either Paige or perhaps Harry Galbreath. So it was pretty unsatisfying to see Sammy Smith go in for six.

21-17, Miami

Seahawks Drive #5

Stoyanich fills the entire damn bar on the kickoff and the Seahawks are lucky to even be at the six to start their drive. A dive to Fenner and a dump to Fenner give the Seahawks a first down and the ball at about the twenty.

End of 3rd Quarter: Miami-21, Seattle-17

4th Quarter

Seahawks Drive #5 (Continued)

Krieg spends the quarter break in a gamblers' huddle and comes back attempting to throw interceptions and avoid open receivers. He is unable to throw a pick, but his ignorance of open men did open the door for a sack and the 3rd and 12 the Seahawks now face. Krieg again avoids the completely uncovered Blades downfield and tries to force a pick to the double-covered Heller.

Some coaches script plays for "3rd and Five," "Long Distance," etc. The Seahawks also have a section in their book called "Impressive Scrotum" for these 4th and 12 situations inside their own twenty. And the play they pick is a Krieg scramble, which their coaches tell me ALWAYS goes for fifteen yards. And despite again ignoring a sure TD with Blades, that's exactly what it does and the Seahawks will continue the drive at the 30. Two more Fenner runs give the Seahawks another first down and they are approaching midfield.

HALLELUJAH! After Fenner picked up another first down into Miami territory, Krieg FINALLY decides to throw a pass---albeit a very shitty one---to Brian Blades. Blades bails him out, though, by leaping and catching the ball at the nine where he is tackled. Two Fenner runs have the Seahawks down to the one, but facing third down. But the nifty John L. play is stopped for a loss of one.

The dramatics are in full effect as the Seahawks have it fourth and goal at the two, but the untouched Fenner dive is kind of anti-clamactic and the Seahawks retake the lead with a huge touchdown on an incredibly impressive drive.

24-21, Seattle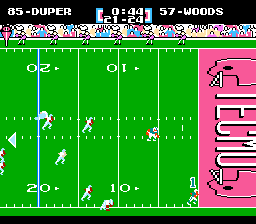 It took all of two plays for the Dolphins to shred apart the Seahawks

Dolphins Drive #5

The Dolphins are starting at the 36 and have 1:26 to get into field goal range or possibly score a touchdown. I credit the Dolphins for not going with the Paige dive, which I fully expected. Instead, the Seattle defense completely ignores Ferrell who hauls in a pass from Marino over the middle and brings the ball to the Seattle 35 with plenty of time to spare.

The awful Seattle defense does them in again as Marino hits an unchecked Mark Duper for the remaining 35 yards and the go-ahead touchdown.

28-24, Miami

Seahawks Drive #6

The Hawks are starting at their own twenty with 18 seconds to play.....which is enough Tecmo time for one play. Well, it is if you call a decent pass. But John L. wastes a bunch of time on a sweep and the Seahawks are lucky enough to get to call one final pass play with two seconds remaining.

Krieg drops back to throw and again has Blades uncovered on top and streaking towards a playoff victory, but instead decides to overthrow the previously referenced slowest, whitest man on the field and end the Seattle season.

Closing Thought

I used the literary device of "foreshadowing" last week in predicting that the Seattle defense was going to doom them in the playoffs. In between Tony Paige sending would-be tacklers into orbit and Dan Marino sending cruise missiles in between cornerbacks, it's safe to say that this was exactly what happened. I'd like to give Player of the Game to Paige, but Marino was still more instrumental in the win and therefore also gets the "It's Tecmo Season" home version for his efforts.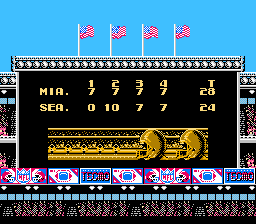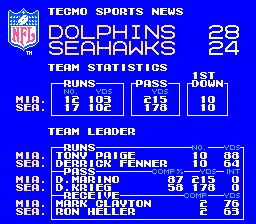 Leonardite.com