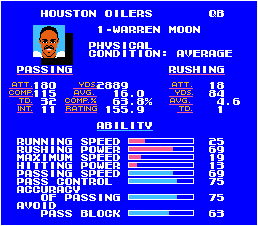 Warren Moon is the only player to get an actual photograph included in the game



I was pretty jacked earlier this week about the prospect of a Tecmo tournament being arranged in Minneapolis. While this tournament is really just a thin disguise to down Leine's at Bullwinkle's and get "lost" at Mystic Lake, there was also the opportunity to show my Tecmo prowess and meet some of the people who waste their time reading the stuff that I waste my time writing. Alas, it sounds like it's going to be pushed back to some later date, probably a date that I won't be able to make. Normally I would clear my schedule for anything Tecmo, but Howard Schnellenberger has the upstart Florida Atlantic Owls on the move and I can't afford to be missing any of the webcasts that their student journalists deliver to me in a choppy, always-buffering streaming format. That's sports the way they were meant to be.



Game of the Week: Houston vs. Philadelphia




Miami (8-4) vs. Tampa Bay (3-9)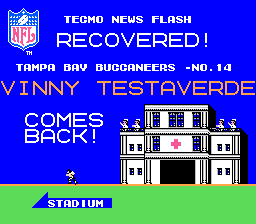 The Jeff Carlson era ended just like it began: With three people watching the Buccaneers game and only one of them doing it for reasons other than community service. Vinny was quick to contribute to the cause by firing up four interceptions and was soundly booed by the non-court appointed fans in attendance at the Sombrero.

Final Score: Miami-20 Tampa Bay-14

Cleveland (5-7) vs. Indianapolis (1-11)

Albert Bentley came back and led this putrid collection of football talent in both rushing and receiving. He made sure to keep it under control though, so as not to taint the upcoming toilet bowl with New England next week by helping Indianapolis win.

Final Score: Cleveland-21 Indianapolis-14

Cincinnati (6-6) vs. New York Giants (10-2)

Okay, the Giants are good. The Giants are really good. In what should have been a pitfall game for the Big Apple Behemoths, New York rallied for an overtime win. Some people might say "Hey, but it's only the Bengals." But these people also say, "Hey, so what if there's a little lead in my drinking water?" so don't pay attention to them.

Final Score: New York-24 Cincinnati-21 (OT)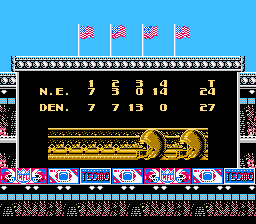 Denver (6-6) vs. New England (1-11)

For real, I like making fun of how craptastically shitty (Yes, read that combo again) the Patriots and the Colts are. But I seriously would never have imagined that they'd meet in Week 15 with their records both at 1-12. That has to be some sort of landmark. And a really important one too, not something worthless like the dried up source of ancient Lake Bonneville in Idaho (which I, regrettably, have visited.)

Final Score: Denver-27 New England-24

Atlanta (6-6) vs. Green Bay (7-5)

Atlanta at one time looked like they could be a surprise entrant into the NFC playoffs, but that is pretty obviously not going to happen at this point. The NFC Central champion also looked like it would be a dominant team at one time. But with a non-inspiring 8-5 team alone on top, this pretty obviously is not going to happen either.

Final Score: Green Bay-23 Atlanta-21

Buffalo (10-2) vs. New York Jets (6-6)

The Bills certainly have not spared us their typically nefarious cheating all year, but it's getting even worse now that the season is heating up. Anybody who views the Bills' offensive stats and still doesn't think a Congressional investigation doesn't need to take place clearly receives a Christmas card from the Levys each year.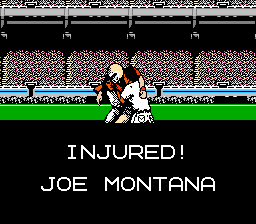 Final Score: Buffalo-35 New York-17

New Orleans (6-6) vs. San Francisco (10-2)

I had a hunch that San Francisco would lose this game. And the hunch was the picture of Joe Montana's lifeless remains being carried off the field by two trainers. Steve Young came in and fired two interceptions to eleven angry black men and the New Orleans Saints kept their faint playoff hopes alive.

Final Score: New Orleans-31 San Francisco-21

Chicago (6-6) vs. Detroit (5-7)

Wendell Davis went down in the middle of this game and that was pretty awful luck for him, considering Jim Harbaugh went off and actually had an outstanding passing game. Like the arrival of a comet, an outstanding game from Harbaugh is considered to be a deeply religious experience for many. Either this or gambling losses probably best explain the high number of suicides following the game.

Final Score: Chicago-34 Detroit-21

Los Angeles Rams (7-4) vs. Washington (6-6)

A urine-free Mark Rypien completed 80% of his passes for 313 yards as Washington muddled up the playoff picture considerably. All of a sudden 7-6 puts everyone right in the thick of the playoff hunt, making everybody but Tampa Bay think that they may have a chance coming down the stretch.

Final Score: Washington-42 Los Angeles-23

Dallas (7-5) vs. Pittsburgh (5-7)

Dallas won this game and I'm not surprised. Anytime Nutsack leads the team with 29 yards, of course the 'Boys are going to win.

Final Score: Dallas-27 Pittsburgh-14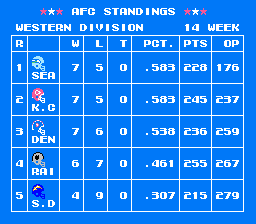 Los Angeles Raiders (5-7) vs. San Diego (4-8)

Nothing is more tantalizing than a combined 9-15 matchup except not having to watch said matchup.

Final Score: Los Angeles-10 San Diego-7

Kansas City (7-5) vs. Seattle (7-5)

Seattle deserved to lose the week's biggest game after surrendering 21 second quarter points and also for neglecting to insert Stouffer, even after Krieg had lobbed up four picks.

Final Score: Kansas City-28 Seattle-13


---
| | |
| --- | --- |
| AFC EAST | |
| Buffalo | 11-2 |
| Miami | 9-4 |
| New York Jets | 6-7 |
| Indianapolis | 1-12 |
| New England | 1-12 |
| | |
| --- | --- |
| AFC CENTRAL | |
| Houston | 9-4 |
| Cincinnati | 6-7 |
| Cleveland | 6-7 |
| Pittsburgh | 5-8 |
| | |
| --- | --- |
| AFC WEST | |
| Kansas City | 8-5 |
| Seattle | 7-6 |
| Denver | 7-6 |
| Los Angeles Raiders | 6-7 |
| San Diego | 4-9 |
| | |
| --- | --- |
| NFC EAST | |
| New York Giants | 11-2 |
| Dallas | 8-5 |
| Philadelphia | 8-5 |
| Washington | 7-6 |
| Phoenix | 4-9 |
| | |
| --- | --- |
| NFC CENTRAL | |
| Green Bay | 8-5 |
| Chicago | 7-6 |
| Detroit | 5-8 |
| Minnesota | 5-8 |
| Tampa Bay | 3-10 |
| | |
| --- | --- |
| NFC WEST | |
| San Francisco | 10-3 |
| Los Angeles Rams | 7-6 |
| New Orleans | 7-6 |
| Atlanta | 6-7 |
Player of the Week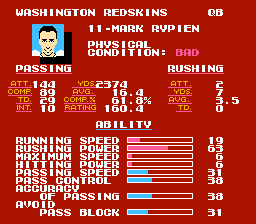 Please don't pee on him, not only because he's slow (thanks, tecmosuperbowl.com) but also because he's the player of the game.



Maimed
NEW
Anthony Toney- PHI
Kenny Jackson- PHI
Wendell Davis- CHI
Joe Montana- SF

OLD
James Lofton- BUF (Week 13)
David Meggett- GIA (Week 13)
Keith Byars- PHI (Week 13)
Barry Sanders- DET (Week 13)
Herschel Walker- MIN (Week 13)



Mended
Keith Jones- ATL (Week 13)
Albert Bentley- IND (Week 12)
Vinny Testaverde- TB (Week 11)
Warren Williams- PIT (Week 11)

---

Coming next week...

- Week 15 results
- Player of the Week
-Game of the Week: Indianapolis vs. New England




Leonardite.com