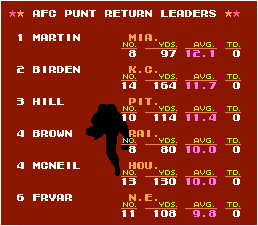 Photo above added to satisfy that undying urge within all of you to know who is the king of all AFC punt returning after twelve weeks of play.



Last week's games (I use "week" in the Tecmo sense, actual time elapsed between the simulation of these weeks has been at least a score according to some of my e-mailers) provided a lot of upsets to the top teams, meaning that we do not yet have a division clinched. I am kind of surprised by that as I would normally have expected Buffalo or San Francisco to be ready to apply Meng's Tongan Death Grip to their underprivileged brethren by now. Another week and a Patriots game on the Bills schedule gives hope to all of the Tecmo fans who are unbelievable pussies and cheer for the best two teams on the game. This could be the week they officially pull away. Or maybe this could be the week that Steve Grogan puts together a great game and leads the Patriots to a hard-fought win. Of course, that is about as realistic as me not making a joke about the Patriots' suckariffic play so I already know that none of you took it seriously. Just like none of you seriously are pulling for the Bills and the 49ers.........at least you better not be.



Game of the Week: New York Jets vs. San Diego




Buffalo (9-2) vs. New England (1-10)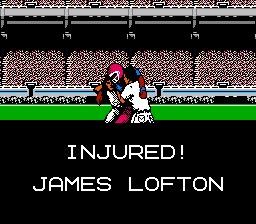 QB Bills completed 91% of his passes. The only incompletion occurred when James Lofton's protruding broken femur punctured the football. The referees were quick to delay the game, not because Lofton was badly injured, but because the host Patriots only owned one football.

Final Score: Buffalo-35 New England-28

Cincinnati (5-6) vs. Los Angeles Raiders (5-6)

I'm pretty cynical, or maybe it's just that I'm trying to put up an impossible front, but a late season game between two equally mediocre teams doesn't excite me. Of course I'm glad to see the Raiders being sent packing, but there are a lot of really intriguing Blades of Steel games that I could be simulating instead.

Final Score: Cincinnati-28 Los Angeles-24

Denver (6-5) vs. Seattle (6-5)

Now this game intrigues me a lot more, not only because of the inversed records, but because I have full faith in Denver's losing abilities which would further along my prediction of Seattle in the playoffs. John L. Williams had five catches for over 100 yards in this one which I find to be a rather interesting stat, although you may fairly yawn or even more fairly completely not be reading this page altogether.

Final Score: Seattle-27 Denver-20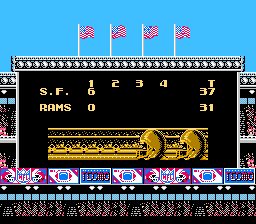 Houston (8-3) vs. Pittsburgh (4-7)

In a very un-Moonlike game, Warren gets picked off three times and the Oilers lose for the second week in a row to a completely inferior divisional rival. With the Bengals loss, the Oilers maintain a two game cushion with four weeks to play. This allows an additional un-Moonlike game of breathing room for the Texans in the light blue pants.

Final Score: Pittsburgh-21 Houston-14

Los Angeles Rams (7-4) vs. San Francisco (9-2)

This huge game didn't disappoint as both teams blew out the scoreboard in points. Things culminated in an OT touchdown giving the 49ers yet another victory. Both Jerry Rice and Henry Ellard finished with six receptions, but Rice had 154 yards, seven more than Ellard, and also accomplished his feats with four opposing defenders inside of his jock strap.

Final Score: San Francisco-37 Los Angeles-31 (OT)

New York Giants (9-2) vs. Tampa Bay (3-8)

Despite losing David Meggett in the third quarter, the Giants were still able to hold off the Buccaneers. The Bucs have officially packed it in for the season, the most striking example of which being the guy on the helmet having left for the year and the team playing with bare, white lids all game.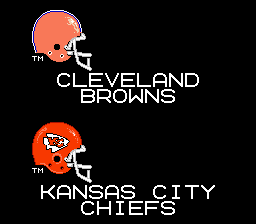 Final Score: New York-24 Tampa Bay-21

Indianapolis (1-10) vs. Green Bay (6-5)

Indianapolis nearly fucked up badly by winning a game, but ten fourth quarter points by Green Bay spared them that unfortunate mistake.

Final Score: Green Bay-20 Indianapolis-19

Cleveland (4-7) vs. Kansas City (7-4)

Eric Metcalf's one carry for nineteen yards was dominant enough to lead his team in rushing. And even though Christian Okoye rushed for a slightly better total of 126, the Browns scored a slightly better total of 35 and sent the Chiefs to a first-place AFC West tie.

Final Score: Cleveland-35 Kansas City-28

Dallas (7-4) vs. Washington (5-6)

Emmitt Smith returned just in time to push the Cowboys' fading divisional chances further towards the cemetery.

Final Score: Washington-24 Dallas-21

Philadelphia (7-4) vs. Phoenix (4-8)

Both quarterbacks went over 200 yards in this shootout, but the Eagles got the last laugh over Puh-hoenix by scoring fourteen unanswered in the final stanza.

Final Score: Philadelphia-28 Phoenix-14

Atlanta (6-5) vs. New Orleans (5-6)

"Damaging" Atlanta's playoff hopes would best have been accomplished by a one or two touchdown victory. This 25-point ass kicking? I'd say, "Violently raping" is the only way to describe what New Orleans did to Atlanta's postseason fantasies.

Final Score: New Orleans-31 Atlanta-6


Detroit (5-6) vs. Minnesota (4-8)

The fact that Barry Sanders and Herschel Walker both left early with injuries but still led their teams in rushing should embarass each squad. But when looking at the scoreboard, it's only the Lions who feel ashamed after getting brutally Fenneyed by the Vikes.

Final Score: Minnesota-38 Detroit-3

Chicago (6-5) vs. Miami (7-4)

Miami decided to make it a week-closing trilogy of blowouts, murdering the Bears at Soldier Field. Neal Anderson racked up over 160 yards rushing, which to me would be really hard to do while still avoiding scoring touchdowns. But ladies and gentlemen, the Bears figured out a way to do it.

Final Score: Miami-29 Chicago-6


---
| | |
| --- | --- |
| AFC EAST | |
| Buffalo | 10-2 |
| Miami | 8-4 |
| New York Jets | 6-6 |
| Indianapolis | 1-11 |
| New England | 1-11 |
| | |
| --- | --- |
| AFC CENTRAL | |
| Houston | 8-4 |
| Cincinnati | 6-6 |
| Cleveland | 5-7 |
| Pittsburgh | 5-7 |
| | |
| --- | --- |
| AFC WEST | |
| Kansas City | 7-5 |
| Seattle | 7-5 |
| Denver | 5-7 |
| Los Angeles Raiders | 5-7 |
| San Diego | 4-8 |
| | |
| --- | --- |
| NFC EAST | |
| New York Giants | 10-2 |
| Philadelphia | 8-4 |
| Dallas | 7-5 |
| Washington | 6-6 |
| Phoenix | 4-9 |
| | |
| --- | --- |
| NFC CENTRAL | |
| Green Bay | 7-5 |
| Chicago | 6-6 |
| Detroit | 5-7 |
| Minnesota | 5-8 |
| Tampa Bay | 3-9 |
| | |
| --- | --- |
| NFC WEST | |
| San Francisco | 10-2 |
| Los Angeles Rams | 7-5 |
| Atlanta | 6-6 |
| New Orleans | 6-6 |
Player of the Week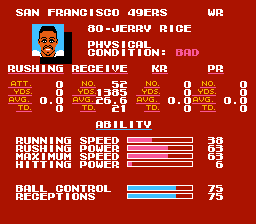 I know he cheats and I know that he could possibly be an incognito Jesus passing the time before unleashing the apocalypse, but Jerry Rice's performance helped the 49ers pretty much clinch what has been inexplicably the best division in the game this season.



Maimed
NEW
James Lofton- BUF
David Meggett- GIA
Keith Byars- PHI
Barry Sanders- DET
Herschel Walker- MIN
Keith Jones- ATL

OLD
Albert Bentley- IND (Week 12)
Vinny Testaverde- TB (Week 11)
Warren Williams- PIT (Week 11)


Mended
Emmitt Smith- DAL (Week 11)
Tim Worley- PIT (Week 11)

---

Coming next week...

- Week 14 results
- Player of the Week
-Game of the Week: Houston vs. Philadelphia




Leonardite.com