"NFL Pro Football" would have been the name for a game that totally sucks, but the Japanese used their nifty trick of throwing "super" in front of everything to change our perception



It's times like this where I wish I had an Elias Sports Bureau or probably more accurately, a dedicated nerd, to break down the playoff race for the season. Looking at the standings, I'd like to know who could lock up playoff spots and when, but the resulting image damage might be too much to overcome. Don't get me wrong; running this Tecmo league has elevated my street credibility to almost dimebag middleman status. But actually going through and doing statistical calculations would be catastrophic, dropping me to bootleg Milwaukee's Best dealer. Yeah, it would be that bad. It's probably best just to move on to this week's games, starting below with the featured game.



Game of the Week: Pittsburgh vs. Washington




Phoenix (3-8) vs. San Francisco (9-1)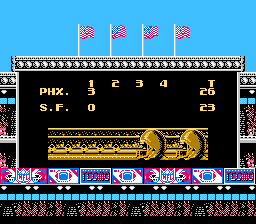 When the week starts off like this, I can't help but wonder what other upsets and natural disasters await us in the rest of the games. When Phoenix rallies to win in overtime against San Francisco, in Week 12 nonetheless, anybody ruling out the spontaneous combustion of the Astrodome is a very foolish prognosticator.

Final Score: Phoenix-26 San Francisco-23 (OT)

Chicago (5-5) vs. Indianapolis (1-9)

Fans in attendance got to take part in the bi-weekly contest "Pick Up Pieces of Albert" after Bentley went down in the first quarter. The Colts are planning a similar game at their home offices, called "Pick up the Pieces of Our Respect" assuming there is a person left out there who knows nothing of this season and still has some for Bill Brooks and his teammates.

Final Score: Chicago-28 Indianapolis-10

New England (1-9) vs. New York Jets (5-5)

Blair Thomas averaged a Tecmoally respectable 12 yards per carry in leading the Jets to an expected victory. This is the point in the season where gamblers would normally be trying to pay the Patriots players to shave points, but the guarantees on them being in the neighborhood of routine scoring at this point are hovering around 15% at best.

Final Score: New York-31 New England-28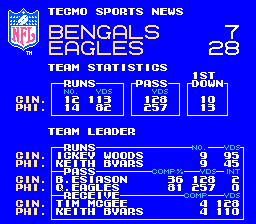 Cincinnati (5-5) vs. Philadelphia (6-4)

The enigmatic QB Eagles, whoever he may be, completed 81% of his passes. Would you like to learn more about a 28-7 Philadelphia/Cincinnati game? Me neither.

Final Score: Philadelphia-28 Cincinnati-7

Cleveland (3-7) vs. Houston (8-2)

No, the Astrodome didn't explode during the game, but the Browns actually won this game which is probably twice as shocking as any structural ignition would have been. Credit is given to Reggie Langhorne for not only matching Haywood JeffRIes in receptions (3), but also in moniker length (15.)

Final Score: Cleveland-24 Houston-17

Los Angeles Raiders (5-5) vs. Seattle (5-5)

Sometimes my friends and I will simulate the Tecmo season and then play out each of the playoff matchups. It's absurd late-season wins like this by Seattle that make at least one of us swear in utter despair each time we have to inexcusably control the Seahawks in the Wild Card game.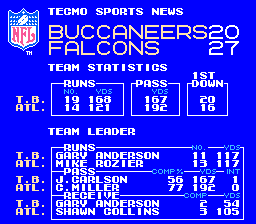 Final Score: Seattle-10 Los Angeles-7

Atlanta (5-5) vs. Tampa Bay (3-7)

Mike Rozier and Gary Anderson very coolly had the same amount of rushing yards in a game that might not have been too terrible to watch. And looking at the screenshot, it's a good thing the Buccaneers didn't score 100 or they wouldn't have been able to fit the score on the screen. I'm sure their offense keeps itself in check for this reason and this reason alone.

Final Score: Atlanta-27 Tampa Bay-20

Buffalo (9-1) vs. Miami (6-4)

James Lofton came straight from the hospital to play in this game, but he was powerless to stop the fourteen fourth quarter points put up by the Dolphins that did the Bills in. I predicted a crazy week and losses by San Francisco, Buffalo and Houston have validated that instinct. Hart Lee Dykes's name hasn't hurt the cause either, although that would work for any week.

Final Score: Miami-30 Buffalo-27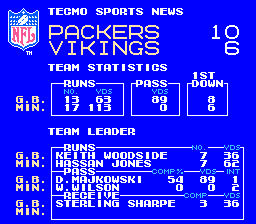 Dallas (7-3) vs. New York Giants (8-2)

This pivotal NFC East matchup delivered a tough contest that ultimately had the old guard prevailing over the upstarts by a touchdown. Sadly, Troy Aikman emerged from the game with his skeletal system intact, leaving us Laufenberg-less for yet another week.

Final Score: New York-28 Dallas-21

Green Bay (5-5) vs. Minnesota (4-7)

I was trying to fathom how the Vikings could fail to score a touchdown in a game that saw the return of Rick Fenney. After viewing the stat sheet, Wade Wilson's performance might be a good place to start pointing the finger.

Final Score: Green Bay-10 Minnesota-6

Detroit (5-5) vs. Los Angeles Rams (6-4)

Cleveland Gary outgained Barry Sanders and the Rams continued to solidify their standing as a legitimate playoff contender with this win. The loss should have exposed the Lions as frauds, but the NFC Central completely blows, so their playoff chances were left unaffected.

Final Score: Los Angeles-28 Detroit-20

Denver (5-5) vs. Kansas City (7-3)

Kansas City gets a major thumbs-up for choking away their chance to take a stranglehold on the West. And their loss brings the Seahawks within one game of first place, further perpetuating the madness that is the string of Seattle playoff appearances.

Final Score: Denver-28 Kansas City-10

New Orleans (4-6) vs. San Diego (3-7)

If you pretend to care about this game, you really suck. And if you actually care about this game, you New England Patriots suck.

Final Score: New Orleans-27 San Diego-17


---
| | |
| --- | --- |
| AFC EAST | |
| Buffalo | 9-2 |
| Miami | 7-4 |
| New York Jets | 6-5 |
| Indianapolis | 1-10 |
| New England | 1-10 |
| | |
| --- | --- |
| AFC CENTRAL | |
| Houston | 8-3 |
| Cincinnati | 5-6 |
| Cleveland | 4-7 |
| Pittsburgh | 4-7 |
| | |
| --- | --- |
| AFC WEST | |
| Kansas City | 7-4 |
| Seattle | 6-5 |
| Denver | 5-6 |
| Los Angeles Raiders | 5-6 |
| San Diego | 3-8 |
| | |
| --- | --- |
| NFC EAST | |
| New York Giants | 9-2 |
| Dallas | 7-4 |
| Philadelphia | 7-4 |
| Washington | 5-6 |
| Phoenix | 4-8 |
| | |
| --- | --- |
| NFC CENTRAL | |
| Chicago | 6-5 |
| Green Bay | 6-5 |
| Detroit | 5-6 |
| Minnesota | 4-8 |
| Tampa Bay | 3-8 |
| | |
| --- | --- |
| NFC WEST | |
| San Francisco | 9-2 |
| Los Angeles Rams | 7-4 |
| Atlanta | 6-5 |
| New Orleans | 5-6 |
Player of the Week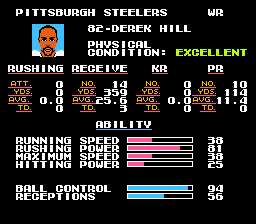 Nobody would've been surprised to hear that a receiver named D. Hill was the Player of the Week. But Derek Hill? If you say you expected that, then I'll ask you to stop futher perjuring yourself, fraud.



Maimed
NEW
Albert Bentley- IND

OLD
Vinny Testaverde- TB (Week 11)
Emmitt Smith- DAL (Week 11)
Warren Williams- PIT (Week 11)
Tim Worley- PIT (Week 11)


Mended
Jame Lofton- BUF (Week 11)
Rick Fenney- MIN (Week 10)

---

Coming next week...

- Week 13 results
- Player of the Week
-Game of the Week: New York Jets vs. San Diego




Leonardite.com