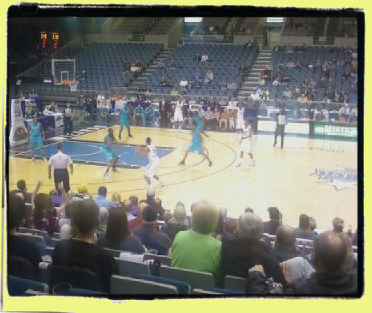 A few years ago, Sports Illustrated sent a reporter to a meaningless September baseball game in Detroit. The Tigers were playing some other team, probably Kansas City, and many losses and federal holidays had come and gone since either club had postseason hopes. The reporter wasn't there to check out some promising September call-up or burn frequent flier miles before they expired. Instead, he was roaming the stands asking fans the elephant-in-the-ballpark question:

Why are you here?

The answers were diverse. A lot of people had free tickets. One guy had the day off and took his kid. A few just liked beer.

Amidst all these answers, at least those that were printed, not a single person said, "I just love the Tigers" or "I wanted to see how this one turned out." Unless the Detroiters had a freebie, offspring, or an affinity for $7 Pabst, they were not at the game. If you harbor any illusion that professional sports are not first and foremost a business, consider this your case study. Months after the contests have lost any bearing on the standings or the fan base's collective consciousness, the ball keeps getting rolled out and meaningless homestands churn on until tis the season to carve jack-o-lanterns.

Now, this is Major League Baseball. I understand there is a lot of money tied up in so many different ways, that it's difficult to just stop playing games. Bike didn't sign up to be the official jock strap of the Detroit Tigers for 119 games. They want to be an athletic supporter, and an official one at that, for a full 162. Contracts are contracts, and unlike Indians' manager and whitewall expert, Lou Brown, most people can't just whip it out and take a leak on people's bargained-for exchange.

I immediately thought of this Sports Illustrated story this week when I got an e-mail from my buddy and co-worker asking me if I wanted to go to the Wizards game. The Dakota Wizards are the local NBA Development League basketball team, and from what I learned when I became the D-League website's 14th April visitor, they were terrible this season. Generally my interest in D-League basketball can be charitably described as "non-existent," but there was a perfect storm of factors at play here that made this game must-attend fare for me.

This game was rescheduled from an earlier postponement due to a blizzard. The very last game of the season, it was slated for a Monday afternoon at the "we-just-want-to-get-this-over-with" time of 5:00. On top of that, the Wizards are bad (19-31), but their opponents, the Sioux Falls Skyforce, are "that-one-terrible-fraternity-in-intramurals" bad (10-41). Sprinkle in the fact that it was a beautiful spring day outside, and I figured roughly fifty people would actually pay money to go inside and watch bush league roundball.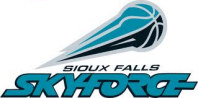 Stupid isn't enough. Every minor league nickname has to be stupid AND amorphous.

Nevertheless, I wanted to be one of that fifty. Like the entire WNBA calendar, this was a "why are they even playing this?" game. I had no idea what a Monday afternoon game in April between two dreadful minor league basketball teams would look like, but I would not have forgiven myself if I didn't find out.

We like to party. We like, we like to party.

Even though the ball had already been tipped and the season was young enough that the Masters was set to tee off in three days, the Wizards still skinned us full price for our seats. I understand every $10 is important when you own a basketball-playing tax writeoff, but I still had hopes that the organization would offer free admission to anyone who willingly came to this 48-minute dog.

As we entered the arena, I was amazed to find the amount of people there that we did. While the crowd was by no means "full" or "okay," there were still vastly more people there than 50. I would speculate that there were probably 500, which is an astonishing sum of people willing to spend one of the first sunny spring afternoons watching a bunch of washed-up players turn the ball over for a few hours. When we finally settled into our seats, I was focused on people-watching, as well as basketball watching when interest would allow.

The first group of people I picked out were the kids, either high school or early college, sitting behind one basket who had their chests painted purple with "W-I-Z-A-R-D-S-!" spelled out. I still find it implausible that there is anyone invested enough in a D-League team to assemble six friends and a punctuation mark to make public spectacles of themselves. That they would do so for this game – on a Monday afternoon between two teams that would have finished second in your Y league – was sad to the point of intervention. I admit there isn't a lot to do in Bismarck unless you are the Governor, but still . . . this was a reach.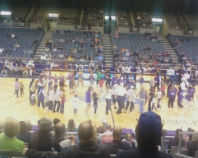 No, you are seeing this correctly. There are more people on the court during this timeout than in the stands.

The next person that really stood out to me was the lady a few rows in front of me. Wearing a classic Dakota Wizards jacket from the CBA days (thanks, Isiah!), this was clearly your die-hard season ticket holder. Letting out a hearty, "Give us one more, Javarris!' every time Mr. Crittenton would make the front-end of a trip to the free throw line, her evening mood was clearly riding on the outcome of this scrimmage between athletes who hate living in the Great Plains.

Another group that caught my eye was the two younger guys, again, probably in college, that sat right near us. At this game there was no checking of tickets, and we obviously just found some reserved seats with our General Admission passes and plopped down. Apparently these other two had done the same, because as we all scattered to get some halftime food, the usher informed these two that they had to move to the GA section. They weren't being rowdy. They weren't even really talking. And they certainly weren't loudly crapping all over the gameday experience like I was. Yet, they were told they could not occupy one of the hundreds of empty reserved seats because they didn't squander pay the extra two dollars for reserved seats.

At halftime, I was starving but without cash. Unsurprisingly, the concession stands did not accept credit cards, so I embarked on a more-difficult-than-imagined quest to find an ATM. The only functional ATM in the Bismarck Civic Center is apparently down by the box office, which was outside of the admitted area. Walking down to the lobby, there were five staff members and exactly nobody else in the area. Reluctant to wade my way into this mass of humanity, I asked the octogenarian ticket scanner if it would be okay if I briefly left the admitted area to use the ATM so I could blow twelve dollars on plastic popcorn and possum meat hot dogs. "Hurry. I will keep an eye on you to remember you" was her annoyed response. I certainly understand that it may have been easy to confuse me with everyone else in the lobby, considering I was the only one that didn't have a bright yellow vest that said "STAFF" on it. Even if I had been mistaken for a retiree who volunteers to usher section 24 because he hates his wife, would it really have been that bad if I slipped through the cracks for the second half? We all need our power trips in life, and if mine can someday occur while in the employ of the NBA D-League, I will know that I did something right.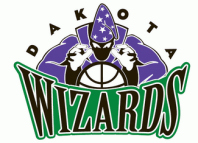 This logo would look cool on the side of my van, but not on a basketball team.

After briefly considering buying a Wizards t-shirt/jersey of Hasheem Thabeet, which was a 60% polyester shrine to draft bust ignominy, we returned to catch the second half "action." At this point I had no idea who was winning the game or what was even going on. Only later did I find out there was a person even more disinterested than me – Sioux Falls's coach, who mysteriously got "sick" before the team departed for the North Dakota capital.

His fill-in did just as well as the regular guy would have, though, as the Skyforce did a masterful job of jawing with the courtside fans and not playing defense. The Wizards engaged in similar basketball tactics, although instead of jawing with the courtside fans, they gave them high-fives and continued with their season-long theft of these fans' season ticket money. Only half the players on the court would run to the other end on a fast, medium, or snail-paced break. Dunks outnumbered effort by a 3-1 ratio. The devolution to recreational nonsense had me figuring guys would soon begin throwing wagers into the lane while gathered for free throws.

While this paid-admission open gym session proceeded on, the music guy continued to blare music and pump this thing up like the Janet Reno Dance Party. The same "DUH. DUH. DE-FENSE" loop was played on EVERY Sioux Falls possession of the fourth quarter. When the Wizards would take the ball the other way, the opening to the Venga Boys "We Like to Party" would blare out through the 1970's sound system. I thought it was wretched. The Wizards diehards ate it up.

Mercifully the game did finally end, and Dakota pulled out one awful game of basketball. The crowd loved it and was implored to come back next year. I think they will, but not for the basketball. Rather, they are probably going to come back for the zany promotions, including this chicken dance that included 87% of the attendees on the floor squawking and wiggling their butts. Armed only with my crappy cell phone video camera, I did get a video for you all to enjoy. I apologize for the quality, but crappy video of a dumb promotion at an awful basketball game is a pretty fitting representation of my afternoon with the Dakota Wizards.