Origins

I read somewhere once that Piston Honda is supposed to be a renowned philanthropist and donates all his purse money to charity. It's not like I imagined the Nintendo demagogues to tell us that the game's only Japanese fighter has a debilitating case of herpes and "donates" all his money to topless dancers, but come on, let's not go overboard with our Hirohito highs.

Piston Honda is the only fighter that I don't have an actual background story for due to Nintendo's constant spin doctoring of his life. This guy could run over his neighbor's dog and Nintendo would deliver the news as "selfless Japanese boxer commits dog's soul to heaven to save neighbors expense of buying food in oncoming recession."

WVBA I

80's gamers everywhere said "What the fuck?!?" the first time they played Punch-Out!! and Piston Honda showed up a second time in the game after wilting like a pansy in the Minor Circuit title fight. Well, I'm sure they would have, except we all know that the word "fuck" didn't enter mainstream vocabulary until the release of Grand Theft Auto: Vatican City. Regardless, Honda's double inclusion in the game was pretty startling to most gamers until the inexplicable return of Don Flamenco three fights later. If Piston Honda is best describe as "wilting like a pansy" in his first appearance, then Flamenco is just a flat-out puss.

WVBA II

Not only were they just two of three boxers to be included twice in the original WVBA run, but they were great friends as well. In fact, Honda is the leading proponent of the deposed Spanish flamer's reinstatement. Doc Louis, already not exactly known for his cultural tolerance, is apparently utilizing this as a further excuse to hinder the original Minor Circuit king.

But meaningless grudges from meaningless American promoters aside, Piston still enjoys a legendary status in his home country. Japan has gone crazy to an Ichiro extent. Honda, now a glory hog, is always looking to get himself on NHK TV. In fact, he hosts two programs on the network, "Fly-Fishing with the Hondmeister" as well as "Sushi, Kamikaze, Fujiyama, Nipponichi… MUCH A FUNNY!", a sketch-based comedy show. Already showing strong performances in the reincarnated WVBA, it appears that Honda is poised for even bigger stardom at home and abroad.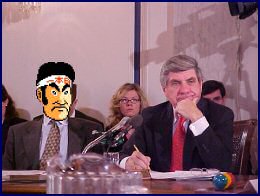 Honda's lawyer farts during the Sandman/Honda I appeal

Doc Louis:

"Piston Honda…..hmm…..I'll tell you what, that kid could pound the wrinkles out of Barbra Streisand's face, that's for damn sure. He's got good moves, I like him in the ring, think he's a good fighter. If he'd stop sticking up for that Spanish fairy, maybe he'd be on the fast track to success. But this is boxing, baby, and you need to pick your allies wisely."





Leonardite:

"One thing that has always stood out to me is that Piston is ridiculously cut. I don't really buy into his 174 pound listed weight, because there's no way he's cramming 174 pounds into those abs and those biceps. That's why I think he's probably cheating, or at least would be if the WVBA had weight classes. I guess since a 17 year old bucket of water went to the top against men that weighed slightly less than the state of Massachussets, the weight point is moot. I'm just going to follow Piston's lead from now on and confine myself to talking only about raw fish and suicide pilots at some pretty questionable times and I'm assuming everything will be fine. "

WVBA II Match History:


| | | | |
| --- | --- | --- | --- |
| Honda's Ranking | Opponent | Opponent Ranking | Outcome |
| WC #3 | King Hippo | MC #3 | 3rd Round KO (W) |
| WC #3 | Mr. Sandman | WC #4 | Decision (L) |
| WC #4 | Von Kaiser | WC #3 | 3rd Round KO (W) |
| WC #3 | Mr. Sandman | WC #2 | 1st Round KO (W) |
| WC #1 | Mike Tyson | WC Champion | Decision (L) |