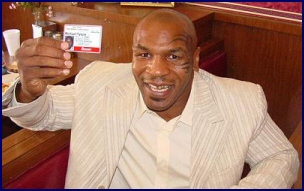 In a stunning pre-fight move, the Tupelo City Council certified Mike Tyson as "Non-Retarded" at a downtown Shoney's



Tupelo, Mississippi (LP) ---

Doc Louis had promised to deliver one huge night of two-dimensional boxing on February 20th, but legal red tape abruptly led to the cancellation of the event in Atlantic City. Apparently past convictions for overeating at casino buffets, rigging casino games, and rigging casino buffets have led Mr. Louis to be barred from the New Jersey den of iniquity.

Doc quickly found a new home for the event; Tupelo, Mississippi, but was not able to see it come to its fruition until a Tuesday night at the end of March. While that is not nearly as desirable as a weekend in Atlantic City, the "Tango in Tupelo" tagline still sounded a lot better than the originally used "Asspounding in Atlantic City."

But taglines were irrelevant anyway, because the two fights on the card guaranteed that this would be the new WVBA's biggest night of fighting ever. In addition to a World Title fight, the undercard featured a rematch of the World Circuit's #2 and #3 boxers. The first fight between the two ended in incredible controversy, so the world was waiting in wonderment to see what what would transpire in their second go-round.

WC #2 Mr. Sandman (2-1) vs. WC #3 Piston Honda (2-1)

Piston Honda clearly had not forgotten about the, to put it delicately, "controversial" ending to the first fight between these two combatants. But he was not about to publicly announce this weight on his mind. Asked prior to the fight if he had something to prove going into his rematch with Sandman, Honda replied, "I come from a land where we eat raw fish for pleasure. I think I'm a little tougher than to be worried about some past boxing misunderstanding." Honda's trainer more or less tried to say the same thing, but his remedial mastery of the English language forced the following sentence to come out of his mouth: "Piston, fighter coming to be king boxer very king. San mon no like receive death blow boxes of Piston throw."

The two came to the ring knowing what was at stake. Not only was the arena sold out, not only was there a worldwide PPV audience watching, not only would the winner most likely become the next challenger for the World Title, but that hot ref from Superspike Volleyball was in attendance and the Heavy Barrel commandos have been telling everyone in my NES game collection that she's easy. With all of these things in tow, it was on like neckbone in the World Circuit.

And the neckbone of Mr. Sandman got very sore very quickly. While Sandman did a lot of talking about Dreamland and his Dream Sequence in the prefight introductions, it was Piston Honda's tourettes-like facial movements that did all of the talking in the fight. That, and his fists. Mr. Sandman tried to come in with his oversized face and fists, but they just proved to be more fodder for the angry NHK television star. After dishing out abuse for two minutes, Honda went into his Fred Astaire dance routine and pounded the living Hell out of Mr. Sandman for ten straight seconds, finally flooring the creepy guy from Philadelphia.

Mario waddled over and delivered a full ten count, vindicating Piston Honda and his unintelligible trainer. Vowing to be in the ring later this year with the winner of the next bout, Honda quickly retired to an undisclosed volleyball referee's stand.

World Champion Soda Popinski (1-0) vs. WC #1 Mike Tyson (2-1)

The dixie crowd was very excited by Piston Honda's unmitigated demolition of the Philadelphia madman, but at the same time were thirsty for more after such a short fight. No matter what would happen, the storylines were numerous for Soda Popinski's battle with Mike Tyson.

Doc Louis and the WVBA promotional machine elected to go with a "USSR vs. USA" theme for the night. This promotional campaign resulted in exactly one extra ticket sale, that being to a man who just awoke from a coma for the first time since being knocked out by a bowling ball-swinging girlfriend in 1982.

But Mike Tyson sells tickets no matter where he goes, be it boxing matches, WWF Pay-Per-Views, or the 2002 Cannibal Convention presented by Food Lion. And this crowd was thirsty to see if he could walk out of the arena the World Champion.

Things got off to a good start for Mike Tyson, as he managed not to get himself disqualified before the fight started. Things got even better for Tyson as he began to work over Soda Popinski right from the first bell. The Nightmare Punches that Tyson is notorious for weren't dropping Popinski like they did to 1987's Little Mac, but they were causing him to curse awesomely in his native Russian tongue. Popinski summoned the powers of Lenin and grain-based alcohol to rally back against Tyson, laying into him with a barrage of punches that can only be thrown by huge, ugly Russian guys.

Both men recuperated between rounds, realizing that this fight was going to be no pushover in either direction. Mike Tyson also briefly thumbed through a Hustler, but I'm not sure why that's relevant.

Tyson went back to work in the second round, delivering his wink-punch-opponent cry combination over and over again. Popinski, who had laughed at the beginning of the round, was only laughing on the inside if he was laughing anywhere, as Tyson was hurting him badly. Soda knew he had to come back with something good to stem the tide. He did that thing where he knocks his knees together, making a sound that is not of this galaxy, and then delivered a mouth-deformer right to the kisser of Mike Tyson. Popinski rallied back with his crazy uppercuts, most of which landed, and began to see a great deal of momentum build up before Tyson was saved by the bell in round two.

The crowd was on its feet preparing for the final round, knowing that this match was going to go right down to the wire.

Popinski, buoyed by a shot of confidence and vodka-laced Mr. Pibb between rounds, laughed openly in Mike Tyson's face. Tyson made some kindergarten-level comment as the third round began. Both men began to feel each other out, Popinski by jabbing and dodging, Tyson by stroking Soda's ear lobes. Popinski got the upper hand with his downward-swoop punch and then started to try and put away the pesky challenger from New York, prison, and the hearts of every decent American.

And that challenger responded with a move that will go down in the WVBA history books.

Tyson winked at Popinski, supposedly signalling the side jabs, but completely hornswoggled the Russian by going into the Nightmare Punch sequence instead. Popinski was caught with pants down both literally and figuratively (Tyson had pulled them down in a playful fashion seconds earlier.) Tyson continued to pummel the bamboozled former Soviet to the roars of the crowd. As the bell rang, it was merely a formality for the decision to be read off:

Slo Mo Jones: 10-10, 10-10, 10-9 (Mike Tyson 30-29)
Steve Javie: 10-10, 10-10, 10-9 (Mike Tyson 30-29)
John Hirschbeck: 10-10, 10-10, 10-9 (Mike Tyson 30-29)

The crowd mobbed Tyson in the ring following his victory. Popinski, having fought a valiant fight, walked outside and received a handshake and a brutal beating from an angry Russian gambler.

Other Notes

-Tupelo imposed a 35% "Emergency Tax" on the WVBA for their last minute arrangement, but Doc used stolen funds from Little Mac's 1987 title reign to easily pay the bogus debt
-Rocky Balboa, the culprit in the first Honda/Sandman scandal, was in attendance this evening wearing a jogging suit and a whole boatload of American pride
-Mike Tyson's victory was hailed by critics everywhere as proof of the effectiveness of the American correctional system and in the merits of having no more than a second grade education.