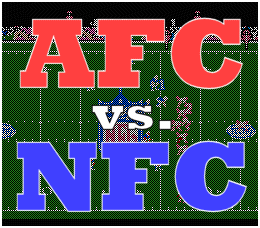 Break out your luau attire and your shortened alphabets, kids, because It's Pro Bowl Season. I'm already in the spirit, with a mai tai in my hand and a load of sand up my butt, which is a separate and kinky topic for another day. The important matter at hand is that we're here to honor the legends of Tecmo Super Bowl with one swell game of football that will utilize all the wonders of 1991 computer technology. These Tecmo demigods certainly deserve that. Names like Crawford Ker and Sam Graddy have been synonymous with Tecmo Super Bowl ever since I filled out the Pro Bowl rosters a week ago, so the anticipation for this game has been nothing short of gargantuan. To be able to see these gladiators of the gridiron ply their trade with other megastars like Joe Caravello is a rare treat that we won't soon forget, I'm sure.

In addition to the "Whoa, how did I get so lucky?" feeling overwhelming all of you as you eagerly await seeing Frank Stams, there's also an air of nostalgia creeping in. It's been a few months since I did one of these games for Leonardite.com and it feels sort of strange to step back into the driver's seat. The readers out there that are currently pointing out that "a few months" was the standard interval between It's Tecmo Season "weeks" are kindly asked to fuck off at this time, and to leave your truth at home. Instead, let us all celebrate and weep like a group of high school graduates as this is the last time we'll gather at It's Tecmo Season High School. Put on your mortar boards, chill your senior party booze, and get ready to moon the principal, because we're not taking our NES sheepskins without going out in style: Rick Fenney style. Now that's serious business, brother.

First Quarter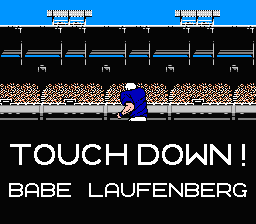 Boogie with the Babe

NFC Drive #1

Working from his own fourteen, Laufenberg grabs his lunch pail and goes to work. Seeing Wild Drewel cutting across the field, he deftly delivers a strike to him and sends the Buccaneer wideout streaking down the field. Drewrey brings the NFC across midfield and already the Babe is making believers out of an audience of people that already believed in him.

Laufenberg gets cocky on second down, as we all would be if we had a beard like that, and tries to force a ball to BreNt Perriman. Perriman makes a great diving catch, which is probably due to the expert placement of the pass, and sets up the NFC inside the AFC 15. To prove that he's human, Laufenberg tosses an incompletion before hooking up with Cap Boso for the first touchdown of the game. Laufenberg to Boso: The Infallible Combination.

7-0, NFC

AFC Drive #1

The AFC obviously is pissed off that Laufenberg steamrolled over them. In a classically dickheaded response, they toss the ball to Mosi on first down and let him slice, dice, and run slowly down the field on his way to a 45 yard gain. "I'll see your Laufenberg and raise you a Tatupu." This game is already on the verge of becoming the greatest thing ever.

Mosi and Joe Caravello combine for a blue collar first down as a follow-up, which is polite parlance for saying that two really slow and really white halfbacks carried the football. Things got even more caucasian two plays later when Mosi brought the ball the remaining eight yards to the house and celebrated by doing his taxes in the end zone.

7-7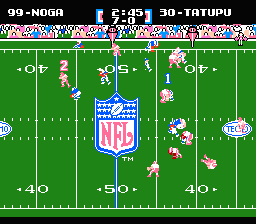 Tattooed by Tatupu

NFC Drive #2

With about the same starting field position as the last drive, the NFC decides to give three straight handoffs to Rick Fenney, which is always a disastrous choice even if Laufenberg's limbs weren't on fire a la NBA Jam. Instead of letting the Babe lob touchdowns to Willie Drewrey and alley oops to John Starks, Jeff Feagles is going to have to punt kick instead.

AFC Drive #2

I giggled pretty hard when I saw that Jamie Mueller was returning punts for the AFC All-Pros, but nobody was laughing after he busted off a forty yard return and then had sex with Marv Levy's wife. With one second on the clock, Stouffer hits Pat Beach to get the AFC across midfield.

End of 1st Quarter: AFC-7, NFC-7

Second Quarter

AFC Drive #2 (Continued)

Right out of the gates, Stouffer fires up a pass that is instantly intercepted by the immortal Wayne Haddix. How Haddix snuck into a game with the rest of these losers is a pretty big enigma, but the NFC is happy to reap the rewards of somehow sneaking Bob Nelson and him onto the Pro Bowl field.

NFC Drive #3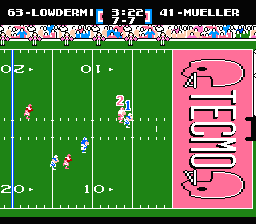 Mueller and his real team definitely have never been on the butt end of a game glitch before

The NFC purchased a bottle of sanity in between quarters and let Laufenberg throw again. First down yielded an incompletion and my computer went crazy on second down, so I'm not exactly sure what happened, but since the screen said "SACK! ANDRE TIPPETT" when it cleared up, I've narrowed it down to hell descending into permafrost. Frozen brethren of OJ Simpson aside, the NFC faces a 3rd and 10, and another incompletion from the Babe isn't going to get it done.

However, Jamie Mueller, suffering from a case of post-coitus fumble fingers, coughs up the Feagles punt kick. The ball is recovered by the NFC and it gives us our first glimpse of the KFL locomotive (Kirk Fucking Lowdermilk.) And there's some serious game glitching going on, as Mueller repeatedly runs through Lowdermilk's body like an apparition, unable to tackle or even grapple with him. And to further the spookiness subplot, this is actually the second attempt at simulating this game (my browser gave me a boisterous Cleveland Steamer earlier) and in both games, Lowdermilk picked up a Mueller fumble and scored a TD. I'm calling Robert Stack.

14-7, NFC

AFC Drive #3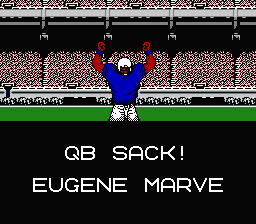 Living up to the message board hype

It's damn near impossible to rally the troops after getting scored on by a center named "Lowdermilk," so I have to give the AFC credit for coming out of the gates prepared to work. Caravello picks up five yards on two plays, which is an outstanding figure for him, and then Stouffer gains the rest and a lot more to put the AFC across midfield at the two minute warning.

In what has to be a Brian Gewirtz script, Eugene Marve records a sack to conveniently placate all of the Leonardite.com fans on the GameFAQs Tecmo message board. On 2nd and 21, Stouffer throws a terrible pass that was in maybe the same county as Sam Graddy, which I deduce was his intended target. Stouffer redeems himself on third down with an heroic scramble into NFC territory, though, and at least salvages a field goal attempt. Of course, it's Norwood who is kicking, so the heroism of the run can easily be challenged in light of the obvious end result.

NFC Drive #4

With a minute remaining, the NFC fashions an eclectic mix of big Fenney losses and sacks of Laufenberg to punt kick one last time before halftime. Mueller holds onto the ball this time but heading into intermission, the NFC holds onto the Lowdermilkian Lead.

End of 2nd Quarter: NFC-14, AFC-7

Halftime

I couldn't remember what the Pro Bowl halftime show was, likely because I've never played more than 30 seconds of the Pro Bowl before. At the least I was hoping for the panty shot and at the most, The Mighty PantyJack Show. Instead, Tecmo gave me a marching band. Polly Wolly Fuck This.

3rd Quarter





Seriously, who invited Haddix?

AFC Drive #4

The AFC either needs to get Mosi involved again or find a way for their center to score on this drive. Four yard losses by Tatupu on first down aren't going to cut it, but thirty yard pitch and catches to Sam Graddy are. Graddy caught the ball and clearly established himself as the fastest man in this amalgam of mostly shitty players that I have assembled.

On the very next play, Stouffer decides to scramble and after getting past his intial problem of running pell-mell into his own linemen, gets into the open field and breaks off a run to the NFC 7-yard line. Ready to pounce [nap], Stouffer stands in the pocket for an eternity before forcing a second interception into the chest of, who else, Wayne Haddix.

NFC Drive #5

It's not a huge surprise that the Beard of Glory threw an interception of his own on the very next play, but since Ronnie Lippett was the thief, that makes two positive contributions from the 'ippetts today. Anybody not surprised by that is either a liar or in a severe coma.

AFC Drive #5

Stouffer throws a jump ball to the world famous "wide receiver," Doug Lloyd, on first down, but it falls incomplete. The same result happens when the ball is thrown to Pat Beach on second down, but any good quarterback should know that throwing to Houston fullbacks is still far more attractive than throwing to the granite-handed tight end from Indianapolis. On third and no chance in hell, Stouffer overshoots Caravello and a diving Jerry Gray intercepts the ball at the goal line.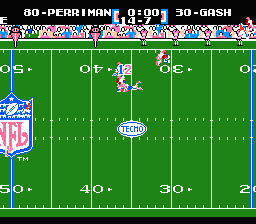 And who forgot to invite Harbaugh to the interception convention?

NFC Drive #6

Working from the zero yard line, GrinFenney picks up two yards before Gil Fenerty finally gets his first carry of the game, a forgettable four yard grind. Needing to make a play, Laufenberg heaves a pass in the general direction of BreNt Perriman. Perriman does absolutely all of the work and makes a great catch, but the credit understandably is given directly to the quarterback's facial hair.

With a new set of downs at midfield, Laufenberg's first pass is batted down. Dennis Byrd then gets his name in the stat book on the next play, wiping out Laufenberg for an eight yard loss. With 3rd and 18 looming, the Babe understandably tries to force a pass to Perriman but is rewarded with a Thane Gash interception for his efforts. Time expires in the quarter, meaning that every single drive in the 3rd quarter ended with a pick. Pro Bowl football at its finest!

End of 3rd Quarter: NFC-14, AFC-7

4th Quarter

AFC Drive #6

Mosi gets the carry on first down and swiftly fumbles the ball into the greedy hands of Jerry Gray, who records his second straight takeaway. That makes a combined five turnovers in five drives and Herschel Walker and Grogan aren't even playing in this game.

NFC Drive #7

The National Football Conference has the ball at the 35 with a big chance to put a stranglehold on its foes. Laufenberg overshoots Perriman for a sure touchdown on first down and it only goes downhill from there. The next two passes are valiant attemtps at continuing the turnover streak, but two straight clanks off AFC defenders' hands spells a pathetic NFC three-and-out and the emergence of AutoFuad Reveiz. Naturally, he pushes the ball wide right and has subsequently been downgraded to semi-automatic status, making him available for a bargain and without a background check at your local used placekicker sales.

AFC Drive #7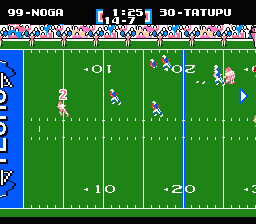 Mosi Tatupu: One dominating pile of meat

This game has been a lot like Christmas with both teams giving each other gifts of turnovers and the NFC quarterback looking like a young Kris Kringle. With 3:40 left in the game, the AFC really needs to come up big here. Caravello picks up two yards on first down. Joe mysteriously gets the ball on the next two plays as well, but is left inches short setting up a pivotal 4th and 1.

Mosi gets the nod on this play and is barely able to scratch out a yard, but it is enough to move the sticks for the AFC. It's certainly not flashy, but the AFC's dubious power tandem is picking up yards down the stretch.

Tatupu gets the carry yet again, but he is wrestled down for a gain of absolutely nothing. A timeout is taken to rest Mosi's battered legs. This proves to be a sage decision from the coaching owl of Buffalo as Tatupu springs a fifteen yard gain for yet another AFC first down.

With two minutes to go at the 40 yard line, Caravello gets the carry and in workmanlike fashion, battles against the picked play to get back to the line of scrimmage. That sets up Mosi Tatupu, who takes yet ANOTHER pitch and this time uncorks a dominating run that sees him go untouched into the end zone. For those of you scoring at home, that was eight straight carries by terrible AFC halfbacks that resulted in a touchdown. And also for those of you scoring at home...

14-14

NFC Drive #8

The NFC certainly doesn't deserve to win this game, but they're going to get their chance with a minute remaining at their own 36. Laufenberg tosses an incompletion before throwing yet another interception, this time to David Fulcher. Truly a stellar half for the NFC and their lumberjacking signal caller.

AFC Drive #8

Stouffer's pass at the gun is batted down at the line, meaning the Pro Bowl is going to overtime. Oh, the joy.

End of 4th Quarter: AFC-14, NFC-14

Overtime

NFC Drive #9

The NFC wins the toss, giving them yet another chance that they have no business receiving. Norwood even helps the opposition out more (as he has been known to do from time to Super Bowl) and kicks a little womanly boot to the opposing forty. Working from there, Laufenberg goes playaction and gets his head lopped off by Dennis Byrd. Now missing a head to go along with his dearth of a brain, Laufenberg has a 2nd and 18 staring at him. Fenerty gets his second carry at a really curious time and does virtually nothing with it. However, Fenerty's minimal yards were better than the ten yard overthrow on 3rd and long by Laufenberg, and undoubtedly better than the punt kick upcoming.

AFC Drive #9

Fielding the ball at his own, Mueller does a superbly Muellerly job of giving his team comparatively decent field position at the 29 with 3:25 remaining. The AFC sticks with the Mosi routine and he rewards them with another ten yard pickup.

On the next play, though, the AFC misguidedly goes back to the air with disastrous results. This definitely was not Stouffer's fault, which is surprising in and of itself. Sam Graddy was wide open, but Wayne Haddix got a speed burst that was so dastardly and so Buffalo Bills-like that all the people watching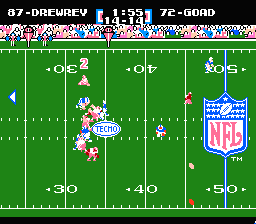 Unquestionably the best picture taken during the entire "It's Tecmo Season" campaign

this game [me] will be thinking about it for at least the next five minutes. Laufenberg's turnovers have been the direct result of horseshit play, but poor Stouffer got hosed by Haddix's godliness on that one.

NFC Drive #10

2:38 to go, NFC ball at their own 25. GrinFenney gets the call and picks up his usual one yard. Same play on second down, this time netting five yards. The NFC now is facing a third down, which has been their bugaboo - not the third down necessarily, but rather them possessing the ball in general. They go playaction on 3rd down and Laufenberg throws an indescribably bad pass. The photographic evidence is to your right: That ball was intended for the black guy in the middle of the field. Holy shit. No, really, holy shit.

BUT!!!!!!!!!!!!!!!!!!!!

On the punt kick, Mueller fumbles the ball again! The NFC bumps the ball around the field for a really long time, coming precariously close to it going out of bounds. At the last moment, a fair-skinned NFC'er makes the recovery. I was banking on the KFL again, but the screen that instead materialized was this: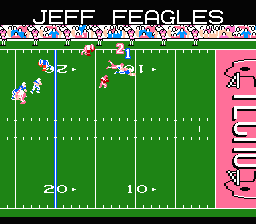 My instant laughter can only be described as a cross between the Joker and a 65 year-old woman and likely will appear as such in the police report filed by all the neighbors I just woke up.

NFC Drive #11

Not wanting to give Babe the chance to fuck everything up again, SemiAutoFuad comes out and coolly delivers from 30 yards out, putting a bow on the Pro Bowl and on It's Tecmo Season.

17-14, NFC

Closing Thought

It would have been really awesome if the last game of "It's Tecmo Season" ended in a tie, but I'll take Jeff Feagles making the game-breaking play as a substitute. I'm still giving the player of the game to Wayne Haddix for his three picks and apparent power to hastily levitate across the field, but any number of lovable losers and Lowerdmilks were worthy of the award as well.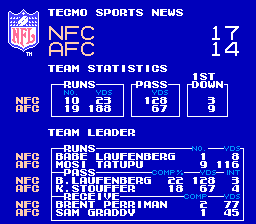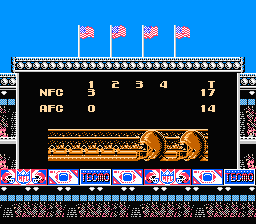 Leonardite.com