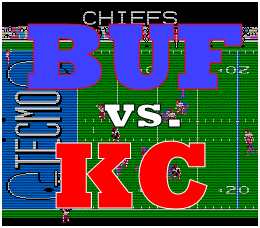 Kansas City delivered the face-rockingest performance of the "It's Tecmo Season" season thus far when they bludgeoned the Oilers out of the playoffs in a 38-0 romp. What can a performance like that mean for them as they square off with the Buffalo Bills? If you said, "absolutely nothing," you are absolutely right. Let the digital sacrifice of the Chiefs begin!

First Quarter

Chiefs Drive #1

Todd McNair starts things off on the right foot for the Assassins of Arrowhead by bringing the kickoff just shy of midfield to the 46. The Chiefs then put together a truly memorable drive of two bad incompletions and a zero-yard run.

Bills Drive #1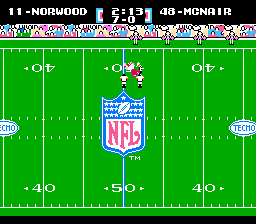 Flat, white, and motionless is really not the way McNair wanted to leave the field

I wondered if the Bills would tease the gathered Leonardites with some early mediocre play, perhaps some gambling-motivated point shaving. These of course were pipe dreams as QB Bills accounts for 80 yards in two plays, twenty of them on a scramble and the rest of the sizeable pile on a TD pass to James Lofton.

7-0, Buffalo

Chiefs Drive #2

The only bright spot for the Chiefs in this infant game has been Todd McNair's kick returning. His first return brought KC to the 46 and his latest attempt improved upon that by bringing his squad to the fifty.

It comes as no surprise, then, that the game would take it upon itself to execute Mr. McNair, both to improve Buffalo's fortunes in this game and to send a clear message to any other would-be yard gainers sitting on the Kansas City sideline.

Unfazed, Barry Word shirks the probable advice of his doctor ("Make decisions that do not cause you to not live") and picks up a first down and fourteen yards over two plays. After the Nightmare runs into a lot of Bruce Smith on first down, DeBerg threads an unexpected pass to Rob-ub to bring the Chiefs down to the Buffalo three.

Things hit a hiccup, however, when DeBerg fails to complete passes and not get sacked on first and second down. From the seven, the Chiefs go with the Word play that started the drive. It looks promising when he sheds Bruce, but then one of their non-descript white guys made the stop at the three. ICBM Leg comes onto the field to put the Chiefs on the board as the quarter expires.

7-3, Buffalo

End of 1st Quarter: Buffalo-7, Kansas City-3

Second Quarter

Bills Drive #2

Working from the 25, Thurman Thomas is stuffed on first down for a meager 26-yard gain. The next pass play nets 25 as well, this time on an in-traffic completion to Lofton. The Bills finally throw an incomplete pass on the next down, which qualifies as news not only on this site but on a select number of fan boards and AM radio stations as well. And they'll have a lot of time to chew on that one, because on the very next play the Bills returned to normalcy and let Thurman run untouched to the end zone.

14-3, Buffalo

Chiefs Drive #3





So who is surprised? Not you, not you, not you...

Barry Word gets three carries in a row which net a total of eight yards. This is not a sufficient amount of gained yardage in any licensed league of high-level football (not even in Indianapolis Colts Cheerleaders vs. Indianapolis Colts games) and therefore leaves the Chiefs in an obvious punt kicking situation.

Bills Drive #3

Starting at their own nine, the Bills pick up a ho-hum 38 yards on first down on a completion to Andre Reed. Following a time-out, Neil Smith performs with an astonishing burst of football talent and sacks QB Bills for a loss of twelve. Not even a pitch to Thomas or the acclaimed "Dive to the slow white fullback" play were enough to dig the Bills out of the Smith-induced hole.

Chiefs Drive #4

With the punt kick dropping at the one-yard line, the Chiefs were in prime "That-punting-douche-bag-what's-his-name-Tuten?-scores-AGAIN" territory. Amazingly avoiding the fumble, the Chiefs do find time to squeeze in an interception to Nate Odomes, but he is equally amazingly tackled before reaching the end zone.

End of 2nd Quarter: Buffalo-14, Kansas City-3

Halftime

The Chiefs are vastly overmatched in this game to a junior high vs. college level. This makes the railing of Houston in the previous week that much more amazing. To think that Houston, a team widely considered one of the best on the game, would now be a sure 59 point underdog to a comparable team in their league is further proof of the alarming Buffalo fellating being performed yet again by Tecmo Super Bowl.

3rd Quarter

Bills Drive #4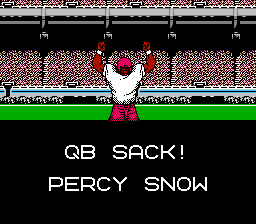 Snow would later remark that he did it for the chicks, in addition to McNair

In the locker room at halftime, Todd McNair was placed on speaker phone as he delivered this impassioned message from the emergency room in Buffalo:

"The doctors have informed me that both of my legs are broken, my kidneys have ruptured, and I miraculously acquired debilitating osteoporosis at the moment of collision. They aren't sure how this happened, but aren't ruling out fate, the time I played with a Ouija board at a sixth grade birthday party, or a diabolical computer football simulation with a Buffalo-loving complex. Either way, this morphine is good. I mean, really fucking good. I'd smuggle a bag out if my hands weren't now disfigured claws lying in an ice cream pail next to my bed."

Motivated, Percy Snow leads the Chiefs with two sacks and pushes Buffalo back to their own two-yard line in a three-and-out.

Chiefs Drive #5

Working from the Buffalo 44, Barry Word again gets the handoff to no effect. A playaction pass to the afformentioned halfback on the next play is much more successful, as the Chiefs pick up fourteen to move to the Buffalo 30.

After overthrowing a wide open Christian Okoye and doing his best to force an interception, DeBerg completes the Bad Quarterbacking Hat Trick by allowing Bruce Smith to smear him in the pocket. Limber Lowery has no problem from 58 out, of course, and the Chiefs put a few more points on the board.

14-6, Buffalo

Bills Drive #5

Inexplicably, the Bills are forced three-and-out again. The fact that Thurman Thomas got stopped on one play is something that I could have imagined before the game as "possible." But to have two passes go into coverage without at least one Bill reception is something that is Art Bell weird.

Chiefs Drive #6

With 45 seconds to go in the third, the Chiefs are headed the wrong way after traveling eight yards towards their own end zone. On 3rd and 18, DeBerg hits Oral Roberts who is stopped one agonizing yard short of the first down sticks.

End of 3rd Quarter: Buffalo-14, Kansas City-6

4th Quarter

Bills Drive #6

Thurman is pissed and he proves it by uncorking a thirty-yard scamper to kick off what will be without question Buffalo's game-clinching quarter. Sure enough, two plays later QB Bills hits James Lofton for their second combined touchdown of the day.

21-6, Buffalo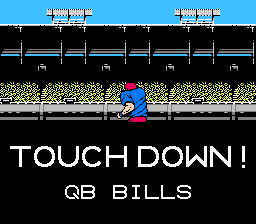 QB Bills' Stat Line: 3 TD's, 0 INT,
0 Individualized Monikers

Chiefs Drive #7

Starting from their own eight, the Chiefs finally decide to employ some offensive efficiency. Christian Okoye picks up eleven on first down, and then Barry Word picks up an additional fiften over the next two to move the sticks again.

Things fall apart quickly though, when Okoye can only get one yard on two carries and Leon Seals wears Steve DeBerg as a sombrero after a well-executed blitz. The refs order Seals to take DeBerg off his head so that he can hand the ball off to Barry Word for one more crappy play on fourth down.

Bills Drive #7

QB Bills to Andre Reed. Touchdown. In more exciting news, I have an unpaid credit card bill sitting next to my computer. Did you know that I bought $16 worth of gas on September 4th?

28-6, Buffalo

Chiefs Drive #8

Steve DeBerg and Stephone Paige cover 80 yards on two completions to score a meaningless touchdown at the gun.

28-13, Buffalo

Closing Thought

I'm not going to pretend like watching COM vs. COM Tecmo games is that much fun in the first place, but this game was one of the most boring "events" I have seen in a long time. Maybe my summer of training the Jamaican bobsled team built my pleasure threshold up a little too high, but this game really did suck. QB Bills is the player of the game, although honorable mention has to be given to Todd McNair whose chances of leaving a Buffalo hospital are being estimated at 15%. You've gone too far, game, you've gone too far.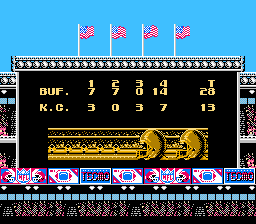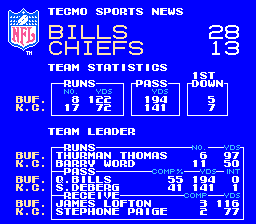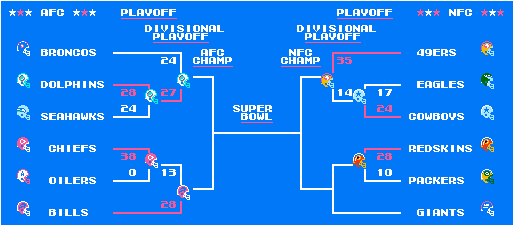 Leonardite.com