I really hate the term "Cinderella story" because most of the time it's not even that accurate. The parallels between the outcast daughter going to a formal and an underdog team pulling off a string of wins are sometimes tenuous at best. And every March, I'm so sick of Jim Nance saying "The slipper still fits! Cinderella still dances!" that I want to drive to his house, kick his dog, and moon him (Nance, not the dog.)

So how would I describe Dallas's run this year? I'd say they're a TuPac Shakur story. They've had a very succesful run, are pretty popular, and now the San Francisco 49ers are going to fill their collective body full of bullets.

First Quarter

49ers Drive #1

God's minor league team opens their first drive at the ten. Consecutive carries up the middle by Craig and Rathman net the Niners five yards. Rathman gets the call through the three on third down and looks like he's going to be hauled down, but Tom begins hauling off on defenders and sheds a minimum of five guys before finally going down. On the very next play, Jerry Rice catches a ball in coverage in Cowboys' territory. This is the first time Rice has EVER caught a ball in traffic. In this game.

Across enemy lines, Montana again completes a pass in coverage. This time, however, it is to Roger Craig and he is five yards in the backfield. This problem is made even worse on second down when the future head coach of the Jacksonville Jaguars speeds around the corner with Haddix-like intensity to record a big sack. And while I had hoped to transition with "And after an incompletion, the Cowboys' 'big sack' at fullback exposes himself to the pubic, er, public." But Rice, this time, caught the pass in double coverage leading to another first down, although that still does not negate the fact that there are no fewer than four genitalia references in my unused sentence. That kind of creative vulgarity is only acquired by those willing to sacrifice logical decency to venture into the glamorous world of juvenile wordsmithing. Roger Craig also scored a touchdown not long after, but I like the current conversation topic a lot better.

7-0, San Francisco

Cowboys Drive #1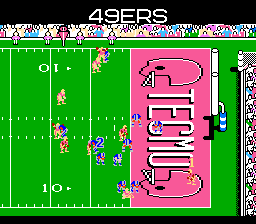 After over fifteen years of Tecmo touchdowns, Rice is no longer able to experience excitement

This certainly isn't the start the Cowboys envisioned, but their Leon Lett brownie-induced visions of latex goalposts and an applesauce football field were probably going to be pretty difficult to realize. What wasn't difficult was the way Michael Irvin made catching passes from Troy Aikman look as he beat the coverage and brought the Boys across the fifty on the very first play. Rolling from there, Emmitt Smith picked up a quick six, but all was lost when Aikman got mobbed by the San Fran defense. In a 3rd and 12 hole at the 50, the blitz was on again and Kevin Fagan literally grew a pair of wings and swooped down on Troy Aikman like a chicken hawk. This actually wasn't that surprising to me, though. Not because Tecmo really likes the 49ers but because, come on, it's Kevin Fagan.

49ers Drive #2

In an "Punter-Rohn-Stark-Is-One-Of-The-Best-In-The-League" moment, the Cowboys find a small moral victory when their punter, Anglo, places the ball perfectly at the one. And pardon my frustration, but the Cowboys came really fucking close to getting a safety, but Joe Montana stepped up in the face of a Rommel-like siege and somehow found his clumsy fullback open for a twenty yard gain. Things could possibly be looking up, though, as an incompletion and a loss by Roger Craig have the Niners facing 3rd and long to start the second.

End of 1st Quarter: San Francisco-7, Dallas-0

Second Quarter

49ers Drive #2 (Continued)

The 49ers come out in that trips on the bottom, one receiver on top formation which means that it is either the deep pass or the play where the quarterback strips naked and uses the referee as a lead blocker(Famicom version only.) Seeing the apple pie stains on my keyboard leads me to believe it is the pass and the ill-fated scramble attempt by Montana leads me to believe that the Cowboys will be getting the ball back.

Cowboys Drive #2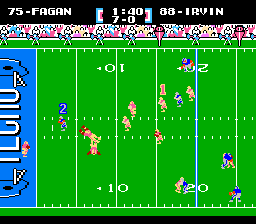 "I am the original... Those are my disciples. " - Michael Irvin of Nazareth

The Cowboys are exhibiting a lot better play-calling acumen after the ridicule I gave them last game and the tongue-lashing that Jimmy Johnson got in a closed doors meeting with the mascot. All they're doing is giving the ball to Emmitt Smith, but two carries and they're moving the sticks. What's wrong with that? Not only was it effective in accumulating yards, but it opened up the universally-feared "DUMP TO NUTSACK" and Agee was able to scrotally scoot to the 40 of the Niners.

Things keep looking good as Smith gets the ball twice in a row again and delivers fifteen yards. But two plays later, the crowd groans in disbelief as the Boys go back to the pitiful Martin reverse. It gets a single yard, which qualifies as an unmitigated positive for Dallas, but still leaves them facing 3rd and 9. But again, all the Smith runs have opened up the aerial attack and the roll pass is wide open this time. Michael Irvin finds the soft spot in the defense and Aikman hits him at the two.

Emmitt takes the ball and cancans ("waltzes" is way overused) his way into the end zone to cap off what might have been the most impressive drive of the "It's Tecmo Season" campaign.

7-7

49ers Drive #3

On the first play of the drive, Rice slices the safeties in half like a greased guillotine and sprints to the 21 of the Cowboys before being dragged down from behind in one of those strange Tecmo tackles where the ball carrier ends up facing the wrong way on the ground. With 49 seconds left, San Fran takes a timeout and then comes back with a bullet to Rice for his fourth catch and a ridiculously easy touchdown.

14-7, San Francisco

Cowboys Drive #3

Dixon brought the kickoff back to midfield, so the smart thing to do would have been to hand it off to Emmitt for a few yards, call timeout, and kick the field goal. Instead, they throw an incompletion and THEN hand it to Smith as time expires in the half. The Dallas coaching staff doesn't necessarily deserve to be shot dead, but probably to semi-serious injury for sure.

End of 2nd Quarter: San Francisco-14, Dallas-7

Halftime

That last drive for the 49ers really summed things up. No matter how well the Cowboys play, San Francisco can turn it on like a switch and just run the score up. The strategy that the Cowboys are considering in the locker room is to sneak in one of the gargantuan Cowboys from Tecmo Bowl, but are afraid that everyone will notice when their cornerback looks like John Henry in a girdle.

3rd Quarter

Cowboys Drive #4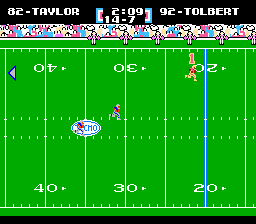 I think......maybe.......yep, he's got a step on the defense

The Cowboys sagely go to Emmitt right away and he rewards them with six yards, but follow that up with another Martin reverse which gains nothing. For those of you scoring at home with or without the aid of the Jeopardy! home calculator, that play is averaging 0.5 yards per time. On third down, both Martin and Irvin are wide open and begging for touchdowns, but Aikman stays in the kiddie pool and goes with the six yard dump to Novacek. Of course, as long as they are moving the sticks AND keeping Moses Rice off of the field, maybe that was the best option.

An incompletion and two pretty bad Smith draws later, though, and the Cowboys are punt kicking. From the fifty, I'd normally say boot the field goal or go for it, but the European at punt kicker has pinned the Niners deep once already and the longer the Cowboys can make the field, the better.

49ers Drive #4

The strategy ended up being a wash as it ended in a touchback, but the next play had a pretty clear winner when Joe Montana hit an uncovered John Taylor for an even 75 yards. Two snaps in the future, Roger Craig scores his second TD of the playoffs.

21-7, San Francisco

Cowboys Drive #5

Before this drive starts, let me point that there hasn't been a turnover yet. And also let me point out that when it occurs, Dallas will not be the ones doing the "taking" away.

A sack and two incompletions is pretty much a turnover in my book and the 49ers are getting the ball back again.

49ers Drive #5

Montana hits Craig for a bunch of yards and the Niners are already across the fifty. Yipee!

End of 3rd Quarter: San Francisco-21, Dallas-7

4th Quarter

49ers Drive #5 (Continued)

Craig and Rathman both pick up over ten yards apiece on carries before Montana hits a cutting Jerry Rice yet again for another brilliant pass and nauseating touchdown.

28-7, San Francisco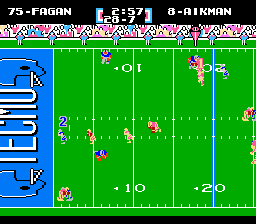 Dallas fans were excited about this touchdown, but they should have looked at this way: Had he been tackled, there's a slight chance we'd have gotten to see Laufenberg as a result

Cowboys Drive #6

With their season all but ceremoniously sodomized at this point, my pleas of "PUT IN BABE!" are falling on deaf ears. Aikman guides a pretty ball to a diving Kelvin Martin before Nutsack FINALLY gets his first carry of the game with 3:30 left in the 4th quarter. Aikman follows that up displaying unquestionably the best QB scramble of the season and ending up in the end zone.

28-14, San Francisco

49ers Drive #6

Following Dallas's moral aversion to onside kicks, San Fran takes uncontested possession of the football. And what the hell? Might as well hit John Taylor for 65 and another touchdown.

35-14, San Francisco

Cowboys Drive #7

Haha! I knew it. The Cowboys were running a lot of meaningless plays that I wasn't paying attention to at all, but when I saw Aikman drop back to pass with time expiring, I knew exactly what would happen. Dave Waymer interception? "Don't mind if I do......dick" says the CPU, as it taunts itself by beating up on itself with the 49ers for an apparently satisfying conclusion.

Closing Thought

I absolutely don't see how San Francisco is going to be stopped. Dallas only did it once and that was just because Montana's arm was getting tired from throwing so many perfect balls. He's going to be the player of the game not only for his outstanding play, but for his comment to Laufenberg after the game ("Can't believe you didn't get in, dude. You should grind your coach's face off with your beard. Did you know I'm a spokesman for LA Gear?") Class act that Joe.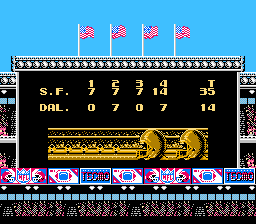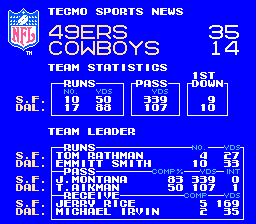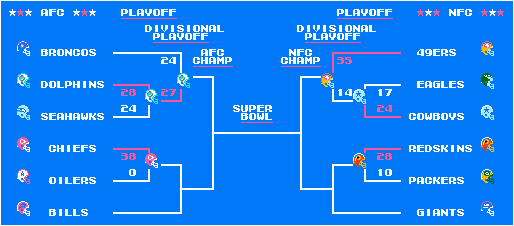 Leonardite.com