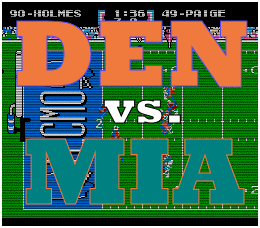 The "It's Tecmo Season" playoffs enter their second round at Mile High Stadium. The visiting Dolphins have not lost since Week 8 and are featuring a football team with the confidence of the elephant man at a singles bar. The Broncos, meanwhile, are the surprise winners of the AFC West and are pretty much just shocked to be here. Their confidence level is unable to be measured with an awful metaphorical joke at this time.

First Quarter

Broncos Drive #1

Starting from their own 45, the Broncos start off in tough shape with the poor "Sewell Up Top" play and the even-poorer "Let's run into the bear hug of Cliff Odom" script. On third down they are able to find an offense as Elway connects with Bobby Humphrey for a big first down at the 38 of the Fish.

Moments later the Dolphins, who were thoroughly expecting the Vance Johnson reverse or an ill-advised first down field goal attempt, are caught completely with their pants down as John Elway hits Vance Johnson for a touchdown via the flea flicker.

7-0, Denver

Dolphins Drive #1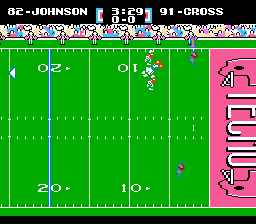 Sadly, this play will put the cause of eliminating the flea flicker back by at least ten minutes

Giving up a touchdown on a flea flicker is pretty embarassing, but giving up a touchdown on a Tecmo flea flicker is "unknowingly bringing a transvestite to prom" embarassing. If you were to pay back a team for doing that to you, seducing opposition mothers or spiking the Gatorade jug with Ex-Lax would be choice weapons of revenge. But hitting Ferrell Edmunds for two consecutive completions is nearly as humiliating and that's the route that Marino and the Phins decided to go.

Inside the 40, the Dolphins complete their third pass out of three attempts (that's almost 80% for my fellow products of the public school system) and then follow that up with another first down, this time on a ten-yard dash by Sammie Smith. On the very next play, Tony Paige covers the remaining distance and the flea flicker has been officially whitewashed.

7-7

Broncos Drive #2

The Broncos have already cashed in their one free meal ticket on the flea flicker and are desperate for something more. Sewell gains of four yards are nice, but Dan Reeves definitely is looking for something more spectacular. And he gets that on the next play, when Sewell spectacularly fumbles when trying to pitch it to Johnson on the reverse and Jarvis Williams spectacularly rumbles down to the Denver 12.

Dolphins Drive #2

Tony Paige picks up a quick eight yards on first down. Dan Marino has a wide open running lane to paydirt off the boot on the next play, but he questionably decides to throw the ball as hard as he possibly can at Mark Clayton. The ball came with such velocity that Clayton's body did not have time to process the "FRIGHT" response his brain released until the ball was ten yards and one murdered photographer behind him.

End of 1st Quarter: Denver-7, Miami-7

Second Quarter

Dolphins Drive #2 (Continued)

If you were thinking going into the break that the Dolphins might get held to just three, your Tecmo acumen is weak. And Sammie Smith just went out of his way to prove it to you and the world.

14-7, Miami

Broncos Drive #3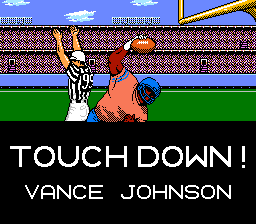 Ditto for the reverse. Thanks Vance

The Broncos go right to the flea flicker on first down. If there had been a human controlling the Dolphins that had to endure the absurd catch that Mark Jackson just made in double coverage, no doubt that protests of "extreme bullshit" would be flying around. Instead, the computer has to silently swear at itself as the Broncos move the ball.

The Broncos try the Johnson reverse again and like last time, it ends with the ball being carelessly flung to the ground by Steve Sewell. But the Tecmo referees are sick of watching a playoff game be marred by embarassing playcalling and whistle the play dead for no apparent football reason. Taking advantage of the official disregard for the rules of the game, the Broncos work their way back to a first down on a big gain by Humphrey and a shockingly succesful execution of the Vance reverse.

The Broncos pick up two more first downs on two more plays, the first on the Johnson reverse (I don't believe it either) and a carry by Bobby Humphrey (I do believe... that this might be a better play than a slow, uber-risky gimmick play.) However, after two unsuccesful attempts at the bootleg pass, the Broncos are facing 3rd and Goal at the seven. Vance Johnson somehow weaves through six defenders on his way to the end zone off of the aforementioned ludicrous play and any semblance of legitimacy that this game might have had a few minutes ago has been exterminated.

14-14

Dolphins Drive #3

Miami runs two bad dives and a batted pass before punt kicking away the remaining seconds of the first half.

End of 2nd Quarter: Denver-14, Miami-14

Halftime

This game is obviously still close, but Miami's playbook and players are so much better that there is no way that they should lose. And have you ever noticed that when the blimp does the flyover of the stadium, it is traveling at roughly 300 MPH? It is a little known fact that the Japanese are pretty fucking crazy when it comes to their daredevil dirigible stunts.

3rd Quarter

Dolphins Drive #4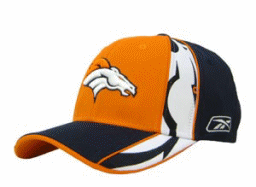 That's high "fashion"

David Treadwell isn't helping the Denver cause much with feeble boots that allow Miami to start on the right side of the 50. The Dolphins don't waste much time reaping the rewards either, as three plays later Marino blisters a pass into the torso of Mark Duper who cries all the way to the end zone in a mixture of pain and really bad pain.

21-14

Broncos Drive #4

Credit the Broncos: They aren't going away. Don't credit the Broncos: In a few years they're going to license that shitty cap. But Sewell and Elway are chewing up first downs on the ground and Denver is still alive. From their own 40, Elway connects with Johnson on a huge third down completion that moves the Broncos midway into Miami territory.

I'm smelling a flea flicker or reverse soon, but the Broncos first collect another eleven yards from Steve Sewell. Sure enough, the next play shocks no one as the flea flicker appears again, but this time it results in a toss out the back of the end zone. And just to doubly justify my brilliant foresight, the Johnson reverse rears its hideous head on second down and brings the Broncos a glorious loss of seven yards. On 3rd and 17, Elway throws the ball to no one.....and I mean NO ONE.....and Treadwell is asked to come onto the field and ply his trade. From 42 yards out, his boot off the upright proves him to be a miserable failure.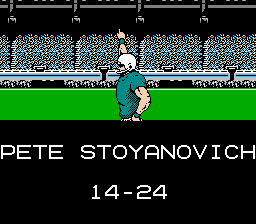 That's three cinema screen captures in a row. Tecmo is looking high-tech today

Dolphins Drive #5

Smelling blood and slow halfbacks in the water, the Dolphins move in for the kill. Marino implants footballs into Duper and Clayton for big first downs that move the Fish inside the Denver 40 going into the game's final quadrant.

End of 3rd Quarter: Miami-21, Denver-14

4th Quarter

Dolphins Drive #5 (Continued)

Knowing that an offseason of Coors abuse may be approaching quicker than they would like, the Denver defense digs in and forces a fourth down after stuffing Sammie Smith and succesfully defending two Marino passes. They can't defend against a superior kicker, though, and Pete Stoyanich delivers a dagger to the Broncos with his 39 yard kick.

24-14, Miami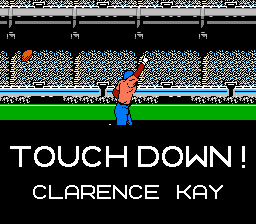 Denver deserved this touchdown like a lawsuit-bringing coffee drinker deserves a slice of Ray Kroc's fortune

Broncos Drive #5

Coupling a worthless kick from Peter with a delicious pass from Elway to Jackson, the Broncos move to the 25 and still have something of a pulse left. But Elway throws the next pass out of the field and John Offerdahl then violently introduces himself, leaving Denver in another 3rd and Impossible situation. Johnathan Huge Teeth is then sacked again, forcing Denver into a 4th and 30.

At this point, with the Broncos down by ten, a field goal is the only option. But Denver is going for it. I'm not even going to chronicle the play because they don't deserve to have it acknowledged. Seriously, Denver, I'm not picking sides in this game but I speak for everyone when I say you deserve to not only this game, but every game hereafter. This isn't cool, macho, or shrewd. It's not even puzzling. It's just fucking dumb. I know that early 90's Denver didn't have much of a concept of "winning" in big games, but even this is beyond their scope of big game choking. This is what happens when you allow a toaster oven to call plays.

And what REALLY pisses me off is that this all ended up in a super jump cinema TD catch for Clarence Kay but still, fuck off Denver.

24-21, Miami

Dolphins Drive #6





No-name turned Tecmo star #5: Wymon Henderson

Needing to bleed the final two minutes off the clock, the Dolphins use three well-thought out runs that chew up time and yards on their way to a crippling first down. The Dolphins go with two more runs that equal to a total of zero yards but a whole lot of time.

Now, I was thinking to myself "The only way that Denver can win is if they get a fumble here. I wouldn't be surprised if that happened." I'm not going to call myself some sort of Nostradamus or Miss Cleo, since this is just Tecmo we're talking about after all, but Marino got gang raped on the bootleg pass and the entire Denver defense was around the ball. Wymon Henderson picked it up and looked to be on his way for a sure touchdown, when he somehow got facemasked to the ground with thirteen seconds to play deep in Miami territory. I'm not even shocked by this, because I enivisioned it happening. And I'm not even proud to admit that I predicted it. You know what I am proud of? My Yinka Dare Nets jersey. That thing is sweet.

Broncos Drive #6

Treadwell is good from 25 and we look to be headed to OT everyone.

End of 4th Quarter: Denver-24, Miami-24

Overtime

Dolphins Drive #7

Despite being the home team in this game, the Broncos were the obvious underdogs. And it looks like their visions of being the conquering heroes might be getting blurred as they lost the coin flip and then came up empty on their ballsy onside kick attempt to start the 5th Quarter.

Things start to look up a little bit, though, when Tony Paige is stopped for only two yards and those are erased on the next play when Marino gets sacked. With 3rd and 10 at kissing distance for the Dolphins, they respond by tossing an incompletion.

With a chance to be the biggest hero of the playoffs thus far, Pete Stoyanavich trots onto the field. His leg doesn't look that big, but it will have to be to hit from 65. The snap is down, the kick is up...........

....and it is wide left.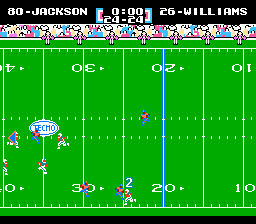 So Jarvis Williams might be having a decent day

Broncos Drive #7

Starting on their own 48, the Broncos have a huge chance to steal the game. But John Elway craps on those dreams pretty quickly when he fires up an interception on first down.

Dolphins Drive #8

Paige picks up ten yards on first down and then two plays later, picks up another five. On 3rd and 5, Miami squanders a wide open Mark Clayton and is forced to send on Professor Enigmatic to punt kick the ball to danger.

Broncos Drive #8

John Elway is an enviable 2 for 2 in overtime: Two passes, two interceptions. Tim McKyer is the thief this time and in unrelated news, a "certain" Tecmo legend once had his daughter gyrate on his crotch. Yeah!

Dolphins Drive #9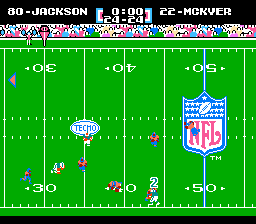 John Elway finishes sculpting an impeccable overtime period

Michael Brooks records a huge sack right away, pushing Miami back eleven yards and forcing the Phins back into their own territory. Marc Munford then follows that up with another sack of his own and all of a sudden the once-confident Dolphins are have become the 3rd and a Million Dolphins. Luckily for them, Marino is good for a million as he snipes a beautiful pass to Tony Paige who takes it down to the Denver 23.

With their sideline already going crazy, Don Shula runs Stoyanavich onto the field to connect from 40 and bring this classic to a merciful end.

Closing Thought

I'm exhausted. No, not because watching this computer game took a lot out of me, but because it's 2:39 in the morning. Regardless, this game was a gem. Miami keeps their eye-popping winning streak alive and the Broncos continue their playoff futility. The player of the game probably has to be Jarvis Williams for taking the ball away from the Broncos twice and for allowing me the opportunity to finally go to bed.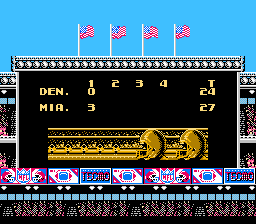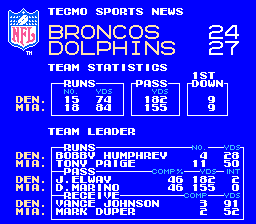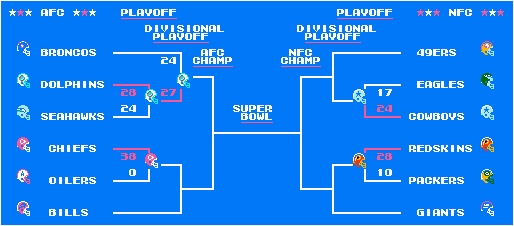 Leonardite.com