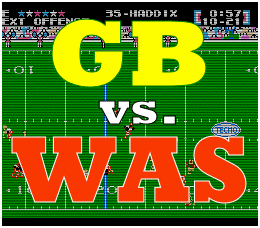 This is a matchup of teams that don't have a prayer next week. The Giants are head-and-shoulders above either squad, but it will be fun for one of them to garner some sliver of playoff glory. I'd like to give the early nod to Washington because Earnest Byner is back in the lineup, but the opposing team would have to include God or at least a majority of the disciples to pick against Bob Nelson's squad.

First Quarter

Redskins Drive #1

The imposing Brian Mitchell takes the return out to the 33. Byner kicks off his return with an eleven yard gain and the Redskins could have followed that up with an easy touchdown pass, but their quarterback smears "To: Mark Murphy...Mark Rypien. From: Mark Rypien" on himself and runs headlong into a sack rather than completing a pass to any number of wide open receivers. Perhaps he was saving himself the humiliation of passing, because on second down he horrifically air mails a pass over Art Monk's head and then gets gang raped by Brian Noble and the Packers on 3rd and 12. Punt kicking time, indeed.

Packers Drive #1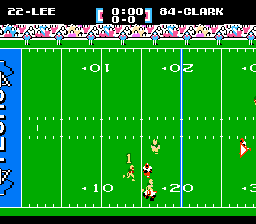 Even Joe Gibbs had to thank Rypien for finally creating the game's first interesting play

Starting deep in his own territory, Majik needs a pair of Bushnells to see the other end of the field. Keith Woodside needs a pair of hands as well, as he stone-claps a pass on first down. Seeing as catching might not be his strong suit, Green Bay just gives him the ball on the next down and he dashes for a strong twelve yards. Woody gobbles up another ten but then the Redskins finally get wise to the scheme and swallow him up on a blitz.

Facing 2nd and 14, the Packers go with the Haddix draw and gain zero yards minus two, which is pretty much par for the course. Majkowski's gallant scramble on third down nearly nets Green Bay a first down, but the Skins secondary hauls him down before the Don can keep the punt kicker restricted to the sidelines.

Redskins Drive #2

Ron Howard Potsie's the Packers with a huge thirty yard punt return that qualifies as the game's first big play. It is not the biggest moment of the game, of course. That honor clearly goes to the pregame discovery of possible signs of primitive talent on the surface of Tony Mandarich.

Mark Rypien goes back to work lobbing balls well over the heads of his receivers, and the last time he does it he finally gets burned as the Packers intercept the "pass."

End of 1st Quarter: Green Bay-0, Washington-0

Second Quarter

Packers Drive #2

After a poor run by Keith Woodsi and a putrid throw by Majkowski, Majik takes off and embarks on an unfathomable thirty yard scramble into Washington territory. Clearly exhausted from the run, he stands interminably in the pocket on the next play until the Washington pass rush ambles listlessly into the backfield and gently knocks him over for a sack.

Facing a long field, Majkowski steps up in the face of a blitz and dumps the ball to Haddix for nine. But the drive stalls there and the Packers do not have the ovaries to attempt the sixty-yard field goal.

Redskins Drive #3





Speculate on the features of the Green Bay crotch and get this result

Starting from the twenty following the touchback, Byner takes the handoff on first down and sprints all the way out to the twenty. Luckily the Clark reverse finds more success and a Washington first down. Consecutive obliterations of Byner leave the Redskins in a passing situation and Rypien doesn't leave the masses disappointed as he gifts yet another toss to the Packer secondary.

Packers Drive #3

Woodsi picks up eight on first down and the Haddix draw, shockingly, gains -2 yards. With a big third down staring him right in his gouda-covered grill, Majkowski has pipe dreams of big time scrambles again. But Greg Manusky voices his displeasure with a grimace, twist, and truckload of PAIN.

And whether it was because of my taunts about their reproductive organs or the death threat telegrammed to them by the President, the Packers elect to line up a field goal this time. And from 66 yards out, Chris Jacke calmly removes a goose egg from the scoreboard.

3-0, Green Bay

Redskins Drive #4

After a horrible kickoff, the Skins had a legitimate chance to tie it up before halftime. But their disregard for gaining yards and Brian Noble's decision to take the superhero cape from Bob Nelson prevented this from happening.

End of 2nd Quarter: Green Bay-3, Washington-0

Halftime

The Packers have had all the field position and all the breaks. On top of this, I'm pretty sure that they have all of the positive yards. And still, they're only one banked-off-the-upright field goal ahead of the Redskins. If there's one thing I have to say about the Redskins' second half chances, it's this: The puckered-up cheerleader in the halftime show is doing her clevage a great disservice by wearing that sports bra.

3rd Quarter

Packers Drive #4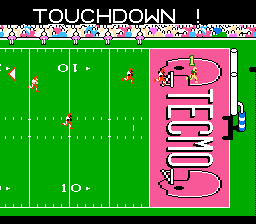 Majkowski and Sharpe exhibit the merits of the desirable lob versus the shitty lob

Perhaps in a sign of things to come, Majkowski throws a pass from his belly with four Redskins on top of him into the arms of Perry Kemp, who is on his belly twenty yards away with two Redskins on top of him. A decent scramble from the Don and a superb reverse by Sharpe (two yards) bring another set of downs to the Packers.

On the very next play, Majkowski delivers a pass right into that creamy, delicious little jump zone and Sterling Sharpe indulges himself as the Packers put up the first touchdown of the day.

10-0, Green Bay

Redskins Drive #5

The Redskins are in dire need of some offense at this point, but Mark Rypien is still stubbornly refusing to complete any passes. He goes 0 for 2 on the first two downs and then is abused by Johnny Holland on the third.





No-Name turned Tecmo star #4: Todd Bowles

Packers Drive #5

Seeing as how the Washington offense wasn't going to make this a game any time soon, the defense decides to take care of business in the form of an amazing diving pick by Todd Bowles that was destined to be a long run-and-catch by Perry Kemp.

Redskins Drive #6

The Skins wisely take their fate out of Mark Rypien's hands and after just two plays, Earnest Byner and Gary Clark pick up the twenty-five yards between them and their first points of the game.

10-7, Green Bay

Packers Drive #6

From their own nine, Woodsi busts loose and takes the ball to the 33. But on second down, Majkowski is swarmed under and COUGHS UP THE BALL! Wilber Marshall pounces on it and sprints to the end zone! A game that was looking like a runaway in Green Bay's favor has just been turned on two defensive plays by the Redskins, who look like they may be the first team in NFL history to win a playoff game by not completing one lousy pass.

14-10, Washington

End of 3rd Quarter: Washington-14, Green Bay-10

4th Quarter

Packers Drive #7

THE PACKERS COME OUT AND SHOCK THE WORLD! YES, THAT'S RIGHT! They run the Haddix draw twice in a row and average a too-good-to-be-true +4 yards per carry! That means they're only two yards from a first down after two repetitions of the second-worst play in their book. So of course they pull out the worst play in their book, the Sharpe reverse. They lose four yards and are now punt kicking. Brilliant play calling on the GB sidelines. I'd like to bottle that offensive acumen.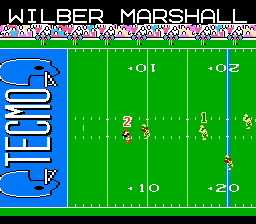 This screen pretty much renders everything to the left of it irrelevant

Redskins Drive #7

Now, I know this is going to be really hard to believe, but Mark Rypien completed a pass. Before you turn off the computer and call me a remorseless liar who has all of the character of Monica Lewinsky with none of the trim figure, let me tell you how it happened. Rypien threw into double-coverage, but the ball peaked in an optimal spot where only Art Monk could leap four stories in the air. And even then, he luckily was able to land between the two defenders who were undercover Redskins players who had snuck onto the field and allowed the completion to happen. Now that you have an idea of how this possibly could have shaken down, I hope that you can at least accept that Washington really is on the opposition twelve via a completed forward pass.

The Redskins go with the Byner low/Clark high rushing combo again with similar results to last time, thus driving a spike into the Packers' corpse-holding container.

21-10, Washington

Packers Drive #8

With 1:23 remaining, the Packers don't have a chance. But they could at least set an example for the kids by playing semi-hard until the end instead of letting Tracy Rocker violate their quarterback and nonchalantly tossing interceptions to Martin Mayhew.

Redskins Drive #8

I was positive that the Redskins were going to be the first team in Tecmo history to kneel down at the end of the game, but instead they run a bunch of plays to Byner until he finally gets a touchdown.

28-10, Washington

Closing Thought

Mark Rypien completes one, count 'em, ONE pass and the Redskins still win. Defense can turn games in Tecmo, but usually not to this extent. Obviously, Wilber Marshall is going to have to be the Player of the Game for scoring the winning touchdown. But even more obviously, he's going to have to share it with Bob Nelson who always wins the award, even if it involves games he's not involved in or Edmonton/Minnesota showdowns on Blades of Steel.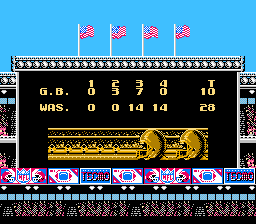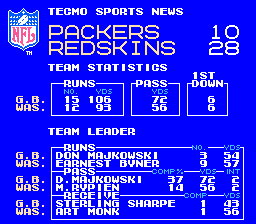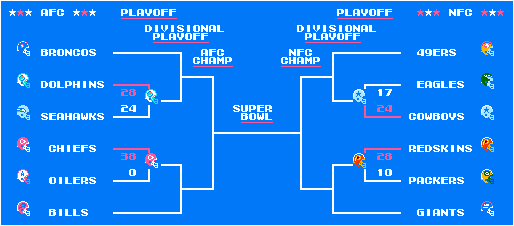 Leonardite.com