Ever wonder if anybody calls Richard Dent "Dick?"



The period of time between Week 10 and Week 11 was longer than an actual week, but that was not such a bad thing. The players all needed their respective time to get over their injuries and hangovers. Plus, we all needed the extra time to fully prepare ourselves for the totally uninspiring matchup featured below:



Game of the Week: Detroit vs. Tampa Bay




Buffalo (8-1) vs. Green Bay (5-4)


James Lofton went down before the Tecmo scoreboard even popped up, which leads me to believe that he must have pulled something during the pregame prayer. Don Beebe stepped in, though, and played like the messiah which isn't hard when God himself apparently looks up to Marv Levy and his embarassingly spoiled squad.

Final Score: Buffalo-28 Green Bay-14

San Diego (2-7) vs. Seattle (5-4)

Seattle waited until the 4th quarter to start scoring points, a decision that stands as one of their worst since they picked their uniform colors.

Final Score: San Diego-17 Seattle-14

Cincinnati (4-5) vs. Pittsburgh (3-6)

Pittsburgh lost both Warren Williams and Tim Worley to injury in this game, but they could have put the fucking Flash in at halfback and it still isn't going to make any difference in their pursuit of a playoff spot.

Final Score: Cincinnati-35 Pittsburgh-13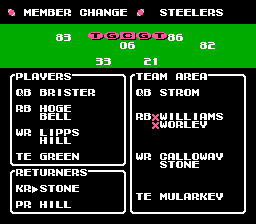 Cleveland (3-6) vs. Philadelphia (5-4)

You know how in auto racing lapped cars move out of the way to let contending cars pass by them without incident? That's pretty much what Cleveland did for Philadelphia here.

Final Score: Philadelphia-37 Cleveland-16

Indianapolis (1-8) vs. New York Jets (4-5)

At one time I was rooting for the Colts to grind out a solid season and make the playoffs. Now I'm hoping for them to grind out a solid drive and maybe take the lead in a game once before the season ends.

Final Score: New York-21 Indianapolis-16

Dallas (7-2) vs. Houston (7-2)

The true game of the week had implications as big as Texas, which is for sure the shitty analogy that the NFL on CBS team would have come up with for this game. Emmitt Smith got hurt, but the Cowboys were already getting creamed 24-0 when it happened, so blaming the loss on that is about as misplaced as blaming the loss on Laufenberg. And besides, nobody messes with the Babe.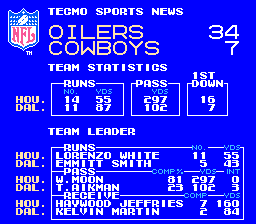 Final Score: Houston-34 Dallas-7

Kansas City (6-3) vs. Los Angeles Rams (6-3)

Another stellar Week 11 matchup had the AFC West leaders going against the NFC West futile 49er chasers. The Rams gave it their best effort, but Willie Anderson's aquatic nickname and 100 receiving yards weren't enough to overcome Lowery and Company.

Final Score: Kansas City-24 Los Angeles-20

Miami (5-4) vs. New England (1-8)

We all expected the Colts and Patriots to suck, but after Miami completed yet another losing sweep for both squads this week, I have to admit that even I didn't anticipate a level of football this shittacular from them.

Final Score: Miami-23 New England-10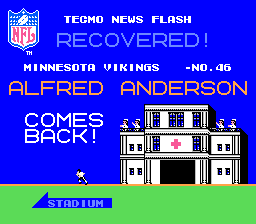 Chicago (5-4) vs. Minnesota (3-7)

Alfred Anderson returned and had absolutely no effect on the game whatsoever. But Minnesota's victory had a profound effect on the NFC Central as the Bears' loss plunged them into a three-way tie with Detroit and Green Bay for the division lead.

Final Score: Minnesota-28 Chicago-24

New York Giants (7-2) vs. Phoenix (3-7)

New York needed 24 fourth quarter points to send the game to overtime, Matt Bahr's leg to win the game in overtime, and Jeff Hostetler's mustache to attract all of the groupies to the locker room after overtime.

Final Score: New York-27 Phoenix-24 (OT)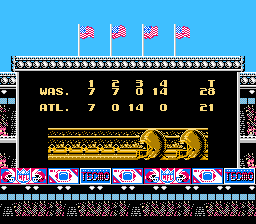 Atlanta (5-4) vs. Washington (4-5)

The Falcons' loss probably means that their playoff dream is officially dying in front of our eyes, but things could be a lot worse: They could have spent a game getting fooled by Washington's stupid playbook. Oh wait...

Final Score: Washington-28 Atlanta-21

Denver (5-4) vs. Los Angeles (4-5)

The Raiders copied the Redskins by pulling two more teams into .500 mediocrity. And Steve Sewell copied backup Raiders' tight end Mike Dyal by picking up zero yards rushing.

Final Score: Los Angeles-31 Denver-17

New Orleans (4-5) vs. San Francisco (8-1)

The Niners sleepwalked through this game but a somnambulating 49er club is still 18 points better than their New Orleans counterparts.

Final Score: San Francisco-21 New Orleans-3


---
| | |
| --- | --- |
| AFC EAST | |
| Buffalo | 9-1 |
| Miami | 6-4 |
| New York Jets | 5-5 |
| Indianapolis | 1-9 |
| New England | 1-9 |
| | |
| --- | --- |
| AFC CENTRAL | |
| Houston | 8-2 |
| Cincinnati | 5-5 |
| Cleveland | 3-7 |
| Pittsburgh | 3-7 |
| | |
| --- | --- |
| AFC WEST | |
| Kansas City | 7-3 |
| Denver | 5-5 |
| Los Angeles Raiders | 5-5 |
| Seattle | 5-5 |
| San Diego | 3-7 |
| | |
| --- | --- |
| NFC EAST | |
| New York Giants | 8-2 |
| Dallas | 7-3 |
| Philadelphia | 6-4 |
| Washington | 5-5 |
| Phoenix | 3-8 |
| | |
| --- | --- |
| NFC CENTRAL | |
| Chicago | 5-5 |
| Detroit | 5-5 |
| Green Bay | 5-5 |
| Minnesota | 4-7 |
| Tampa Bay | 3-7 |
| | |
| --- | --- |
| NFC WEST | |
| San Francisco | 9-1 |
| Los Angeles Rams | 6-4 |
| Atlanta | 5-5 |
| New Orleans | 4-6 |
Player of the Week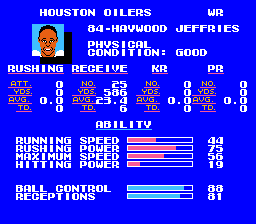 Even if he can't spell his name right on the Tecmo Football Man Application, Haywood JeffRIes is still the player of the week for his seven catches and oil derrick dominance.



Maimed
NEW
James Lofton- BUF
Vinny Testaverde- TB
Warren Williams- PIT
Tim Worley- PIT
Emmitt Smith- DAL

OLD
Rick Fenney- MIN (Week 10)


Mended
Mike Rozier- ATL (Week 10)

---

Coming next week...

- Week 12 results
- Player of the Week
-Game of the Week: Pittsburgh vs. Washington




Leonardite.com