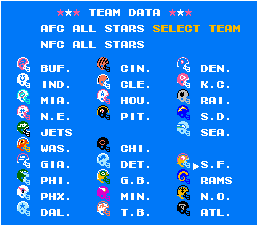 We meet again, old friends



Having been away from the Tecmo season for so long, I wasn't quite sure what to expect when I came back. Would I remember how to sim the games? Would I remember that the Oilers do in fact, having running backs? Would it slip my mind that Ronnie Lott is a football-trained grizzly bear in disguise? The answers to all of these questions are "no," although Houston's lack of a need for any semblance of a running game nearly caused number two to slip my mind.

Regardless, I wandered back into the season for week 10 and the smorgasbord of surprises that probably won't be occuring. And it went pretty well, too, despite the fact that Mark Duper complained of boredom and an irate Keith Millard called me a "queer" for abandoning the group. Never fear fans and Minnesota linebackers, I have returned.



Game of the Week: Atlanta vs. San Francisco




Houston (7-1) vs. Washington (3-5)


After charitably throwing last week's game for the benefit of a bunch of gamblers, Houston totally stunk up the joint for the benefit of an underachieving football team from the nation's capital. Earnest Byner's 166 yards were pretty impressive and a big reason that the team won. They were almost as big as the hole in his windshield that Warren Moon found after the game courtesy of those same gamblers.

Final Score: Washington-17 Houston-14 (OT)

Cincinnati (4-4) vs. Cleveland (2-6)

You know what, who cares if they blatantly cheat and bend NCAA rules? They could let the Buckeyes play with loaded firearms and I wouldn't care. After all, when the state's residents are forced to watch THIS mess labeled "pro football," they deserve a competitive collegiate squad.

Final Score: Cleveland-27 Cincinnati-21

Green Bay (4-4) vs. New York Jets (4-4)

The Packers used 24 first half points and 199 Perry Kemp receiving yards to finally get back on the winning track. 5-4 puts Green Bay right in the hunt for first place in the NFC Central, whereas the Jets would realistically have to go 14-2 to even have a sniff in the AFC East.

Final Score: Green Bay-24 New York-21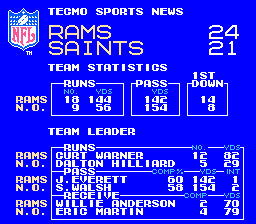 Minnesota (3-6) vs. Tampa Bay (2-6)

Herschel Walker's return before the game buoyed the Vikings heading into this matchup of teams that don't possess a prayer. But Rick Fenney's first quarter injury not only removed their chances of winning, it ripped the soul and its surrounding guts from the squad. I can't blame them for being crushed. I can blame them for not forfeiting the game and holding an emergency vigil for the Fenninator's swift recovery.

Final Score: Tampa Bay-28 Minnesota-17

Los Angeles Rams (5-3) vs. New Orleans Saints (4-4)

Alright, so the Rams are for real. 6-3 might have them a couple games out of first place, but they are right in the thick of the playoff hunt. Their putrid statistics in this game also reminded us what we already knew: They aren't doing it with flash or flare. They're doing it the old fashioned way with tough defense, a station wagonful of heart, and a table-tossing quarterback.

Final Score: Los Angeles-24 New Orleans-21

New York Giants (6-2) vs. Philadelphia (5-3)

The Giants secured a win in the week's second overtime game and put further distance between them and their skilled rivals from Philadelphia. The fact that QB Eagles was averaging over 11 yards per carry but only actually carried the ball five times doesn't necessarily prove that he is the most talented rusher in the league, but it does prove that the play caller needs to remove his head from his ass.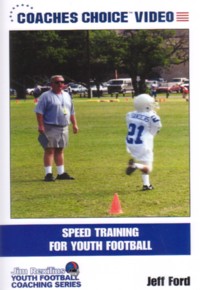 Final Score: New York-20 Philadelphia-17 (OT)

Dallas (6-2) vs. Phoenix (3-6)

While the Giants were able to put space between themselves and the Eagles, America's team stayed hot on their heels with another victory. The shockingly outstanding start by the Cowboys has raised eyebrows across the country and has fueled speculation of performance-enhancing drugs and/or instructional videos.

Final Score: Dallas-20 Phoenix-13

Denver (4-4) vs. Pittsburgh (3-5)

Unlike naming children "Bubby," 20-17 overtime games seem to be in vogue. Bobby Humphrey made his return and I'm sure that he was pretty intimidated by Warren Williams' team-leading 32 yards rushing, but not enough to break a sweat or blow the game to the disappointing Steelers.

Final Score: Denver-20 Pittsburgh-17 (OT)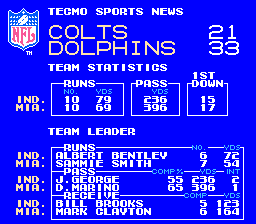 Indianapolis (1-7) vs. Miami (4-4)

The Dolphins relied upon an absurd passing day from Dan Marino to break their horrifying losing streak. This was definitely a good thing, because a loss to the Colts would have prompted a change in adjectives regarding the streak from "dramatic" to "craptacular."

Final Score: Miami-33 Indianapolis-21

Buffalo (7-1) vs. New England (1-7)

184 yards by Thurman Thomas is pretty frightening no matter how you slice it, but the fact that the Bills were playing the Patriots puts things into perspective. I'd be pretty impressed if I heard a guy talk about fighting thirty different opponents in a row without getting scratched, but my awe would diminish when he told me it happened when he accidentally got locked in the morgue.

Final Score: Buffalo-21 New England-14

Chicago (5-3) vs. Detroit (3-5)

The Lions were late arrivers to this party, but a win over the division-leading Bears has left them one game out of first place. If Barry Sanders can keep putting together 168-yard rushing games, the Lions will continue to be competitive and Rodney Peete will mercifully be kept from throwing passes.

Final Score: Detroit-27 Chicago-24 (OT)


---
| | |
| --- | --- |
| AFC EAST | |
| Buffalo | 8-1 |
| Miami | 5-4 |
| New York Jets | 4-5 |
| Indianapolis | 1-8 |
| New England | 1-8 |
| | |
| --- | --- |
| AFC CENTRAL | |
| Houston | 8-1 |
| Cincinnati | 4-5 |
| Cleveland | 3-6 |
| Pittsburgh | 3-6 |
| | |
| --- | --- |
| AFC WEST | |
| Kansas City | 6-3 |
| Denver | 5-4 |
| Seattle | 5-4 |
| Los Angeles Raiders | 4-5 |
| San Diego | 2-7 |
| | |
| --- | --- |
| NFC EAST | |
| Dallas | 7-2 |
| New York Giants | 7-2 |
| Philadelphia | 5-4 |
| Washington | 4-5 |
| Phoenix | 3-7 |
| | |
| --- | --- |
| NFC CENTRAL | |
| Chicago | 5-4 |
| Green Bay | 5-4 |
| Detroit | 4-5 |
| Tampa Bay | 3-6 |
| Minnesota | 3-7 |
| | |
| --- | --- |
| NFC WEST | |
| San Francisco | 8-1 |
| Los Angeles Rams | 6-3 |
| Atlanta | 5-4 |
| New Orleans | 4-5 |
Player of the Week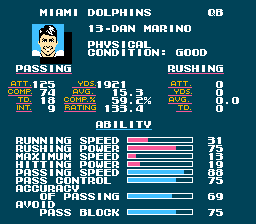 Owing it all to heart and Isotoner gloves, Dan Marino put up some mind-boggling stats and pulled the Dolphins temporarily out of the Land of the Suckified.



Maimed
NEW
Rick Fenney- MIN
Mike Rozier- ATL

OLD
Alfred Anderson- MIN (Week 9)


Mended
Reggie Cobb- TB (Week 9)
Herschel Walker- MIN (Week 9)
Bobby Humphrey- DEN (Week 8)
Dexter Carter- SF (Week 8)

---

Coming next week...

- Week 11 results
- Player of the Week
-Game of the Week: Detroit vs. Tampa Bay




Leonardite.com