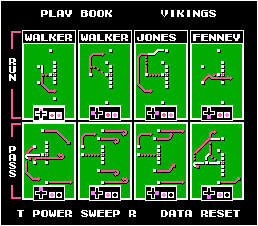 Don't be fooled by the business of this playbook. Busy does not equal worthwhile, adequate, or desirable



At the conclusion of this page we will be more than halfway through the season. But since you aren't to the bottom yet, that means you are still living in first-half ignorance. But unlike summer after Independence Day or soccer games after the pre-friendly donnybrook, it's only going to get better from here on out. The teams are going to realize that it's time to put up or shut up, lest they miss out on the playoffs and all of its related glory. And when a Tecmo team misses the playoffs, they only have so many more googols of chances left to atone for that sin before Electronic Arts gets the exclusive license to the 1991 NFL and banishes Tecmo forever. That's why we need to enjoy what we've got, including this week's game of the week, round 2 of the Reverse World Series. In a strange quirk of the schedule, Phoenix and Minnesota play each other twice in three weeks. This actually happened in the real NFL, so this is not an exclusively Tecmo occurrence. The ultra-negro race of the Phoenix players presumably is, however.



Reverse World Series (Round 2): Minnesota vs. Phoenix




Dallas (5-2) vs. Detroit (3-4)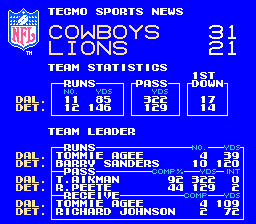 Troy Aikman was absolutely on fire in this game going off for 322 passing yards, 109 of them to Tommie Agee. Detroit's playoff chances were damaged by this loss, but not nearly as much the damage their pride suffered after allowing 109 receiving yards to a man nicknamed "Nutsack."

Final Score: Dallas-31 Detroit-21

San Diego (2-6) vs. Seattle (4-4)

Seattle rode fourteen unanswered fourth quarter points to escape the San Diego game with a victory. Having improved to 5-4, the Seahawks remain in the thick of the AFC West title chase. Having dropped to 2-7, the Chargers suck.

Final Score: Seattle-31 San Diego-17

Cleveland (1-6) vs. Pittsburgh (3-4)

As if the AFC Central wasn't a runaway already, the Browns pulled the Steelers into further mediocrity with this victory. Reggie Langhorne caught five balls to lead Cleveland. If their rivals keep up their current pace, the Oilers can spend weeks 13-17 in bed and still win the division by four games.

Final Score: Cleveland-28 Pittsburgh-24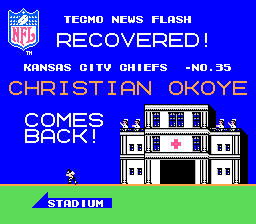 Kansas City Chiefs (5-3) vs. Los Angeles Raiders (4-4)

Christian Okoye's return from a brick wall wrecking-related pectoral injury was more of a motivational tool for the Chiefs than anything. He didn't lead the team in rushing, but Steve DeBerg was comfortable throwing for a modest 170 yards knowing that there was a mortar-mashing Nigerian there to back him up when he made fun of Bob Golic's man boobs.

Final Score: Kansas City-24 Los Angeles Raiders-10

Atlanta (4-3) vs. Los Angeles Rams (5-2)

An overtime touchdown gave Atlanta the victory and assured both squads of perenially lousy nancyboys that they would complete the first halves of their schedules above .500. I e-mailed the 49ers offices to see if they were getting scared of the rising competition in the West. They didn't come right out and give me an answer, but when the dog from Duck Hunt appeared in the reply chortling in a Dave Waymer jersey, I caught their drift.

Final Score: Atlanta-34 Los Angeles Rams-28

Cincinnati (3-4) vs. Houston (7-0)

Houston murdered Cincinnati on the stat page but somehow found a way to lose the football game overall. What transpired during the game to allow this to happen isn't exactly clear. In an unrelated story, Warren Moon was seen leaving the stadium with a helmet-full of poker chips while wearing a suit made of ten dollar bills.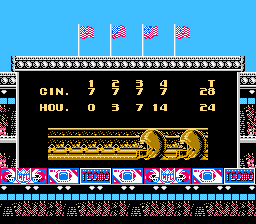 Final Score: Cincinnati-28 Houston-24

Chicago (5-2) vs. New Orleans (3-4)

The nurses were apparently prematurely waving Neal Anderson back onto the field as the Bears got embarassed by the Saints in this one. When Brad Muster is leading the team in rushing yards, either Neal Anderson mistakenly put on Muster's jersey or the Monsters of the Midway are in serious trouble.

Final Score: New Orleans-28 Chicago-10

New York Giants (5-2) vs. Washington (3-4)

The Giants are starting to hit their stride, defeating the vastly overrated Redskins in a game that's hard to glorify. The rest of the East is fighting to keep up with New York's quickening pace, but it's going to be difficult considering that that pace is cocaine-fueled for certain New York players.

Final Score: New York Giants-27 Washington-10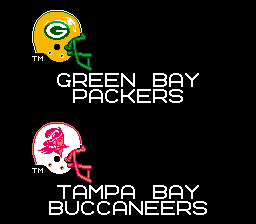 Denver (3-4) vs. New England (1-6)

This game looked hideous on paper and its 17-10 result did it perfect justice. I'd elaborate on the contest a little more, but I'm really not into self-destructive behavior.

Final Score: Denver-17 New England-10

Green Bay (4-3) vs. Tampa Bay (1-6)

Tampa Bay made a Reggie Cobb for Gary Anderson trade with the disabled list in this one and it was enough to defeat Green Bay and a returning Sterling Sharpe. After having started 4-0, the Packers have dropped four straight and have renicknamed Don Majkowski from "Majik" to "You fucking suck."

Final Score: Tampa Bay-28 Green Bay-10

Philadelphia (5-2) vs. San Francisco (6-1)

Tom Rathman came back for this one and his return inspired the 49ers to a gutsy victory over a quality opponent. QB Eagles outrushed Rathman by a few yards, but was unable to account for the fact that Tommy once got caught on Monday Night Football picking his nose for a full five seconds, an experience which has left him invulnerable to any pain and ridicule an opponent might throw at him.

Final Score: San Francisco-20 Philadelphia-17


---
| | |
| --- | --- |
| AFC EAST | |
| Buffalo | 7-1 |
| Miami | 4-4 |
| New York Jets | 4-4 |
| Indianapolis | 1-7 |
| New England | 1-7 |
| | |
| --- | --- |
| AFC CENTRAL | |
| Houston | 7-1 |
| Cincinnati | 4-4 |
| Pittsburgh | 3-5 |
| Cleveland | 2-6 |
| | |
| --- | --- |
| AFC WEST | |
| Kansas City | 6-3 |
| Seattle | 5-4 |
| Denver | 4-4 |
| Los Angeles Raiders | 4-5 |
| San Diego | 2-7 |
| | |
| --- | --- |
| NFC EAST | |
| Dallas | 6-2 |
| New York Giants | 6-2 |
| Philadelphia | 5-3 |
| Washington | 3-5 |
| Phoenix | 3-6 |
| | |
| --- | --- |
| NFC CENTRAL | |
| Chicago | 6-2 |
| Green Bay | 4-4 |
| Detroit | 3-5 |
| Minnesota | 3-6 |
| Tampa Bay | 2-6 |
| | |
| --- | --- |
| NFC WEST | |
| San Francisco | 7-1 |
| Atlanta | 5-3 |
| Los Angeles Rams | 5-3 |
| New Orleans | 4-4 |
Player of the Week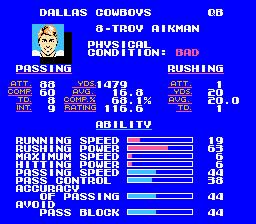 I can't believe how strong Dallas is right now and the player of the week is a big part of it. Unless they totally blow it, Dallas is going to be in the playoffs and Jerry Jones's former face will be there to cheer his team on from the sideline.



Maimed
NEW
Reggie Cobb- TB
Herschel Walker- MIN
Alfred Anderson- MIN

OLD
Dexter Carter- SF (Week 8)
Bobby Humphrey- DEN (Week 8)


Mended
Tom Rathman- SF (Week 8)
Gary Anderson- TB (Week 6)
Christian Okoye- KC (Week 6)
Sterling Sharpe- GB (Week 4)
Neal Anderson- CHI (Week 4)

---

Coming next week...

- Week 10 results
- Player of the Week
-Game of the Week: Atlanta vs. San Francisco




Leonardite.com