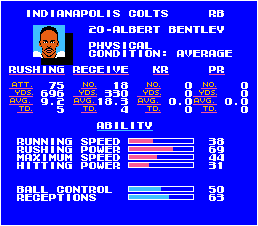 This tends to happen when Albie avoids his requisite five injuries per season



A lot of you last week might have looked at the upcoming Game of the Week and gone "what in the world?" Or perhaps you're more profane and uttered "what the hell" or perhaps even a more socially unacceptable vulgarity ("I love Buffalo.") But if you happened to go, "The Jets vs. Indianapolis? Sweet!" you are by no means normal or average, but you intrigue me. Anybody who would be titillated by this matchup obviously has some sort of bizarre back story and brother, I'd like to hear it. (Please send your exciting story to somebodymightreadthis@notachance.com)

The reality of the matter is that I'm trying to get every team featured in the Game of the Week, or at least go as long as I can without a repeat showing from one of the squads. Alas, we're stuck with this stinkbomb for the week. If any of you have to clip your neighbor's toenails or watch the top soil erode, you're more than encouraged to leave for your more exciting diversion. For the rest of you who couldn't come up with an excuse to leave, you ought to be ashamed of yourselves. Having to watch Kyle Clifton run around is your fitting punishment.



Game of the Week: Indianapolis vs. New York Jets




Detroit (3-3) vs. San Francisco (5-1)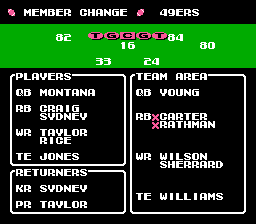 Detroit has been one of the hottest teams in the league as of late, winning three straight games. Their tactic in this one of viciously injuring Dexter Carter and Tom Rathman made it look like this streak may continue. But in a typical Tecmo bitch move, not only did San Fran pull out the win, but Rathman's replacement, Harry Sydney, ended up leading the team in yardage.

Final Score: San Francisco-35 Detroit-21

Atlanta (3-3) vs. Phoenix (3-4)

Atlanta kept their shocking above-average season rolling with a victory over Phoenix (pronounced, of course, "PUH-hoe-nix.") Mike Rozier employed an innovative new (for him anyway) offensive strategy referred to as "not fumbling" and found it very advantageous, picking up 142 yards on 10 carries. Final Score: Atlanta-26 Phoenix-24

Buffalo (6-1) vs. Cincinnati (3-3)

Buffalo toyed with the Bengals for four quarters, never letting them close enough to come away with the victory. The Bills currently lead the league in victories and maximum land speed by a blocked kick recovering placekicker. The Bengals currently lead the league in naked locker room towel fights (94.)

Final Score: Buffalo-30 Cincinnati-28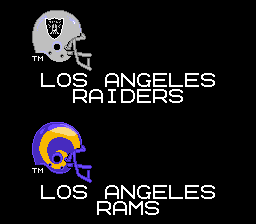 Los Angeles Raiders (4-3) vs. Los Angeles Rams (4-2)

If Atlanta's current record is shocking, then the Rams' mark following this game is surprise on the level of seeing a UFO landing or your grandmother explode at the dinner table. Jim Everett completed 91% of his passes, five to Henry Ellard, as Georgia Frontiere's squad claimed the Hollywood gridiron throne.

Final Score: Los Angeles Rams-27 Los Angeles Raiders-14

Cleveland (1-5) vs. San Diego (1-6)

When you have two teams teams pitted against each other that abhor winning games, something has to give. And something DID give; the television audience's stomach for watching awful football.

Final Score: San Diego-21 Cleveland-10

Pittsburgh (3-3) vs. Seattle (3-4)

Return wizard Dwight Stone returned for this game, but his abilities were not enough to propel the Steelers to victory in the Halfbacks Named Williams Bowl. The Halfbacks Named Williams Bowl is a fictional contest emulated on my personal computer, but Lee Corso somehow already has it listed as the sixth most prestigious bowl on the college calendar for 2005-2006.


Final Score: Seattle-16 Pittsburgh-13

Denver (3-3) vs. Kansas City (4-3)

Bobby Humphrey went down in the second half, a devastating blow from which the Broncos were unable to recover. The win places Kansas City alone in first place in the AFC West and reaffirms the theory that Chiefs' wins and appearances by Mike Elkins are negatively correlated.

Final Score: Kansas City-24 Denver-14

Chicago (4-2) vs. Green Bay (4-2)

The league's oldest rivalry featured two squads who had a bye week to contemplate how much they have been sucking as of late. The Bears have now officially played more than half of their games without Neal Anderson, but Mark Green and the boys put together an amazing fourth quarter rally to bury the Packers and their embarassingly gifted nose tackle.

Final Score: Chicago-24 Green Bay-21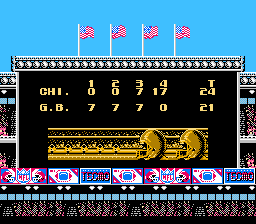 Houston (6-0) vs. Miami (4-3)

This one looked like it might be a serious pitfall for the Oilers in their quest for perfection, but the decision by both teams to leave their defenses at home helped Warren Moon and company sprint past Marino and his mangled knees.

Final Score: Houston-42 Miami-35

Minnesota (1-5) vs. New England (1-6)

In one of the most repulsive matchups of the season to date, the Vikings were able to circumvent Grogan's 309 yards passing to pull out a victory in front of a paying crowd of four dozen hardy masochists.

Final Score: Minnesota-27 New England-14

New Orleans (3-3) vs. Tampa Bay (0-6)

Unfortunately, it couldn't last forever. Tampa Bay used 13 first downs and a fashionable pirate logo to top the Black Panthers and their Saints teammates. New Orleans' loss makes them the only team in the NFC West with a losing record. Historians are stating with cautious optimism that this is the first time this ever happened in a Tecmo season anywhere in the world.

Final Score: Tampa Bay-35 New Orleans-31


---
| | |
| --- | --- |
| AFC EAST | |
| Buffalo | 7-1 |
| Miami | 4-4 |
| New York Jets | 4-4 |
| New England | 1-6 |
| Indianapolis | 1-7 |
| | |
| --- | --- |
| AFC CENTRAL | |
| Houston | 7-0 |
| Cincinnati | 3-4 |
| Pittsburgh | 3-4 |
| Cleveland | 1-6 |
| | |
| --- | --- |
| AFC WEST | |
| Kansas City | 5-3 |
| Los Angeles Raiders | 4-4 |
| Seattle | 4-4 |
| Denver | 3-4 |
| San Diego | 2-6 |
| | |
| --- | --- |
| NFC EAST | |
| Dallas | 5-2 |
| New York Giants | 5-2 |
| Philadelphia | 5-2 |
| Washington | 3-4 |
| Phoenix | 3-5 |
| | |
| --- | --- |
| NFC CENTRAL | |
| Chicago | 5-2 |
| Green Bay | 4-3 |
| Detroit | 3-4 |
| Minnesota | 2-6 |
| Tampa Bay | 1-6 |
| | |
| --- | --- |
| NFC WEST | |
| San Francisco | 6-1 |
| Los Angeles Rams | 5-2 |
| Atlanta | 4-3 |
| New Orleans | 3-4 |
Player of the Week


Mike Rozier and his Parkay fingers get the nod this week. 142 yards is a respectable effort, especially in his pass-second, blow-first offense. But Miller has been on fire this season and that has now spilled over to Rozier, who has the Dirty Birds above .500 in the surprisingly competitive NFC West.



Maimed
NEW
Dexter Carter- SF
Tom Rathman- SF
Bobby Humphrey- DEN

OLD
Gary Anderson- TB (Week 6)
Christian Okoye- KC (Week 6)
Sterling Sharpe- GB (Week 4)
Neal Anderson- CHI (Week 4)


Mended
Dwight Stone- PIT (Week 6)

---

Coming next week...

- Week 9 results
- Player of the Week
-Game of the Week: Minnesota vs. Phoenix




Leonardite.com