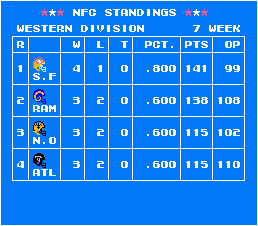 The league's best division: You have got to be kidding me



Going into this season, I was hoping that we might have a very elusive thing happen: One team either go undefeated or not win a game. Here in Week 7, only two teams are left to try and bring us to the promised land: Houston (5-0) and Tampa Bay (0-6.) The Buccaneers obviously have the advantage, being one game closer than Houston to Tecmo immortality, but I still would say that the Oilers and their eleven offensive conquistadors have the inside track. How will things play out in Week 7? Well, the Buccaneers are off and the Oilers have the predictably mediocre Jets on tap. Some people would say that Oilers' opponent is as talented as Tampa's, but I'm not one of those people. Rather than use crafty analogies like that, I'll just say that the Jets have a tendency to play repulsively bad football.



Game of the Week: Los Angeles Raiders vs. Seattle




Los Angeles Rams (3-2) vs. San Diego (1-4)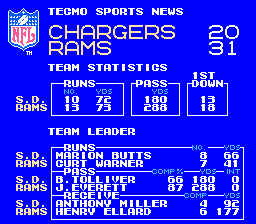 Somebody gave me shit at the beginning of the season for picking the Rams to finish in the NFC West cellar. I'm sure that guy is pretty proud of himself now that the Rams have improved to 4-2, but stop thumping your chest, braggart. The fact that you'd even consider gloating over a defeat of the Chargers is depressing for both of us.

Final Score: Los Angeles Rams-31 San Diego-20

Cincinnati (2-3) vs. Dallas (5-1)

Before the game I picked Cincinnati to win. And not to my surprise, that's exactly what happened. I didn't study any game film or break down strategies, I just used some simple logic. You can only beat on Skip McClendon for so long before he starts bending facemasks with his teeth.

Final Score: Cincinnati-28 Dallas-17

Cleveland (1-4) vs. Washington (2-4)

This is one of those games where they truck in busloads of blind kids to fill all the seats that no realistic person would buy. Subsequently, 10,000 kids didn't see Earnest Byner rush for 108 yards in this snoozer.

Final Score: Washington-35 Cleveland-7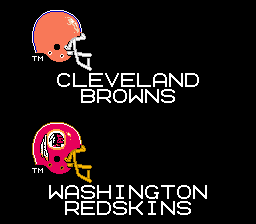 Houston (5-0) vs. New York Jets (3-3)

The Oilers matched the Buccaneers and now only have ten games left to complete their version of perfection. The Jets, meanwhile, only have nine games left to figure out what happened to the apostrophe in Ken O.Brien's name.

Final Score: Houston-31 New York Jets-21

Buffalo (5-1) vs. Indianapolis (1-5)

If you put Screech Powers in the octagon with Tank Abbott and gave Screech a case of indigestion and Tank a flame thrower, you'd have something that would be a lot more fun to watch than the piss-pounding that took place in Buffalo.

Final Score: Buffalo-31 Indianapolis-14

New York Giants (4-2) vs. Pittsburgh (3-2)

While both teams had a winning record going into this game, nobody was confusing New York's talent with Pittsburgh's comparative lack thereof. People were comparing Jeff Hostetler to his long-lost twin, Dave Wannstedt, however. It was determined that Dave's suave hair gives him the slight edge over Jeff in the latest heartthrob RPI.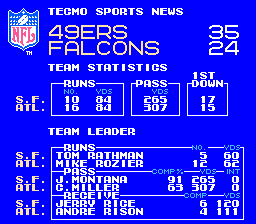 Final Score: New York Giants-22 Pittsburgh-7

Atlanta (3-2) vs. San Francisco (4-1)

I would have put a lot more stock in this NFC West parity surge had the Falcons pulled this game out. You can't fault Chris Miller, however. Apparently still possessed by an adept-passing demon, the Falcons are holding off on an exorcist until they can find a running game (See also: When pigs fly, when the cows come home, when John Madden quits talking.)

Final Score: San Francisco-35 Atlanta-24

Minnesota (1-5) vs. Phoenix (2-4)

Round one of the Reverse Pass World Series went to Phoenix who rode Johnny Johnson for 122 yards. The Vikings, predicted by Leonardite.com as a playoff participant in the preseason, are now being projected behind a handful of suburban Minneapolis junior high squads in the latest Twin Cities' Gridiron Power Poll.

Final Score: Phoenix-31 Minnesota-21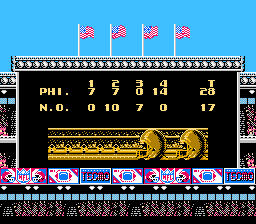 New Orleans (3-2) vs. Philadelphia (4-2)

Philadelphia used 14 fourth quarter points to slip by the Saints. I'm going to say that the Eagles had the edge in quarterbacking in this game, although John Fourcade did his best to lobby for the Saints when he successfully threw his Gatorade cup into a nearby trash can on the first try from at least five feet away.

Final Score: Philadelphia-28 New Orleans-17

Miami (4-2) vs. Kansas City (3-3)

Kansas City scored ten points in the fourth quarter, the only tallies of the second half, to help further ensure that nobody will challenge Buffalo in the East this year.

Final Score: Kansas City-16 Miami-14


---
| | |
| --- | --- |
| AFC EAST | |
| Buffalo | 6-1 |
| Miami | 4-3 |
| New York Jets | 3-4 |
| New England | 1-5 |
| Indianapolis | 1-6 |
| | |
| --- | --- |
| AFC CENTRAL | |
| Houston | 6-0 |
| Cincinnati | 3-3 |
| Pittsburgh | 3-3 |
| Cleveland | 1-5 |
| | |
| --- | --- |
| AFC WEST | |
| Kansas City | 4-3 |
| Los Angeles Raiders | 4-3 |
| Denver | 3-3 |
| Seattle | 3-4 |
| San Diego | 1-6 |
| | |
| --- | --- |
| NFC EAST | |
| Dallas | 5-2 |
| New York Giants | 5-2 |
| Philadelphia | 5-2 |
| Phoenix | 3-4 |
| Washington | 3-4 |
| | |
| --- | --- |
| NFC CENTRAL | |
| Chicago | 4-2 |
| Green Bay | 4-2 |
| Detroit | 3-3 |
| Minnesota | 1-6 |
| Tampa Bay | 0-6 |
| | |
| --- | --- |
| NFC WEST | |
| San Francisco | 5-1 |
| Los Angeles Rams | 4-2 |
| Atlanta | 3-3 |
| New Orleans | 3-3 |
Player of the Week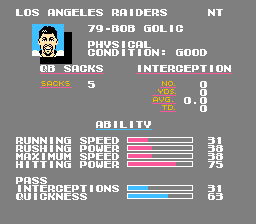 It has to be Golic, for all the reasons stated in the Game of the Week page. Plus, he got 80% of his season total for sacks in this game. His brother may have a morning show on ESPN, but Bob now has special recognition in an online simulated Tecmo league. Nobody is going to take that away from him and it's even more unlikely that anyone would try.



Maimed
NEW
None

OLD
Gary Anderson- TB (Week 6)
Dwight Stone- PIT (Week 6)
Christian Okoye- KC (Week 6)
Sterling Sharpe- GB (Week 4)
Neal Anderson- CHI (Week 4)



Mended
None

---

Coming next week...

- Week 8 results
- Player of the Week
-Game of the Week: Indianapolis vs. New York Jets




Leonardite.com