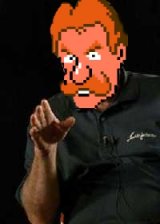 Von Kaiser: Self-proclaimed philanthropist/French hater.



(LP)---

Von Kaiser is a simple man. The eldest of the WVBA fighters, Von wants nothing more than to build up a little bit more of a nest egg before fading off into retirement. That's why he jumped on the chance to come back to the World Video Boxing Association. A former military academy instructor in Germany, Von came to find some cash and one last shot at glory. But just a few weeks into what looks to be his final run with the World Video Boxing Association, Von has run into some trouble. For the first time since the infamous night in Istanbul, Leonardite.com has secured the first interview with either of the two men involved.

Leonardite:
Von, tell us what really happened that night.

Kaiser:
Well, Bull and I decided to drink a few beers before heading stateside to fight. When he started talking about wanting to climb a building naked, I quickly said, "Nein!", but he didn't listen.

Leonardite:
So you're trying to tell me that he didn't climb the building on a dare. Climbing the building was his idea.

Kaiser:
That's exactly right. I had actually suggested that we go volunteer at the orphanage for a few hours, but Bull decided to go off and do something like this instead.

Leonardite:
Why then, did you call attention to Bull and start laughing uncontrollably when he made his ascent up the building?

Kaiser:
Because it was….I mean…..I was thinking of a swell "Yo Mama" joke that Great Tiger had told me the other day. My laughter was completely unrelated to Bull's climbing.

Leonardite:
Any truth to the reports that you were throwing beer bottles at Bald Bull?

Kaiser:
No.

Leonardite:
What? There are eyewitnesses who saw it.

Kaiser:
I was trying to throw the bottles in a nearby recycling bin, which happened to be near Bald Bull. Unfortunately, I hit him with one.

Leonardite:
You're trying to tell me that you are that bad of a throw that you missed a garbage receptacle by thirty yards and hit Bald…

Kaiser:
Hold on just a second. It was a recycling receptacle. I would not throw reusable materials out.

Leonardite:
Moving on... When Doc Louis came to the prison in Turkey, what were his first words to you?

Kaiser:
To me, or to Bull?

Leonardite:
To you.

Kaiser:
He thanked me for being an upstanding individual and for trying to defuse the situation.

Leonardite:
He called you an idiot on national TV.

Kaiser:
I'm calling you an idiot right now. Does that change how I really feel about you?

Leonardite:
I don't know, does it?

Kaiser:
IF YOU DON'T STOP TORMENTING ME, I'M GOING TO START THROWING BOTTLES AT YOU…….(quickly calming down) bottles filled with water, of course. You can't drink enough water.

Leonardite:
When do you hope to step back into the ring?

Kaiser:
As soon as possible. I am looking forward to scoring a victory for East Germany.

Leonardite:
East Germany?

Kaiser:
The Democratic Republic of Germany, my fault. I am very old and forget these things sometimes.

Leonardite:
Just like you have forgotten nearly all the events of the night in Istanbul.

Kaiser:
That sounds about right……..hey!

A little background on Von Kaiser:

Name: Von Kaiser
Born: 1945
From: Berlin, Germany
Weight: 144 pounds
Quotes: "Surrender! Or I will conquer you!!"
"Your punch is soft...just like your heart!"
"I was a boxing teacher...at the military academy!"

Pre-WVBA: Von Kaiser, former poetry, relationship skills, and boxing teacher at a German military academy, came to the WVBA for the first glory run in the 1980's. Von was fired from the academy after it was deemed he was too girly to be an instructor at such an institution.

WVBA I: Von Kaiser went into the WVBA with very high expectations. Outside of Mike Tyson, Von had perhaps the most distinguished boxing background. Unfortunately, his jingoistic pride led him astray, as he set his sights on a lowly Frenchman that was also coming to the WVBA. This quote from 1986 sums up Von's feelings for Glass Joe quite well.

Reporter: So, Von, I have heard that you have less than kind feelings for fellow French boxer, Glass Joe.

Kaiser: That's not a question, you idiot.

Reporter: Um, well, is it true?

Kaiser: Let's put it this way: When I step in the ring with Glass Joe, I'm going to tear his arms out, shove them in his ears, and then hang his gloves from his arms like ornaments on a Christmas tree.

Subsequently, Von went into the WVBA and decimated Glass Joe time and again. All twenty-three victories, including the ten knockouts, were over Glass Joe. Von, however, also has the ignominy of being the only man to lose to Glass Joe. This occurred after Von, who had just watched a particularly inspiring version of WWF SuperAstros, did a top rope moonsault onto the defenseless Joe and was disqualified.

But beyond his infamous targeting and demolitions of Glass Joe, Von Kaiser was simply an underachieving Minor Circuit fighter.

WVBA II: As the oldest member of the WVBA, Von Kaiser has to fight the ageist stereotypes and prove that he is a worthy fighter. A member of the media recently pointed out that he is sixty-three years old, but Von also astutely pointed out that he is a video game character and therefore aging isn't really an issue. He also then proceeded to very rudely and inappropriately label that reporter an "asshead."

What others have to say about Von:

"Von Kaiser, I remember him from the NES banquet in 1989. Man, did we get liquored up. We out on the town and ended up running into the guy from Excite Bike and started making fun of him because we thought it was some freaky porno movie. We had no idea it was a motocross game." – Billy Lee, star of Double Dragon

"I remember Von questioning my involvement with Excite Bike. He shut up once I pointed out that he did teach poetry at a military academy." – The Excite Bike guy

"Von Kaiser is from another country. My heritage is that of another country. I can't think of any more parallels." – Accused Chinese spy, Wen Ho Lee.

"I did some dog-fighting with Kaiser's father, uncles, and both grandfathers. I successfully shot them down, along with 24,397 of their comrades en route to my single-plane domination of the Germans." -The pilot from Sky Shark

What Doc Louis has to say about Von Kaiser:

"We here at the WVBA are happy to have Von around. As a tough man who is apparently in touch with his feelings, Von helps us reach the "female" and "males who wish they were female" demographic. All in all, Von is a good boxer who is an asset to this company."

WVBA II Match History:

None at the moment.