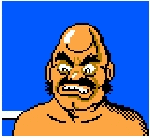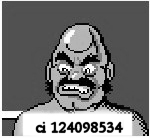 Before.............................................After



Istanbul (LP)---

Less than two weeks removed from the relaunch of the World Video Boxing Association, promoter Doc Louis already has to steer the circuit through its first scandal.

"Apparently last night, Bull and Von went out on the town and got a little liquored up." said a visibly frazzled Louis, who had to fly to Istanbul to bail out his two fighters.

Istanbul Police said that at about 1:35 AM on Monday, they were dispatched downtown for a national emergency. The Chief of Police, through a translator, held a press conference in which he filled the world in on the events that transpired:

"We received a call last night that a large, hairy beast was scaling a building downtown. Having all seen King Kong and fearing the worst, none of us wanted to see the city plunged into disaster so we knew we had to act quickly. When we finally arrived, we found not King Kong, but a horrifying scene nonetheless."

What was called "King Kong" was actually an inebriated and completely naked Bald Bull, scaling the First National Bank of Istanbul. "Apparently Bull hit the sauce and then acted like a dumbass," said Louis, clutching fiercely at his thinning hair, "and then Von decided that throwing his empties at him was going to help the situation."

Indeed, Von Kaiser, who had joined Bald Bull downtown, began to laugh at Bull as he climbed the building nude. As Bull climbed higher, he then began throwing empty bottles of beer at him.

"Our initial reports indicated that Mr. Kaiser was actually a serviceman there to fight off the ape," said the Chief, "but on further inspection, it was determined that he was just drunk."

Bald Bull climbed nearly a story high, before plunging to the grass below after a direct hit to the back of the head from Von Kaiser with a beer bottle. Istanbul Police were quick to arrest both men on the spot.

"Mr. Bull was up on the building as the result of a 'triple dog-dare' from Mr. Kaiser. Mr. Kaiser then took it upon himself to bring down his friend with bottles," the Chief said.

"I got a call at about 2:30 from Von, who at this point was completely plowed. He said he was in a Turkish prison with Bull and that they were being charged with numerous crimes." said Louis.

Among those charges was an assault charge against Kaiser for bringing Bull off the building. At Bald Bull's insistence, however, that charge was dropped. What weren't dropped were the public nudity, endangerment, and trespassing charges against Bald Bull and the "Disturbing the Peace" charge against Von Kaiser.

"I arrived in Istanbul as soon as I could to get these bums out of jail, which is nothing but a black eye for the federation. I find it very fortunate that we had a special legal counselor come in, someone familiar with Turkish law, who was able to get the boys out of their charges."

"I believe it was Mr. Bribe…" said Bull.

"Yes, he brought with him his friends named "Bill", which the police were happy to see." Kaiser added. The two then laughed mischievously as Louis shook his head and sighed.

The whole night apparently came about as Kaiser and Bull, frequent sparring partners, decided to have one last night of fun before leaving for competition. Two cases of beer and numerous amounts of courage later, the WVBA scandal came to be.

"Apparently the boys were on quite a bender" said Louis shamefully.

As a result of their legal troubles, WVBA's Wednesday Night Fights has been cancelled for this week.

"Von Kaiser owes the fans a big apology for his actions and Bald Bull owes the fans an apology, both for his actions and for making them see his horrible, horrible naked body."

It was unclear as of press time whether or not the rankings of the fighters would be affected.