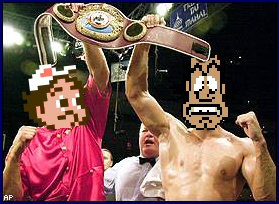 Macho and Master Higgins: I wouldn't mess with them



New York, New York (LP) ---

After a notable break from in-ring action, the WVBA brawlers were anxious to get their gloves working in addition to sporting their snazzy new biography pages. And Doc Louis, heading back to his old stomping grounds, didn't want to disappoint. Yes, this was Wednesday Night Fights. Yes, it is not Pay-Per-View. But this was New York and this was Doc Louis's promotion. He didn't get all the way to the top by sheer gluttony, you know. He got there by gluttony and exploitation of Little Mac's bank account.

Past embezzling aside, Doc Louis knew what he needed to do: He needed to deliver the Big Apple a title fight. And with a clear-cut #1 contender determined in the Major Circuit, there was no reason not to bring out Great Tiger for his second title defense.

Now, I don't know about you, but that gets me pretty excited. You can't beat a snake charmer taking on a lady charmer for a piece of gold. But you can improve on it, and that's exactly what Doc intended to do. What better person to trot out then his portly protege' Little Mac, a man looking to register his first win in the reformed WVBA. And just for good measure, why not throw him in against Glass Joe. This was shaping up to be one huge night of fictional video game boxing...

WC #5 Little Mac (0-2) vs. MC #2 Glass Joe (2-1)

The boy-turned-beanbag from the Bronx obviously had the crowd in his corner. Glass Joe played an easy heel for this crowd as well, not just because he's French, but also because he likes boys. At least the crowd's taunting would sure have you believe that. His boyfriend probably would, too.

What was undeniable, though, was the fact that Glass Joe's career was on the upswing where the only thing swinging up for Little Mac is the arm on the scale in the locker room.

With the raucous crowd and mystical Legend of Zelda sage behind him, Little Mac opened up round 1 with a frenzy. Glass Joe was clearly intimidated by this demon from the past, who so many times had defeated him while infants and detergent bottles manned the controller on the other side of the screen.

Joe eased into the fight early, which was a poor move. Little Mac got the Cheetos in his belly to work to his advantage as he started laying into Glass Joe with ease. The crowd "ooh'd" and "ahh'd" with every one of his well-placed jabs and Glass Joe was giving out stars quicker than a kindergarten teacher. Mac quickly delivered a star uppercut to the feminine jaw of Glass Joe and was about to deliver another when the bell rang.

Mac was the clear victor of round 1 and the old man offered him the ladder for round 2, which Mac wisely refused.

What Mac really needed was a potion bottle because he was about to end up in a heap-load of trouble. Buoyed by his past experiences and first round, Little Mac went in totally over-confident. More worried about showing off impressive footwork and coming up with his best French jokes, Mac lost all focus on fighting. Joe, meanwhile, began to see an opening. As Little Mac was mocking his hair, Joe did some crazy French man babble. He then proceeded to throw a few jabs with all the speed of a sleeping mule. Mac, fat and distracted, was unable to avoid them.

Mac was rocked backwards, the mass of his body pushing him toward the ropes. An enraged and empowered Glass Joe moved in and through one more sweeping right jab.

Mac hit the canvas.

Mario counted to ten.

Glass Joe got hit with a bottle of Jim Beam.

Covered in liquor and a sissy smile, Glass Joe was able to relish his 2nd round knockout in enemy territory, as well as his very impressive 3-1 record.

MC Champion Great Tiger (1-0) vs. MC #1 Super Macho Man (3-1)

Both men came into this fight knowing that no matter the outcome, Glass Joe had solidified himself as the #1 contender in the Major Circuit. And both men knew that they cared about that as much as they cared about the Nebraska State High School Swimming Championships. And while you and I get pretty excited about breaststroking in Omaha, these two couldn't possibly care less.

What they did care about was taking home that shiny gold belt and what they delivered was one of the most epic fights the WVBA has ever seen.

The crowd wasn't really sure how to lean. Super Macho Man is a California pretty boy that didn't fit with the Brooklyn style, but he probably had a little more in common than did Great Tiger and his disdain for British occupiers.

The first round saw the Super Macho Man, focused and powerful as of late, continue his hot streak. Great Tiger, while undoubtedly the champion, had only fought one fight and wasn't quite sure how to contend with the thunderous punches and voluptuous breasts of his opponent. Macho went to work early with a combination of uppercuts and crazy facial expressions that would make Tie Domi smile. As Great Tiger did his best to teleport away from the thunder, Macho was setting up for a knockout punch. Tiger was just beginning to vanish when Macho wound up and delivered three super spin punches in a row. The force would've been enough to blow the turban off of Great Tiger's head, were it not nailed to his scalp.

It did send the champ down, however, and only the power of magic and the delusions of toughness allowed Tiger to answer the ten count.

Between rounds, Macho was kissing his muscles and planning his victory dance, while Great Tiger sacrificed a calico in frustration.

In almost a mirror image of the first fight, Great Tiger rallied furiously back to take advantage of his opponent's over-confidence. Starting the round with his usual Magic Punch, Tiger looked to even the score. A respectful and focused Macho Man probably would have been able to block the special move, but when Tiger came spinning in with his right fist extended, Macho was busy having a hot chick from the crowd sign his breast. Each punch hit home and while they didn't floor him, Macho was completely screwed for the rest of the round.

Tiger went to work rearranging the "face" area of Macho's body, in addition to injuring the "pride" area as well. Every punch was connecting, Macho's yelps and comments sounded like they were coming from Bob Dylan's mouth, and at 2:13, Macho hit the canvas. The arena fell in hushed supense, expecting this to be the end of the challenger. But summoning the power of the cherry PowerBar he devoured between rounds, Macho returned to his feet and limped through the second round.

Both fighters went into the third round not having a clue what was on the scorecard, but knowing this one would probably be the deciding factor. Great Tiger started the festivities again with the Magic Punch, but Macho Man set his sights on his opponent instead of his mammaries and defended himself remarkably well. Sure, Tiger got one punch in, but he came out of the Magic Punch dizzied and far short of his goals. A bloodied Macho couldn't put the dazed Tiger down, but he soon began his offensive thereafter. Macho unleashed a deadly series of uppercuts, followed by a couple of uppercuts from Tiger.

With scarcely a minute left in the fight, the crowd was on its feet as these two poured their guts into the event. This wasn't just about boxing. This wasn't just about gold. This was for the 8-bit groupies waiting for the winner in the lobby. Macho went on a desperate flurry in the final thirty seconds, landing two combos that would have been enough to floor nearly any man in the WVBA. But Great Tiger withstood the onslaught and the title bout was heading for decision.

The scores of each judge were read off:

Slo Mo Jones: 10-8, 8-10, 10-9 (Super Macho Man 28-27)
Mr. Miyagi: 10-9, 8-10, 10-9 (Draw)
Larry Czonka: 10-9, 9-10, 10-9 (Super Macho Man 28-27)

The Macho camp screamed in jubilation as the crowd erupted in a standing ovation. Everyone's favorite island-dwelling skateboarder, Master Higgins, jumped in the ring to celebrate with Macho Man. And even Great Tiger had to admit that while Macho could pick better friends than grass-skirt wearing Samoans, he does pack a pretty good wallop.

Other Notes

-Soda Popinski vs. Mike Tyson for the World Title was announced for February 20
-In recognition of Great Tiger's great fighting and in Little Mac's horrible physical movements that vaguely resemble "fighting," Great Tiger was moved up to the World Circuit. Mac, not surprisingly, was given the boot from internet boxing's most fabled division.
-Pundits are baffled by Glass Joe's recent winning streak. Steroids aren't suspected, but not a single person is ruling out estrogen.