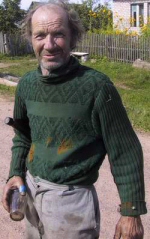 The Russian defense minister is armed and ready for the big event.



Moscow, Russia (LP) ---

Doc Louis, in typical promoter fashion, hyped this night interminably. Ever since Mike Tyson became the number one contender for the World Circuit Title belt four months ago, Doc Louis has been the WVBA's version of P.T. Barnum hyping the title bout scheduled for June 27. Between sponsoring streakers at LPGA tournaments and placing promotional stickers on traffic signs in Des Moines, Doc was doing whatever it took to get people to notice this fight was happening.

And notice they did.

It was a standing-room only crowd for this outdoor night of fighting in Red Square, as the Russian citizens turned out to see Soda Popinski, a curious relic from their country's past, defend his World Title. While the crowd was very partisan at first in their thoughts of the red-hued brawler, they quickly realized that any vodka-swiller is a good vodka-swiller and placed their allegiances behind him.

There weren't just Russians in the crowd either, as Kirby and Contra's Lance were on hand to witness all the festivities and poverty of the Russian street people.

WC #3 Von Kaiser (1-1) vs. WC #4 Piston Honda (1-1)

It wouldn't be a huge title fight if there weren't a worthless match before it, and Piston Honda and Von Kaiser did their best to fill this role. On paper this didn't look so bad, with Honda being a chiseled fighter and Kaiser fast becoming one of the most interesting characters in the reformed WVBA. But what propaganda and intrigue the pre-fight festivities could deliver, the fists of the two boxers could not.

From the get-go this was a very sluggish match. While neither fighter had especially far to travel, as they both maintain at least partial residence in their home countries, both looked as though they had warped in from another century. Von Kaiser did especially, with his pleated knickers and stove-pipe hat. Honda looked equally travel-burdened, though he was more appropriately clad in a pair of trunks and his Japanese headband.

The first round of this match opened up with Piston Honda asserting open control. While the knickers slowed Kaiser down some, it was Honda's fists that sent Von's saliva-and hat-flying. Von repeatedly tried to slow down his larger and much-more youthful opponent, but the Japanese mega-star would have none of it.

After spirited pep talks in both camps and a live NHK commercial featuring the mid-match Honda, things turned around in the second round. With Honda's mind still on shilling toothpaste to senior citizens in Nagasaki, Von came and got freaky with his fists and began laying into Honda. Honda was left on the defensive from the outset of the round and went back to his corner beaten and wary.

With one round left and both men tied on the scorecards, the crowd was "somewhat curious, but not overly enthralled" with finding out who would claim victory. It turns out that while you can't teach an old dog new tricks, you can deliver him skull-puncturing punches until he either dies or can't fight anymore.

Piston Honda delivered a series of eye-swelling jabs as the two met following a commercial-less intermission. With Kaiser already down, Honda went to his suggestive two-step dance and then came back with his series of massive jabs. Kaiser, burdened by his nineteenth-century slacks, was unable to move out of the way fast enough to avoid the match-ending face-busters. Kaiser was down and out only 36 seconds into round three. Following the match, Honda and Kaiser switched positions in the rankings.

World Circuit Title Bout
World Circuit Champion: Soda Popinski (0-0) vs. WC #1 Mike Tyson (2-1)

This match nearly didn't come to pass. When Tyson was entering the country, customs officials were fully intent on not letting him enter due to his rape conviction. A quick phone call to their superiors, however, reminded them that there are far more things screwed up in Russia than a guy who eats children and rapes beauty queens. With that quick refresher on Russian sociology, the match went on without a hitch.

Many observers were expecting this match to go to Mike Tyson. While his tattooed mug had been busy ripping apart those of others, the only notable thing Popinski had done in the last year was get rejected on Blind Date. But any speculation on ring-readiness versus ring rust being a factor were quickly put to bed in the first round.

Perhaps shaken by his customs scare or by his surroundings, Mike Tyson came out very defensive. This was apparent to observers by the non-bearing of teeth that occurred throughout the round. Popinski, on the other hand, quickly won over the hearts of the throng by executing some focused boxing and rubbing his knees together like a fairy. For most of the first round, Tyson was battered worse than Lawrence Philips' girlfriend. While only able to land a few jabs and none of his apocalypse uppercuts, Tyson absorbed more than his share of punches from the champion and went down 10-9 on all three scorecards.

The second round started much like the undercard had, with Tyson being able to find a little bit of a rhythm against his leading opponent. Due to his focusing on jabbing and Soda's dimwittedness in realizing that he winks in the direction he will punch, Soda was starting to get the Mr. Pibb beat out of him.

But as if the ghost of Leonid Brezhnev overcame him, Soda Popinski put together one marvelous and very memorable combination that has already become the defining boxing moment in the reformed WVBA.

As Tyson had built up a huge amount of momentum, he decided to go for the apocalypse uppercut. Recognizing the seizure-like movement of Iron Mike and his eight-bit flash before the punch was thrown, Soda Popinski braced himself and unleashed three hellacious blows to the body of Tyson and finally an uppercut that nearly removed the tattoo from Mike's face.

The Red Square crowd raised their Kharkov in unison as Referee Mario delivered the ten-count to Tyson and fled before the 1.75's flying into the ring nearly took his head off. Popinski, overcome by the moment, laughed hysterically as the vodka continued to flow…both into the ring and into the stomachs of the delirious mob.

OTHER NOTES

-The WVBA brass was worried that it had fallen off of the sporting public's radar after its long layoff, but was relieved to know that fan interest was still well-above that of men's tennis, soccer, and Who Wants to be a Millionaire? reruns.
-With the Pay-Per-View cameras rolling, Popinski refused to break his "family-friendly" image and consume the vodka in the ring. Once the broadcast ended, however, one observer remarked that he quickly became drunker than "16 Robert Downeys."
-Wednesday Night Fights is expected to resume soon, with the next challengers being picked out for the federation's two titles.
-Doc Louis' wallet was stolen after the fight, but it was later determined that he had mistaken it for a brownie and eaten it.