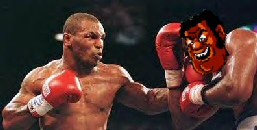 Mr. Sandman begins to giggle uncontrollably at Mike Tyson's facial tattoo Friday night in Omaha.



Omaha, NE (LP) ---

The World Video Boxing Association returned to the ring after a Lennox Lewis-like layoff (how's that for alliteration?) tonight in Omaha, Nebraska. Christening a new arena there with a great night of 2-Dimensional video game boxing, the WVBA certainly did not disappoint with a couple good fights, one of them especially important for the future of the organization.

MC #1 Bald Bull (1-1) vs. MC #3 Glass Joe (1-1)

The undercard of the night in Omaha featured a couple of guys going in opposite directions. The last time that Bald Bull stepped into the ring, he was embarrassed at Fear at the End of the Year by the Major Circuit Champion, Great Tiger. Glass Joe, on the other hand, was still celebrating from defeating King Hippo by disqualification and tallying his first victory since the Cold War. Regardless of their recent history, Bald Bull still entered this match as the #1 contender to Great Tiger's title and as the heavy favorite in this match.

However, he decided not to enter the match until just before the second round. An extremely overconfident and as many suspected, inebriated Bald Bull stayed in his dressing room, letting the entire first round elapse before finally emerging to fight. While Bull sat in his dressing room and, if internet reports are true, sucked on the brown bottle, Glass Joe timidly danced and posed in the ring. He was even heard remarking, "God, oh God, please have Bull pass out before he comes to the ring."

What happened was hardly much different than had he passed out. Bald Bull finally staggered to the ring, to the roar of the crowd, as Joe was being talked to by his trainers. Sporting some blue trunks and an excessively foul mouth, Bull climbed into the ring to the absolute horror of his French opponent.

As the second round began, Glass Joe tried his best to escape from the ring, but was reminded that that maneuver is only legal in wrestling. Bull began taking a shine to delivering skull-shattering blows to Joe's face, the likes of which floored him thirty seconds into the round. Bald Bull began saluting the crowd and summoning the beer man, while Glass Joe struggled to recall what synapses were required to make his feet move.

Bull then prepped himself to put the match away as Glass Joe came to life after an eight-count. As he positioned himself at the ropes, the crowd rose to its feet to see Bald Bull deliver a knockout-inducing Bull Charge, one of the most exciting moves in professional boxing. The alcohol-burdened Bull executed a very wobbly hop towards Glass Joe that looked about as much like a Bull Charge as it did a belly dance. Joe, eyes firmly closed and lip bleeding from being bit so hard, weakly pushed a fist in Bull's direction.

That's when the unthinkable happened.

The feminine jab jarred Bald Bull right in the gut, sending him to the canvas in complete shock. The crowd began to go crazy as Bull lay on the mat vomiting. Referee Mario had no choice but to declare a knockout and Glass Joe pulled off an unthinkable upset. Glass Joe's camp, which consists of his grandmother and a pair of dusty overalls, swarmed the ring as Joe began to cry from both victory and the fact that he hurt someone.

With the victory, Glass Joe unbelievably is ranked #1 in the Major Circuit.

WC #1 Mike Tyson (1-0) vs. WC #2 Mr. Sandman (2-0)

While Glass Joe's victory was the match that sent the crowd home talking, the next match was the one that brought them to the arena in the first place. With two of the biggest names in the world of video boxing squaring off, it was all but assured that the winner would face Soda Popinski in the soda-swilling Russian's first title defense.

Coming to the ring with a sixteen-man entourage and $2.57 in his wallet, Mike Tyson looked poised to get back on top of the WVBA. Mr. Sandman, who has looked more polished lately, also seemed to have a good chance at taking home the #1 contendership.

The first round started off without much of a flurry. The two sat in the middle of the ring for most of the round with more hugging going on than in a women's soccer game. Referee Mario remarked afterwards that he didn't know if he should break them up or get them a hotel room.

Tyson finally tried to break up the lovefest with an uppercut that hit hard on Sandman, but the giant Philly native was quick to respond with a few hard punches of his own. The round finally ended with neither men breaking a sweat and the score locked 10-10 on all three scorecards.

The second round was different, as Mike Tyson brought out the standard "I blink, I punch" repertoire that defines him as a predictable video game foe. Sandman however had his binary screwed up and couldn't handle this combination, as Tyson routinely battered him hard in the facial area. Sandman worked his best to deliver a few fists of his own, but the bitin' rapist was on his game as he sent Sandman back to the corner frustrated and losing.

In a move of desperation, Sandman tried to unleash his super-duper uppercut thing on Tyson, but the wily penniless pugilist saw through it and avoided every punch. You could almost see Mr. Sandman putting the stamp on the match as he mailed this one in. Tyson continued to dance and punch as Mr. Sandman tried to crawl into a hole and die as Tyson exposed him over and over again.

In the decision reading, nobody was surprised when all three judges (Slo Mo Jones, Solid Snake, and Dr. Joyce Brothers) scored the fight 30-26. Tyson celebrated by saying that he was going to steal a bike and find a stripper. While he sometimes looks like he doesn't know how to fight, Mike Tyson certainly knows how to party.

OTHER NOTES

- A group of reporters questioned Doc on the long layoff which resulted in more f-words in two sentences than should be legally allowed. Doc then stormed out and presumably ate a lot of food.
- Solid Snake snuck into the arena through an air duct, while decreasing his health by smoking a cigarette and stealthily killing three security guards.
- Referee Mario was greeted by a surprise visit from Luigi after the match, but their happiness quickly degenerated into an argument over a goomba that Luigi missed twelve years ago.
- Soda Popinski vs. Mike Tyson is expected to be finalized in the coming weeks.