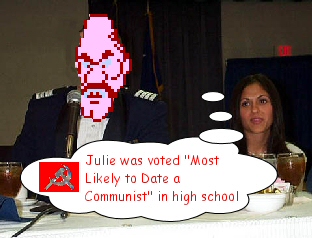 Soda was voted "Most Likely To Avoid the Gulag"



Ardent fans of the World Video Boxing Association were getting pretty tired of not seeing their World Champion on their television sets. But joy was spread across the land on Wednesday night as Soda Popinski appeared on TV screens in a boxing ring.

But this definitely was not in the manner you would expect as the legendary Soviet made his way onto the somewhat popular television program, Blind Date. Audiences across the globe were curious to see if this nemesis from eight-bits past would be able to foster a loving a relationship with a total stranger. You can say what you want about the show, but audiences will remember forever seeing the awkward Communist trying to score a chick.

The show started off in the typical way with Soda driving to the woman's house. In the interesting facts bubble, they told us that Soda enjoys the May Day Parade, is an only child, and that he is the Heavyweight Champion of the World. He listed his turn-ons as Smirnoff and Kharkov, while his lone turn-off was Smirnoff Ice.

Soda soon arrived at the house of his date, a 25 year-old Systems Analyst named Julie. Julie's listed turn-ons were hot oil, a nice smile, and Chinese Communists. Oh so close, Soda. After the usual pleasantries and chit chat were exchanged, the two headed out to enjoy a walk through a museum of modern art.

On the drive there, Julie took right to quizzing her date about his hobbies and interests. When she learned that he was a boxer, she asked when his most recent fight was. "I haven't fought in over fifteen years" responded the champ. Julie was stunned momentarily, but was quickly awed when Soda dug around in the backseat for his World Championship strap. By the time Soda returned with the belt, his vehicle was firmly in the ditch and the cause of death of at least three different forms of wildlife. Undaunted, Soda hopped out and pushed the car back onto the highway.

Julie was gushing at the muscles of her beau. The bubble underneath showed a funny picture of a Greek athlete and the words, "Champagne Popinski!" That caption really sucked, but it was quickly outdone by Soda's joke. "Sorry about that," remarked our champion, "boy is my face red. But I don't know if it's because I went in the ditch or because I am a COMMUNIST! HO HA HA HO HA HA!"

Julie's face contorted into an unrecognizable shape as a cartoon airplane dropped an atomic bomb on Soda to show what his joke just did.

The museum couldn't come quickly enough as the two were able to escape the car ride. Julie was an art connoisseur and pointed out various statues and paintings that she recognized as well as some stories behind them. Soda was far more entertaining however, looking like Encino Man crossed with Ricky Vaughn as he was wearing a small tie and a collared shirt much too short for him. When asked what the most famous exhibit he's seen lately was, Soda responded that he had seen "Anastasia" at the gentlemen's club the other night. Ouch.

Perhaps art wasn't his thing, so they moved onto a gym where they could get hot and sweaty without having to deal with the censors. A boxing instructor came out to teach the two some moves, but was quickly awed by the sight of the Video Champion in his ring. "Oh my, are you Vodka Drunkenski?"

Thoroughly embarrassed by his real identity being exposed, Soda quickly covered it up by saying that was his brother. When Julie pointed out that he said he didn't have a brother, Soda rubbed his knees together like he was trying not to pee and then floored the coach with a haymaker. Ever the seducer, Soda then remarked that he wouldn't be as rough with Julie's facial features as he was with the instructor's. Smooth as silk big guy, way to go.

Soda then went over the art of "hitting and stuff" (his words, not mine) with his date. When asked what strategy she should use, Soda told her that it would be a good idea "To pound the hell out of your opponent" and that "It is the key to boxing. Not many people know this." Soda then made a crude remark about Julie's body and he received a kick to the balls as a result. Hey, this isn't kick boxing! HAHAHAHAHA! Oh man, that is terrible. That one's on me.

The two then went to a hotel where a banquet and wedding dance were going on. Recognized immediately by some internet boxing fans, Soda and Julie were treated as guests of honor at the head table, supplanting the Best Man and the flower girl. Soda was asked to say a few inspirational words. An accomplished public speaker, Soda said that "I can't drive…..so I'm GOING TO WALK ALL OVER YOU! HA HA HA!"

McCarthyism then swept through the crowd and by the end of the night, ten people had been mysteriously exterminated by the bride's family. Julie was trying to make sense of it all as the dance began.

The people were all enjoying watching Soda dance like a caveman and Julie like a wild Jezebel as the karaoke contest began. Julie was allowed to sing first and she brought the house down with her version of "R-E-S-P-E-C-T". The screen was even showered with cartoon flowers following her rendition. Soda then took his turn at the microphone where he made an ill-advised choice of "The Sign" by Ace of Base. It might have turned out all right if he didn't sound like a robot and keep the posture of Frankenstein, but the real dagger was that his version of the song went,

"I drank the wine, and it opened up my eyes, I drank the wine. I can't keep standing, my brain I'm not commanding!

The crowd laughed thinking it was a joke. Soda became very embarrassed and started turning red. He began to make the Communist "red" joke again, but was kicked in the groin once more before he could finish.

The night ended with a drunken Soda being driven home by Julie. They exchanged an awkward hug in which Soda nearly succeeded in crushing every one of her vertebrae. Much too drunk to drive home, Soda crashed on Julie's couch………..in the garage.

In their post-date interviews, Julie felt that Soda was a big teddy bear, but Russian Communists just weren't her type. Soda, on the other hand, felt the date was great, but was more impressed with the couch. Even the noblest of spirit distillers didn't sleep in such nice digs, he surmised.

So love wasn't meant to be. But at least we got to see Soda finally and also saw him get floored by a girl. Maybe there's hope for Glass Joe after all.