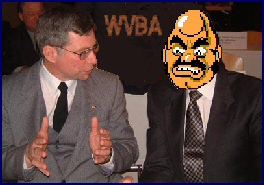 Bald Bull gets the conference proceedings translated into grunts that he will understand.



(LP) ---

With both men putting their "John Hancocks" on the contract, the match has been signed sealed and delivered. Looking to send 2003 out in style, Great Tiger will defend the WVBA Major Circuit Belt on December 30th against Bald Bull. This will be the first fight in the new WVBA for Tiger and third for Bull, who is sporting a 1-0 record.

To say that his record is flawless, however, would be to overlook his antics two months ago in Istanbul, for which he was incarcerated for climbing an office building naked. Many people are still unwilling to do this, including the Reverend Jerry Falwell who released the following statement after hearing of the match announcement:

"Yet another fine American institution has been ruined by Satan's influence. While my good friend Doc Louis could have picked a true champion like Little Mac or Mr. Sandman, he instead went with Bald Bull, whose actions with Von Kaiser raise more than a few questions to me about his sexuality."

Upon hearing of Falwell's statement, Bull unleashed a series of indecipherable gibberish that would be pointless to reprint. It is safe to say, though, that Bull was unhappy with the Reverend's comments and that he is also not a very educated man.

In the world of video boxing, though, it doesn't matter. Bald Bull has some educated fists and that's what analysts around the globe are going to be checking out. Tiger, the longtime number one contender to Bald Bull in the Major Circuit in the Nintendo era, will be looking to turn away a longtime nemesis. Bull, on the other hand, will be looking to regain the title he held for so long.

"For me, this is like my childhood coming back to me," said 30 year-old Rodney Young, a construction worker from Scranton. "I remember seeing this huge mother come out with his head touching the top of my TV screen, I mean, if that doesn't scream 'champion', I don't know what does."

For starters, it might be Great Tiger, whose newfound glory has certainly inflated his self-esteem. While still officially listed as "Great Tiger" he has required that members of the press either refer to him as "Greatest Tiger", "Supreme Tiger", or "Penultimate Feline." So far nobody in the media has complied with this request, leading to Tiger unleashing this famous quote last week. "You see my skinned tiger for a robe? I'll be wearing the hide of a Times reporter to my next fight if people don't start listening." Asked for clarification, Tiger let it be known that his quote was out of frustration and not out of some bizarre, cannibalistic attraction to certain members of the press.

All-in-all, the country is getting excited for this fight. With Glass Joe and King Hippo opening up the evening, the night will certainly belong to the Major Circuit. Being billed as "Fear at the End of the Year", this exciting night of fighting will only be available at Leonardite.com.