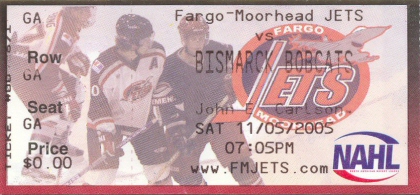 Final Score
Bismarck: 4
Jets: 2

Co-Pilots
Chelsea, Dan, Matt

Game Highlight
Word Find




This town has been a veritable turnstile for minor league professional teams. Laying on top of my Ice Sharks sweatshirt is a game-worn Thomas Hill Fargo Fever jersey, which sits next to my F-M Beez shorts, not to be confused with my F-M Freeze sweatpants. Okay, other than the Ice Sharks sweatshirt which I tragically lost, I've never possessed any of those garments. And while that list is by no means complete (or respectable, for that matter) it serves to show just how many teams have come and gone in this town. Naturally the reason for them all of them leaving has been money, or a lack thereof. As an undergraduate in training, my mind is being wired to look and see where costs could possibly be reduced or eliminated. For our junior hockey team that I unfailingly hope will finally stick this time, I think I've found a spot: The home-and-homes with Bismarck. I realize that the NAHL is probably responsible for all of the scheduling, but since we were all in Bismarck the night before, couldn't have we just stayed there and played the next night too? Lodging isn't that expensive, but even if it was, a few of them probably could have stayed where I did or even slept on the bus. I have slept in a vehicle in Bismarck before as a result of a hotel room being pushed beyond habitability, so I can say with experience that one can come out a whole person from such an ordeal. Just a thought.

The Game

As stated in my previous journal, the Jets imploded in the third period in Bismarck, nearly allowing the hated Bobcats to come back and steal the game in front of a supportive home crowd. Feeding off that momentum, we all knew that they would come back ready to play and pick up where they left off. Where they had left off was putting in goal after goal after near miss of a goal on Jets netminder BJ O'Brien.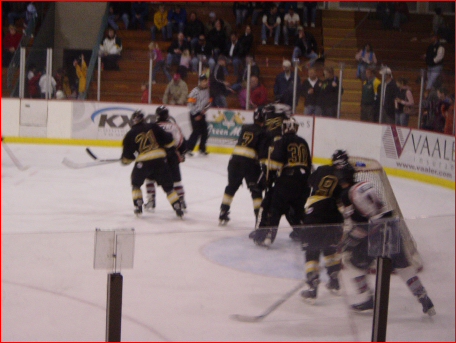 While O'Brien was clinging to his small lead and remnants of his jock strap in Bismarck, the Bobcats were doing their best to rally back and tie the game. Of course that didn't happen, but what did happen was BJ getting the night off on Saturday.

At least, that's what was supposed to happen.

Elliot Okland, the third-string-turned-backup-turned-USHLer-turned-Jet-again goalie from Fargo was between the pipes for the night's tilt. But he continued to commit the same sins that he did last year, namely giving up soft goals and misplaying passes that allowed in empty net goals for the opposition. The thought of this is causing me to see red as I type, just like the sight of these mistakes caused us to see the bright red pads of BJ O'Brien back in the net midway through the first period.

Behind 3-1, the Jets were playing catch-up and playing it badly. Passes were sloppy, skating was slow, and the overall Bismarck play was far superior to anything that the megastars from Fargo-Moorhead were putting out on the ice. Luckily for us, we had one thing to keep us occupied in even the most trying of times:

The Booster Club word find.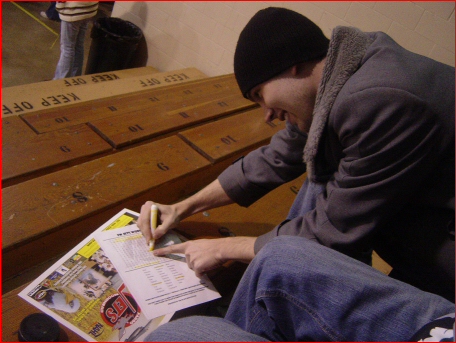 As the picture of Dan gleefully depicts, we had a certifiable "blast" finding the names of our favorite Jets figures like Ace, Cramer, and my personal favorite, Roadhouse (Jake.) While the Jets were busy trying to find their game that they left in the second intermission locker room in Bismarck, we were befuddled in locating OBrien and Adams. My only gripe - and it's a huge one - is that "LEONARDITE" was nowhere to be found in the maze. I mean, come on. By now I thought I could have earned some backwards love in the fourth quadrant of the puzzle, but apparently I am mistaken. Or overestimating my influence. Nah, it's definitely not the latter.

We soon began to realize that the Jets were not going to pull this game out. But a very important thing did happen. There was a great fight, there was a great victor, and there is now an early favorite for my personal FM Jets hero.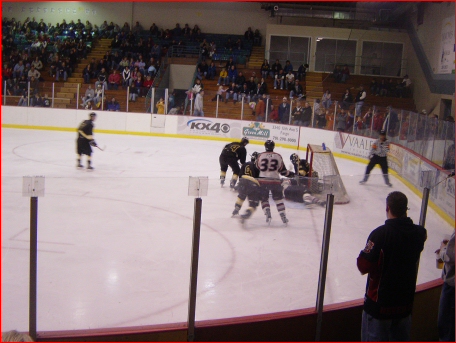 Rody Selk and some Menozzi chump from Bismarck squared off in the second period and young Mr. Selk looked like a cross between Evander Holyfield, Rocky Balboa, and a Rock 'Em Sock 'Em Robot. It was a hotly contested fight, with both men exhibiting an un-Bosworthlike ability to stay on their feet. And it ended just like a hockey fight should: With Rody Selk delivering a knockout blow right to the kisser of this Menozzi harlequin. Better luck next time.

Of course, I shouldn't be so cocky considering that the Jets did lose the overall game, but since this is my page and Bismarck has paid for my disdain in cheating, cockiness, and a historically ugly roster, I will do what I want.





Final Thoughts

As you can see, I only gave a rating of one to the Detox Section. The crowd was large, but too quiet. Most of that falls on the shoulders of the team (Rody Selk notwithstanding) for not giving us much to cheer about. Even the Pounder had little to rattle the glass about and was left to silently drink his beer in despair. Although for some strange reason, I'm guessing he wasn't too sad about that.

More Leonarditeness can be found at FMJets.com and FargoFan.com

The Leonardite