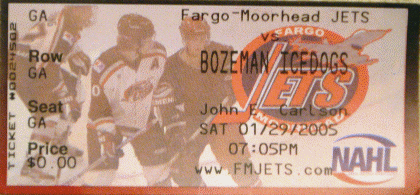 Final Score
Jets: 4
Bozeman: 1

Co-Pilot
None

Game Highlight
The Jets 500




Well, I finally got burned tonight. I realize that I haven't been the most prompt with these updates lately (and believe me, it's not because I've been skipping games,) but I always had a backup plan. The Jets website has nice synopses of the games for me to refresh my memory on and I planned to go that route again tonight.

Unfortunately, PointStreak appears to be down this evening.

That means that it's up to my memory and me to try and reconstruct this game held nearly two months ago. This usually wouldn't be that big of a problem, but there are lot of useless video game results and imaginary conversations that I would like to have that are probably going to get in the way. I still don't think that I'm going to stray all that far, but if I write about a Zamboni theft or Ben Bosworth winning a fight, you'll probably need to reel me back into reality.

The Game

After polishing off the IceDogs in a rather boring game the night before, I trudged back to the Coliseum solo to see what, if anything, might transpire on this evening.

The Jets were still in the midst of their "Let's allow only one goal because that seems like it might win us hockey games" kick at this time. Like past nights, it proved advantageous for the team as they pulled out the 4-1 W. I'm not going to pretend like I remember any of the scoring, because I don't, but if I had to guess I'm sure any combination of Dickhudt, Prewitt, Moreland, and Myhro was involved. And if you tell me they weren't, then I'm going to have to reel YOU back into reality.

Two things do stand out very clearly to me from this game, though. The first was a series of great fights that occurred in the second period. The corner furthest away from the Detox Section erupted in a donnybrook that kept both linesmen and the referee very busy pulling people apart. But while they were doing that, one fight in the corner exploded. It's killing me that I don't specifically recall which Jet it was (I swear it was Jon Halstenson) but he and his opponent went up and down onto the ice numerous times. By the end of the fight, both jerseys were removed and my cap was removed, as I had no choice but to doff it in admiration of the glorious face-mashing we all got to witness. On the ensuing face-off, another fight broke out (This time I THINK it was Brent Olson. Again, I don't remember for sure) The Jet lost his fight, but it was still good to see the team not only beating down the woeful IceDogs in hockey, but also doing their best to inflict some pain as well.

Final Thoughts

The other great moment in this game was the Jets 500 between the first and second periods. For those not in the know, this is a sled race between two fans and one fan and Ace. This night's sled race was awesome because the Jets staff did an exemplary job of picking three drunk friends who knew each other. The race ended up taking forever because the inebriated contestants were cheating so viciously, but it was incredibly entertaining to watch. I'd recommend that future iterations of this contest feature only A) People in line at the Beer Garden or B) Me. And often times, I fall into both categories. The Jets 500 contestants pushed the Spirit Meter one level higher:





And gave us all something to cheer about between periods besides the continuous miracle that is the Zamboni resurfacer. Very exciting game. Very nice win. I remember about 25% of it. But my ticket stub and ambiguous memories are undeniable proof that I was there supporting the NAHL West Division Champions.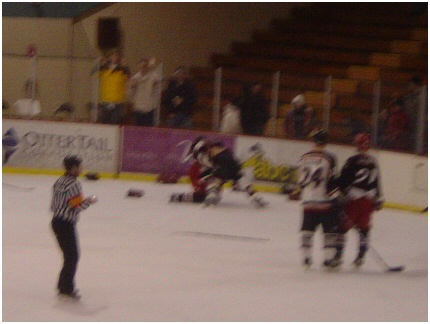 The Leonardite