Final Score
Canada: 3
Czech Republic: 1

Co-Pilot
Dan

Game Highlight
Drunk Canadians



Junior hockey is something that most Americans don't understand. A typical conversation about it usually goes like this:

Guy A: So, what did you do last night?
Me: Went to the hockey game.
Guy A: Oh yeah? What hockey?
Me: Juniors.
Guy A: You went and saw little kids play hockey?
Me: No, the F-M Jets.
Guy A: Oh, the pro team.
Me: Well, no...
Guy A: Who's their fullback this year?
Me: ...
Guy A: Wait a minute....what's hockey again?

The whole "These guys aren't pros, they're trying to get to college" is a can of worms that I've had to explain a thousand times and it is just part of the mystery that is junior hockey to the American citizen. For those that do get it, the fact that the IIHF World Junior Hockey Championship was coming to North Dakota was unbelievable news. You've got to understand that besides the occasional fireworks show and snowman building contest, international competition doesn't come to the Peace Garden State very often. But here we had one of the four major sports bringing one of its major international tournaments to North Dakota, in a year without professional hockey no less.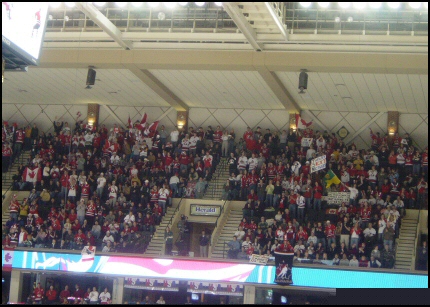 There was a definite positive correlation between goals scored by Canadian players and brain cells killed by Canadian fans.

This was quite exciting for me. Never mind that 90% of my friends had no clue what the tournament was (You think the before-college dilemma is hard to explain, try telling someone that some of the guys in this amateur tournament played in the NHL last year) this was something that I knew I couldn't miss. Not surprisingly, a fellow Leonardite felt exactly the same way. Dan and I made sure to get tickets for a Sunday afternoon in the "Grand" cities to take in some world-class hockey, a chance this state hasn't gotten since Gordie Howe flew over it on his way to Seattle back in 1979.

After the United States team decided to start sucking and lose to Belarus and the Czech Republic, it looked like we might have an incredibly hot ticket on our hands: Canada vs. the United States. Unfortunately for us (or so we thought,) Colin Powell paid the Prime Minister off with a truckload of fresh halibut to prevent the inevitable slaughter that would have ensued. As a result, our tickets for 3:38 this Sunday afternoon were for a semi-final matchup between Canada and the Czech Republic.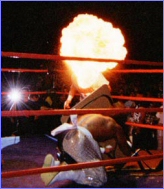 This level of hardcore is one step below Genghis Khan and Julius Caesar arm-wrestling over the fate of a thousand slaves.

The Game

As I alluded to above, I know more about junior hockey than 95% of the people in North Dakota. Then again, somebody who has read half of the program at a Jets game knows more than 93%, so that's not really saying that much. Compared to the Canadian fans, though, I didn't know a single thing about the game. To say these guys are hardcore hockey fanatics is an understatement. To say that they are a Terry Funk Level of Hardcore is an understatement. The only thing I can think of to measure their level of hardcoreness is
Terry Funk vs. Sabu in a flaming table/barbed wire match covered in blood, sweat, and pure hatred.

Leave the kids at home.

Walking into the obscenely opulent Ralph Engelstad Arena, it was everything that we expected: A swarm of maple leaves, an abundance of Canada jerseys, and the overpowering odor of Molson Ice. It was like opening the door and stepping into Winnipeg, except that high-level hockey actually still gets played here. *Rimshot*

Settling into our seats, we made a pact to cheer for the Czech Republic so vigorously that Dominic Hasek would burn a Soviet flag in admiration. Feeling that this would be even more fun than pulling for our own team, we were set to hopefully rub it in the faces of a bunch of crazy puckheads from America Jr. This seemed like a great plan until we looked around us and saw nobody and I mean NOBODY but Canadians. I swear that in this building on American soil there were 7,000 Canadians, four Americans, and ten Pakistani custodians. This was a risky proposition to be sure, but one that we were ready to go through with.

Aside from an unspoken fear of being gored with a Koho if we insulted Team Canada, there was another reason why we never fully got to go crazy for our adopted homeland of the Czech Republic: They got wrecked by Team Canada. It's hard to fully relay how a 3-1 game could be a total demolition, but there was never any question that the Canadians were going to win this game. They outshot the Czechs 48-12, but even that stat is misleading. The Czech team had ONE legitimate scoring chance all game and they scored on it. And at the other end, the Czech goalie was making great saves and getting incredibly lucky to keep the Canadians from scoring one goal for every hockey-loving fan in Moose Factory.

The thorough demolition gave me the utmost respect for the Canadian team, which put on the most dominating sporting performance I have seen in a long time, especially given the circumstances. But as far as their fans are concerned, well...

More

Walking into the building, Dan made some comment in which he used the phrase "Drunken Canadians." I pointed out to him that the word "Drunken" is unnecessary to that phrase. That would be the equivalent of calling them "The Canadians from Canada." True to form, they didn't disappoint. They brought home a Northland-bred spirit score of: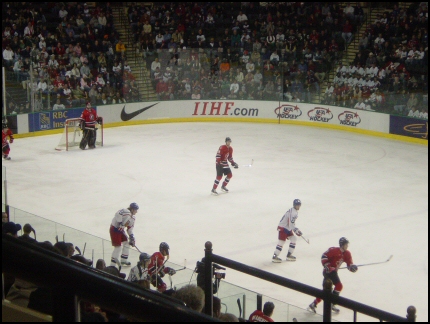 Click this picture to see an even bigger photograph of foreigners playing hockey against each other

I expected that most of the fans would be from Winnipeg, a mere couple hours to the north, but this wasn't the case. They were coming from all over Canada from their bizarre locale names like Yellowknife, Medicine Hat, and Saskatchewan. And boy were they there to have a good time.

Behind us we had a group of about fifteen mid-20's males, draped in the maple leaf and alcohol. They were good for comments and generally very respectful. The guys in front of us were a mid-40's chubby guy and another mid-20's male. The younger guy was cocky but tolerably so, whereas the fat man was obnoxious, loud, and allowed to be legally maimed under international law. Beside me were some guys from Saskatchewan, which seems like a name that they made up. All in all, they were proud of their team. And they were drinking American beer.

Granted, I don't believe that they sell Canadian fire water in the arena, but I was under the impression that they'd lose their CCM instincts if they consumed our beverages. But apparently it wasn't a problem. What WAS a problem was that Dan and I weren't drinking. The guy next to me offered to go get us beer because he was flabbergasted that two people could go to a game and not get drunk. But that wasn't even really the problem.

The problem was that we were there in the first place.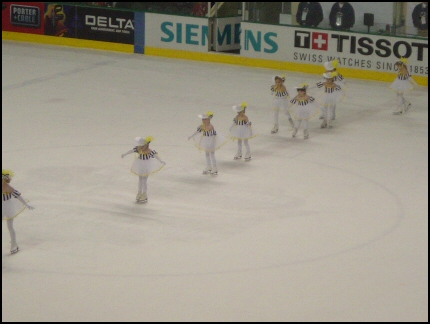 Team Canada takes the ice

After Canada scored their second goal, everyone around us went wild and the guy next to me asked me why I wasn't cheering. I just shrugged and told him I was there to watch quality hockey and told him I was pretty ambivalent about the outcome (or so he thought, heh heh.) This explanation was almost sufficient to the guy next to me but a downright abomination to the chubby, living-vicariously-through-some-17-year-old-he's-never-met guy in front. "Not cheering for Canada, huh?" he sneers. And then he points at my Nashville Predators jersey "Who's Nashville playing right now?"

Being the respectful sober guy I respond "Nobody right now."

"That's what I thought!" he snaps. He then went on to predict an 8-1 win by Canada (which wasn't that far-fetched) and to take pictures of all the crazy Canadian fans around him. The one thing that really got me about these guys was their outright disrespect of the United States of America. Any time that the US flag would show up on the video screens, they would boo. When the team was mentioned, they would jeer. The most interesting example happened one time when the US team was being mentioned, I felt the guy behind me cover up the early-nineties red, white, and blue Patriots logo on my backwards cap with his maple leaf.

Look pal, Hart Lee Dykes and company have suffered enough. The last thing the Tecmo Patriots need is to be Canadian on top of it.

I didn't really understand this. Sure, American sports fans get just as rowdy as the Canadians. But the guy carrying fifteen skulls and wearing five-foot spikes on his shoulder pads at a Raiders game doesn't have to yell "Yeah! We're going to win this game and all you idiots in British Columbia can shove it up your ass!" It was really depressing to see this epidemic of Canadian short-man syndrome.

North American jealousy not-withstanding, it was a very good experience. To see an international crowd and some spectacular hockey was enjoyable. The Canadian team was flat-out amazing and some of these guys (Sidney Crosby, Ryan Getzlaf, Patrice Bergeron) will be playing hockey for a long time to come. If they had played the United States, the Americans would have gotten killed and we would have had to put up with a bunch of bitter lunatics from the north. It was a good thing they didn't play.

Plus we did get our chances to cheer a little for the Czechs: We were the only ones in the building clapping when they did score and since I didn't know any of their names, I got to call every player "Jaromir" all game. You can't do that in Leonard. At least not every day.

The Leonardite